Rosarito, or Las Playas de Rosarito, is a coastal resort in Mexico that is located close to the border city of Tijuana and downtown San Diego, California.
Being a great beach city, Rosarito is a popular destination that attracts more than a million tourists every year.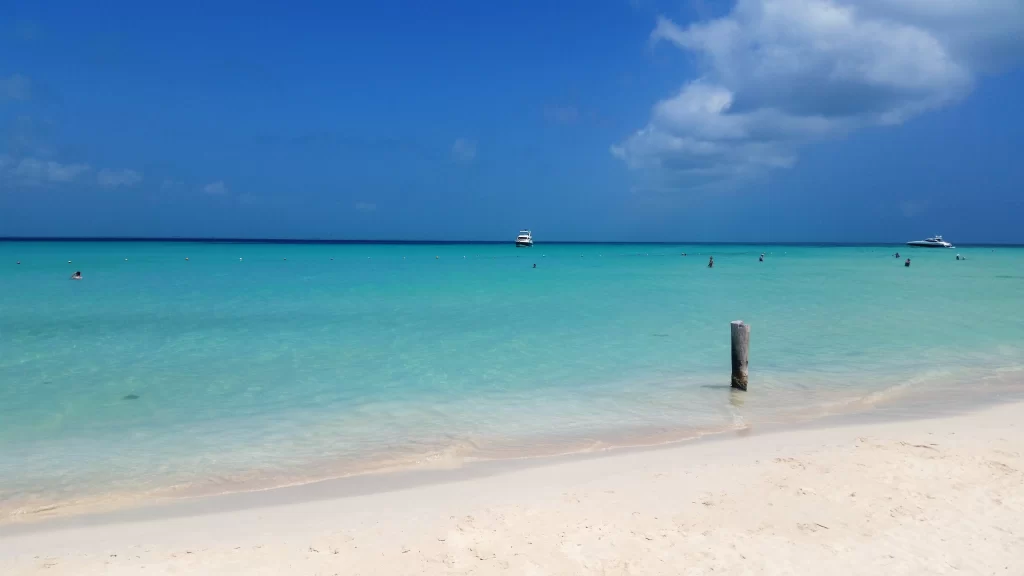 Are you going to spend your unforgettable vacation in Mexico? Here is a list of the best fun things to do in Rosarito, Mexico.
20 best things to do in Rosarito, Mexico
#1. Explore Rosarito beaches
Since Playas de Rosarito is a coastal resort city, it is famous for its incredible white sand beaches. You can enjoy the fresh ocean air, wonderful Mediterranean-like climate, and deep blue sea throughout the year!
Rosarito beach is perfect for any kind of vacation, such as hiking the sand dunes, joining beach parties, or enjoying the Pacific ocean views with a cool drink in your hand.
The proximity to Mexico and the United States border makes it extremely popular with U.S. tourists and visitors. Playas de Rosarito is located 30 miles south of San Diego, California. You can drive from downtown San Diego for about 35 minutes to Rosarito.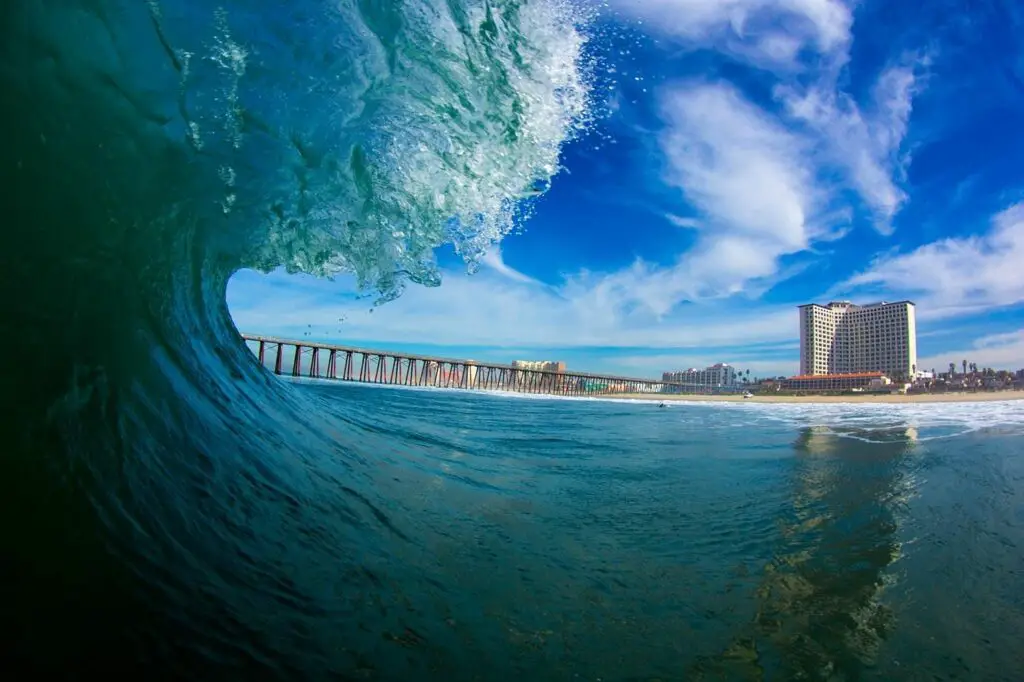 Rosarito Beach used to be scenery for many Hollywood movie sets. Today, it is a perfect place both for the locals and the tourists. If you are planning your beach vacation, opt for visiting Rosarito beach where you can enjoy the sun, sand, and sea.
If you are fond of thrilling adventures, think of exploring the beach line. If you get outside of the Playas de Rosarito, you can see the long dunes rising over the ocean. Aren't these a perfect way to seek adventures and enjoy exciting views?
In addition, you can see many horse owners walking along the Rosarito beach. Opt for a ride for 30 or 60 minutes and enjoy a great riding trip along the coast.
There are several hotels and resort options along Rosarito beach. The closest beach access and scenic views are waiting for you!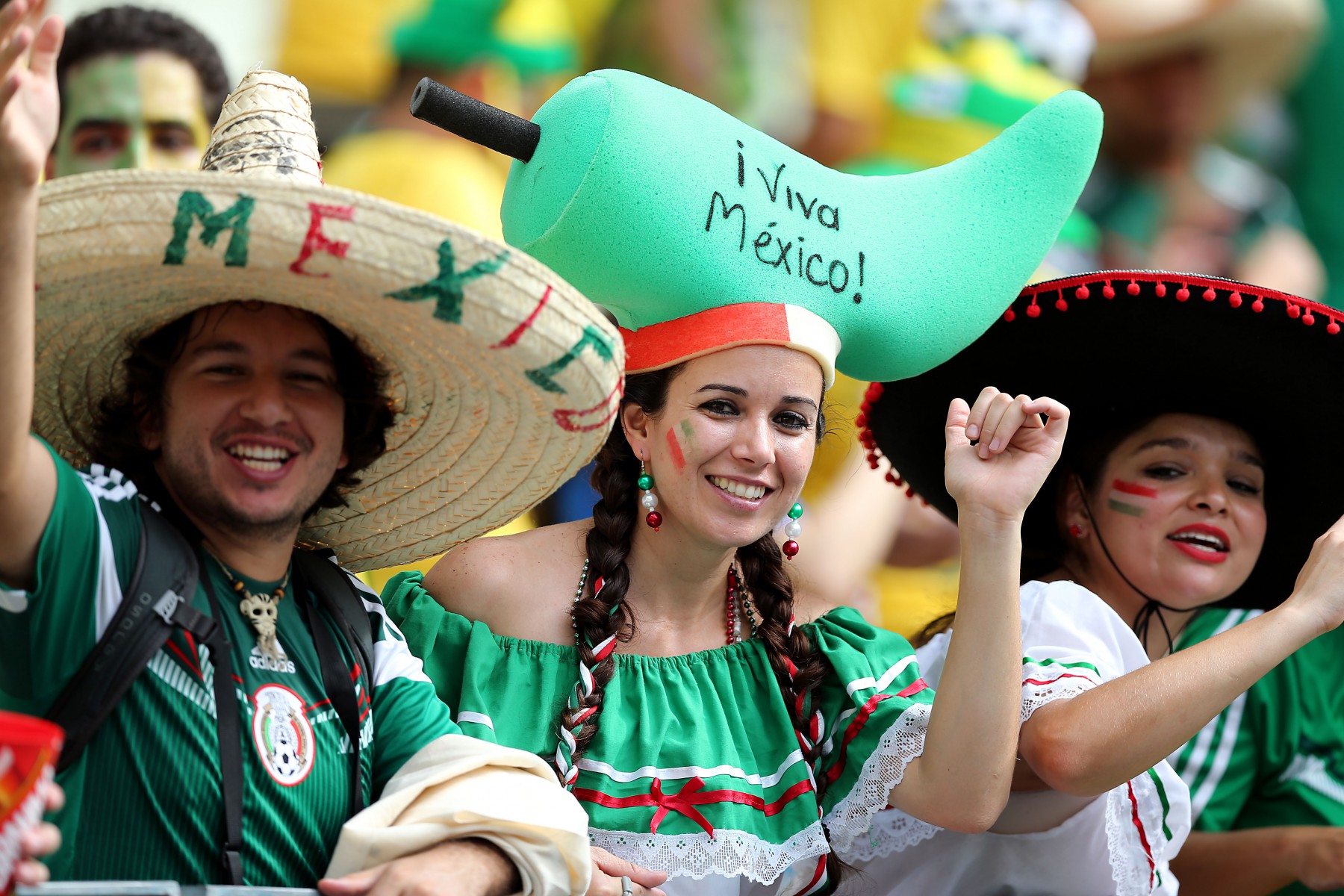 Finally, Rosarito beach isa perfect west-coast place for nightlife lovers. Playas Rosarito is also famous for being a party beach town. Its gorgeous beaches are full of various nightclubs, discos, and beachfront bars.
There are a wide variety of beach parties that you can find in Rosarito beach. Join the famous Beer Fest, or choose any of the different DJ performances. Dance all night long and enjoy a good time!
#2. Visit the Rosarito Beach Hotel
Rosarito Beach Hotel is a great option to stay at. Along with comfortable accommodation, you will get lots of impressions!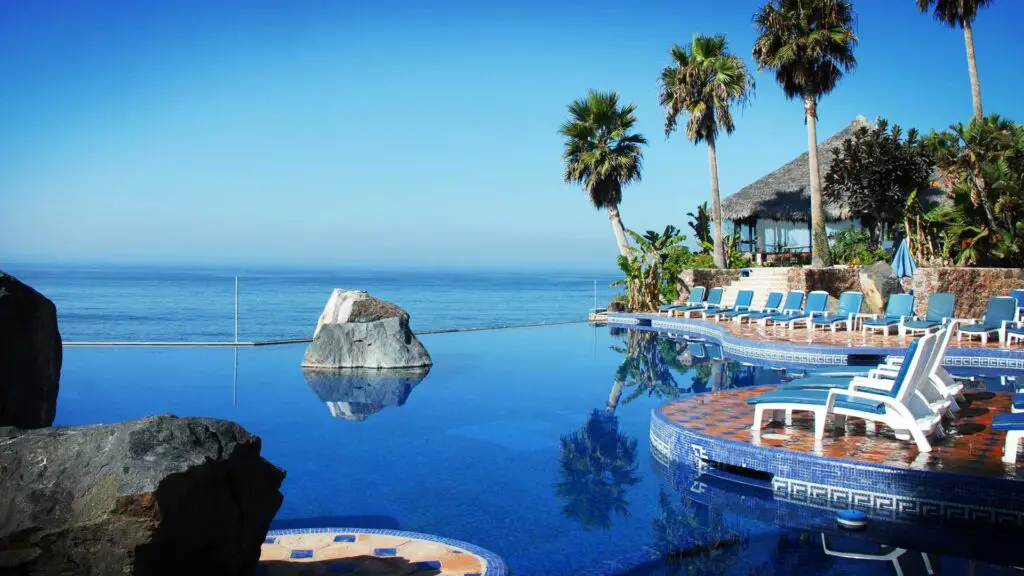 Having a lot of history, Rosarito Beach Hotel has always been popular among Hollywood movie stars. Just look at the sign above the lobby entrance of this luxury hotel that says "Through this door pass the most beautiful women in the world."
The Rosarito Beach Hotel was a favorite place to stay for many celebrities, such as Frank Sinatra, Joan Bennett, Kim Novak, Lana Turner, Marilyn Monroe, Robert Preston, Rita Hayworth, and many others.
If you can't afford to stay at the Rosarito Beach Hotel, it is worth visiting for a meal or trying a margarita. You can find this famous cocktail at any restaurant in the town, but the Rosarito Beach Hotel is the best place to enjoy it!
Address: Boulevard Benito Juarez 31, Playas Rosarito, 22710
#3. Opt for the Baja California Mexico tour
Consider the Baja California adventure tour that will give you plenty of bright impressions!
This adventure tour includes magic ocean vibes, full sun, tropical birds singing, scenic views, and beautiful beaches along the shore.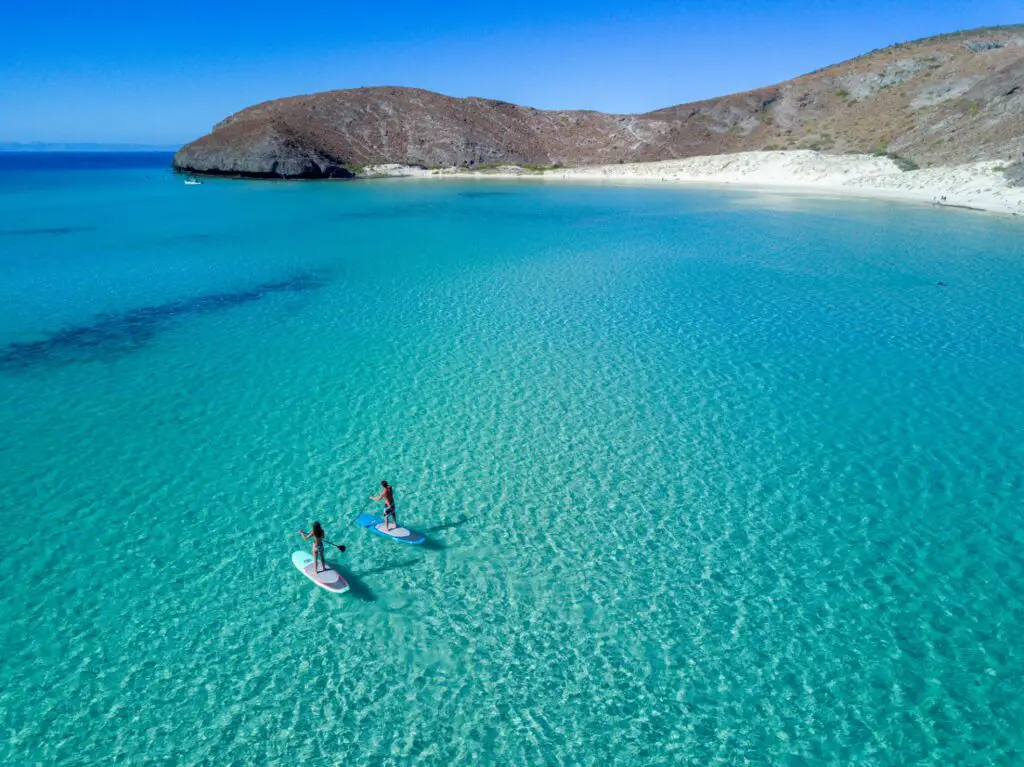 The Baja California Mexico tour consists of many options to have a good time. You can choose any kinds of activity you prefer!
Explore the Pacific Ocean, visit Camp Cecil on the Isla Espiritu Santo, hike on the coastal cliffs of Punta Lobos, or snorkel the Sea of Cortez.
Baja California Mexico Tour includes multiple stops. You will stop at Puerto Nuevo, Tijuana, Rosarito, and the Southern California – Mexico border wall. Perfect accommodation and delicious Mexican foods are also included.
#4. Go atop Cerro El Coronel
Cerro El Coronel is one of the most popular tourist destinations. If you don't mind hiking, you will appreciate the scenic views that you can see from there!
Opt for a hiking tour atop Cerro El Coronel. If you hike on a clear and sunny day, you are lucky to see a picturesque view of both Rosarito, Mexico, and San Diego, California. What is more, you can see even a part of Ensenada!
However, the best idea is to contact a guide before. Having an experienced guiding tour will give you many more positive impressions.
#5. Discover Rosarito's cultural life
If you are interested in Rosarito's cultural life, there are lots of possibilities to explore Mexican culture in different branches.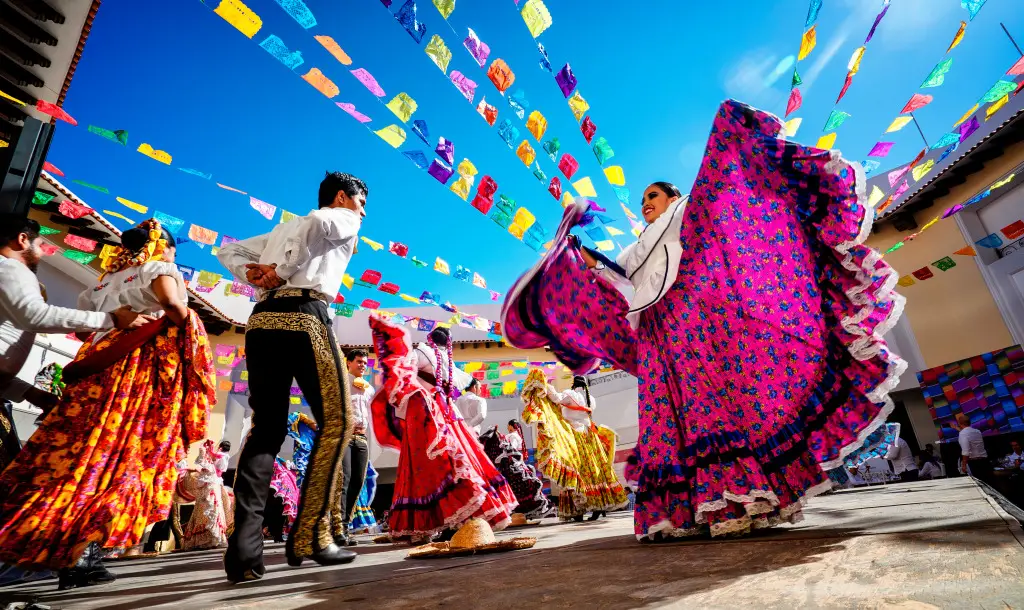 You can visit any art galleries and centers you wish. The most famous cultural centers are the Municipal Culture Institute, the State Art Center, and the Baja California Culture Institute.
Baja California Culture Institute is a grail for artists. It hosts lots of regular cultural events that attract artists and art lovers from all over the world.
If you are fond of art, Baja Gallery is one more perfect addition to your to-do list in Rosarito.
This gallery is a venue for fast-rising artists. This place features interesting art pieces for pocket-friendly prices. The artworks are sure to pique the interest of a vast range of art lovers.
There are many artists and art galleries here and there in Rosarito. You can find local artists and their works almost anywhere, including homes, markets, and shop stands.
Street murals are one more popular kind of art in Rosarito, so you can see them in many corners of the town.
One more must-see in Rosarito is Polo's Gallery. Since it has been open for more than twenty years, today it represents the works of many Baja artists.
For visitors who are exploring Mexican history, a good idea is to visit the Rosarito History Museums.
For music fans, there are lots of cultural events hosted in the Playas de Rosarito during the year. You can visit the famous Mariachi and Folklore Festivals, the Baja Blues Fest, or the Flying Samaritans' 4th of July Festival.
Rosarito Theatre Guild has been open since 1990 as a nonprofit organization. It is a great place for developing and performing different forms of art and live theater.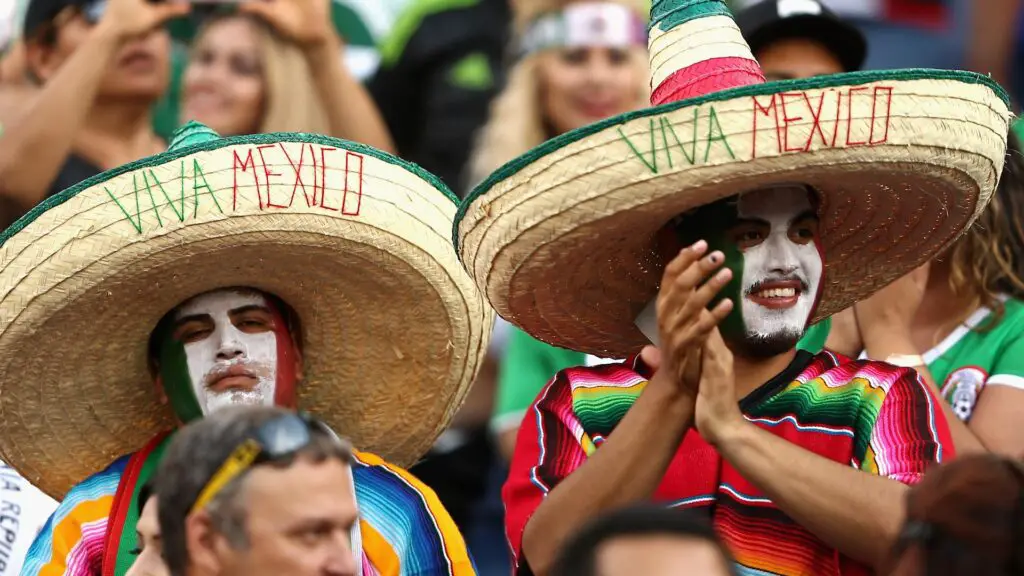 If you are a museum fan and don't mind extreme facilities, visit the Underwater park. This project includes a ship cemetery for the sunken ship Uribe 121. Since it was sunk in 2011, it becomes an underwater Atlantis.
A great idea is to visit this breathtaking underwater museum with a sculpture garden and four sunken shipwrecks.
#6. Visit the Iconic Christ of the Sacred Heart Statue
If you go six miles south of central Rosarito, you can see a great and real-looking statue of Christ that is known as Christ of the Sacred Heart (or Cristo del Sagrado Corazón).
The whole project took about seven years, and finally, the completed statue was represented in 2006.
The Christ of the Sacred Heart has 75 feet in height, and 40 tons in weight. 
Being made of steel and fiberglass, this iconic statue depicts Jesus Christ with open arms that are stretched forward. His sacred heart is displayed on the chest with thorns and a coat of color.
This iconic statue of Jesus Christ is located above El Morro. You can get there only through the Villas San Pedro entrance.
The best time to visit the Christ of the Sacred Heart is between 10:00 am and 4:00 pm.
#7. Try camelback and horseback riding
If you are fond of outdoor activities and want to discover the local beaches and mountains, then you can opt for a great riding tour.
In Rosarito, both camelback and horseback riding tours are available for tourists.
You can choose an individual tour for your family and friends, or join a standard group of tourists. There are lots of local stables that are ready to provide you with this incredible activity.
All the horses and camels are domesticated and specifically trained for such riding tours. The riding trails are simple and riding-friendly, so you will enjoy these tours.
For those who are absolutely new to riding tours, there is nothing to worry about. In Rosarito, multiple riding tours are suitable for any level of activity.
You can choose a simple riding tour for absolute beginners. As for the children, there are special pony rides widely available.
Some of these riding activities include hills and beach rides, and even offer stops at a taco shop.
#8. Go hiking
If you are fond of nature and don't mind spending lots of time outdoors, join the most popular hiking trails.
There are lots of things and scenic views to explore in Rosarito. The most popular hiking trails are Camino al Coronel, Cerro Piloncillo, and Sendero El Descanso.
Camino al Coronel has 5 miles back and forth with lots of exciting views all the way long. This hiking trail is suitable for hikers of any level.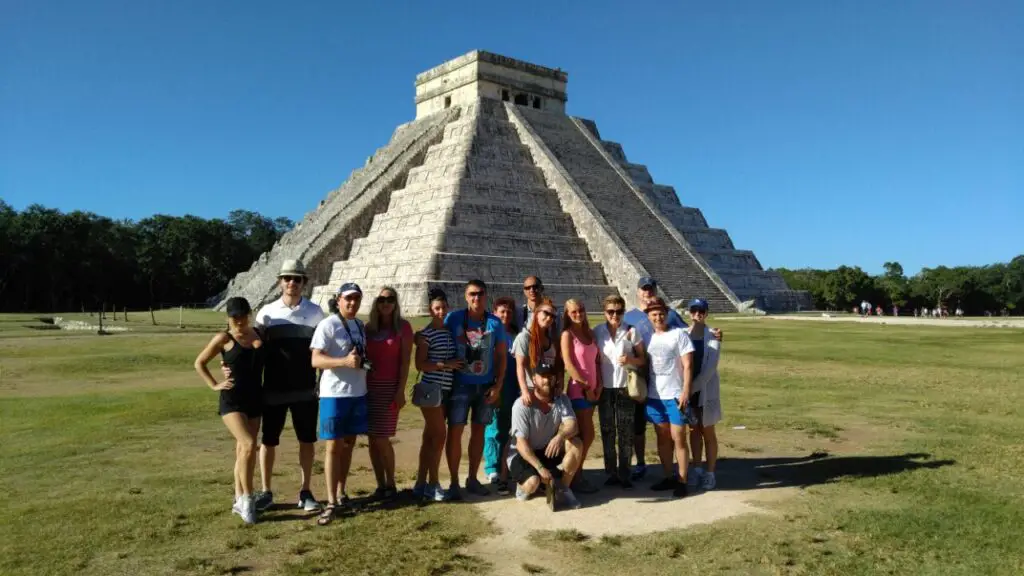 Cerro Piloncillo is an easy 3 miles-long trail that is perfect for animal lovers. While hiking, you have a great opportunity to spot the local animals.
Sendero El Descanso is the longest trail of these three as it has 12 miles long. However, it is an easy loop trail that you can hike without any exhaustion.
#9. Enjoy Rosarito Ocean sports
Are you keen on water sports and other fun activities? As a beach city, Rosarito offers plenty of these for enthusiastic tourists.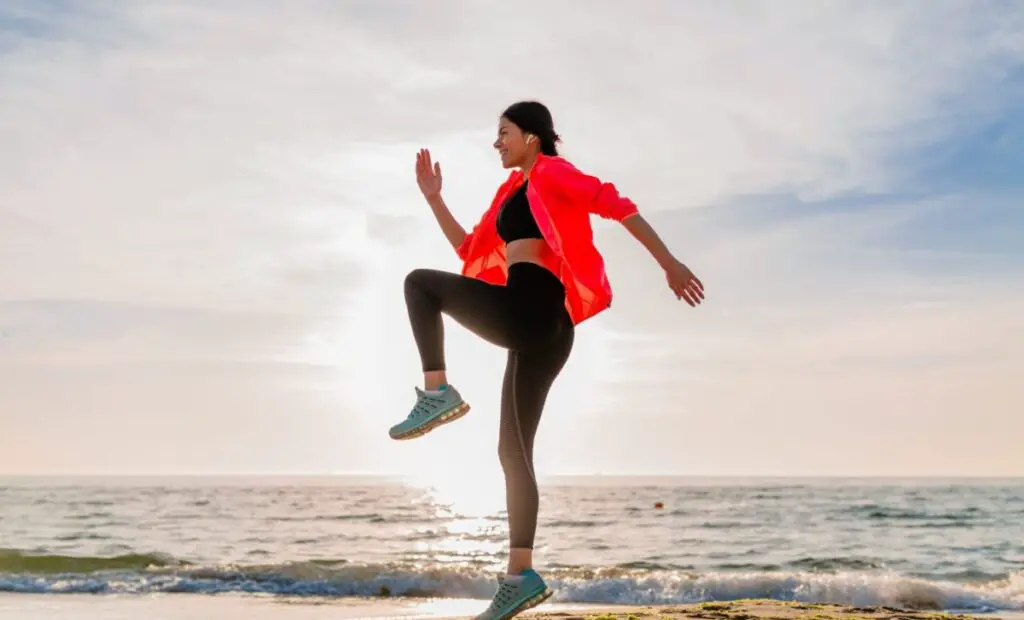 Rosarito Ocean Sports offers you a wide range of incredible water activities, such as jet skiing, scuba diving, paddle boarding, kayaking, island tours, an expedition to Coronado Islands, a Quad tour to Rosarito Canyon, and many other fun activities.
Rosarito Ocean Sports opens every Sunday through Saturday from 8:00 am to 8:00 pm.
#10. Sport fishing and whale watching
The waters of Rosarito beach are full of different ocean life.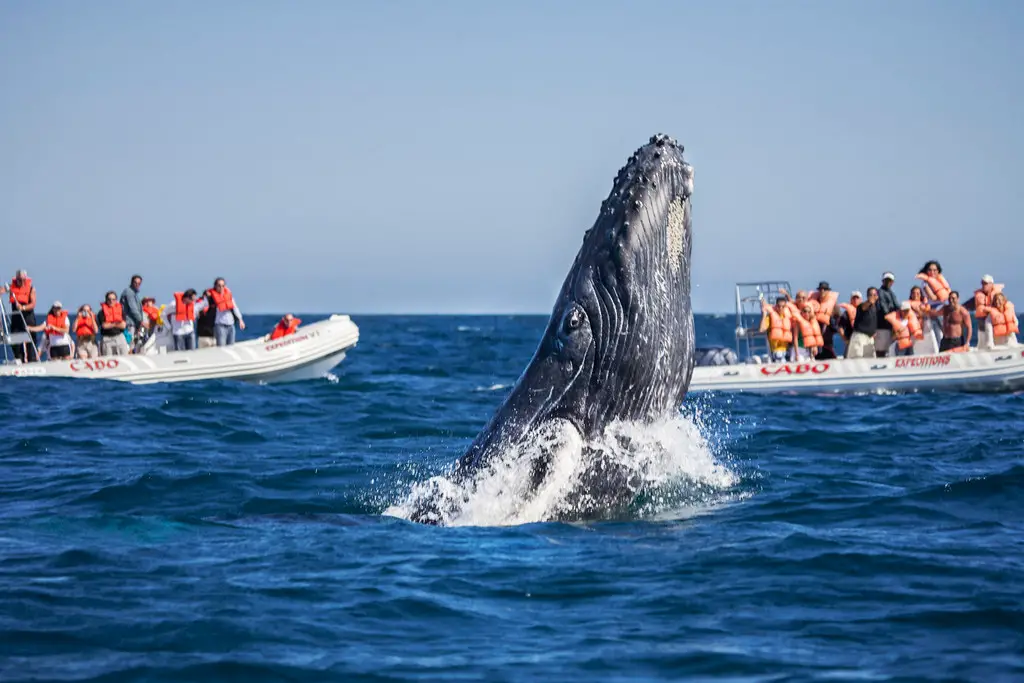 Enjoy your time watching the migrating whales, seabirds, or various fish swimming in the water.
If you are keen on sport fishing, charter a vessel or go fishing from the Rosarito Pier.
One more great idea is to visit Puerto Popitla, a fishing village that is located about 4 miles south of Rosarito beach.
#11. Go shopping!
Walk along Boulevard Benito Juarez, the main street in Rosarito. There is a wide range of stores and stalls with local crafts, kitchen dishes, clothes, and any other goods just up to you.
Visit the local artisan market that is full of incredible arts and many craft shops. You can buy unique pieces of furniture made by local artisans.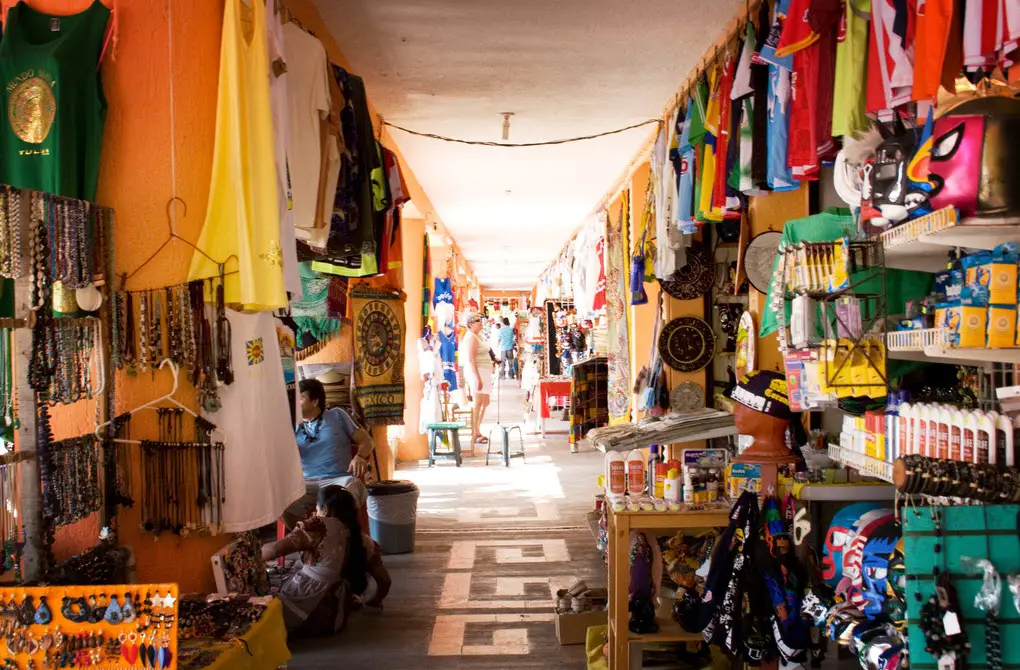 If you love welding, visit La Iguana. It is a unique metal furniture store full of different goods!
The store is owned by Edgar, the mayor of Rosarito. As a great welder and carpenter, he creates and sells hand-made doors, chairs beds, patio furniture, and many other crafts.
#12. Visit Puerto Nuevo lobster village
October is the lobster season in Mexico. Consider it when planning your vacation in Rosarito!
On the Pacific coast, Puerto Nuevo is a real foodie's heaven! Since Rosarito is a seaside town near Puerto Nuevo, you can easily get there. Opt for a day or evening trip from Rosarito, and let yourself some pampering.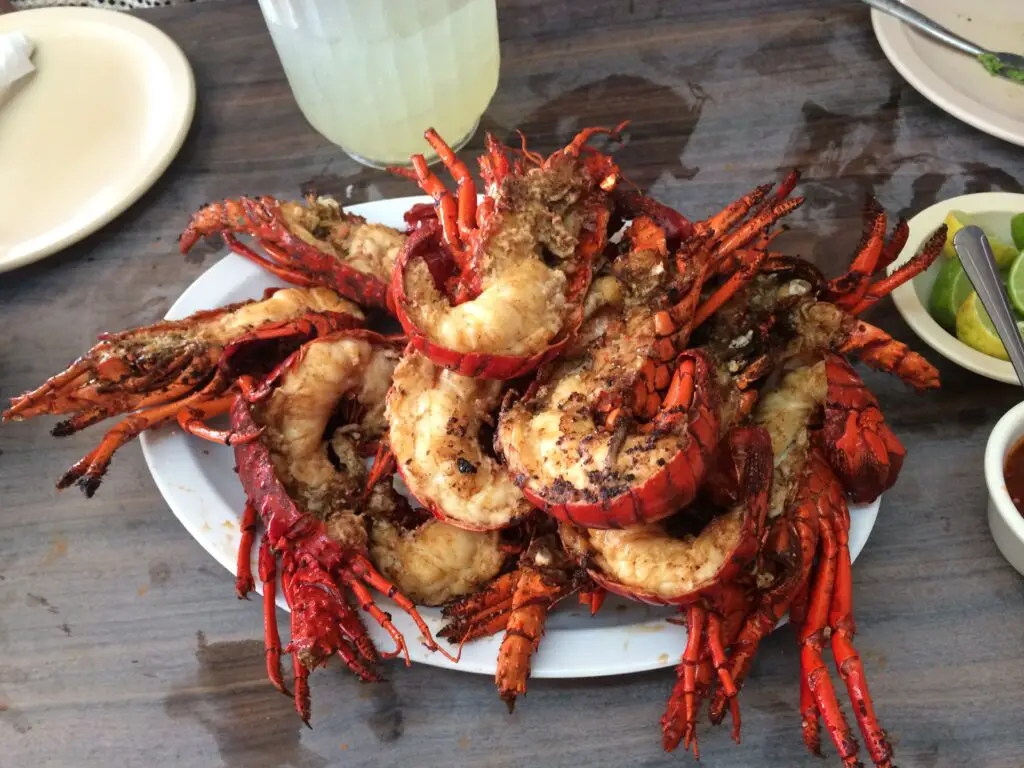 Puerto Nuevo lobster village is a great complex of more than 40 restaurants and shops. As you can guess, they all cater to lobster fans.
The lobster village has been existing since the 1950s, and millions of visitors come here each year to enjoy the perfect lobster preparations.
#13. Discover the local cuisine
A good idea is to visit Las Rocas Hotel. Even if you don't stay there, its restaurant, Café del Mar, provides comfortable sitting and enjoyable meals.
For the taco enthusiast, the best bet is to lunch at Tacos El Yaqui, one of the most famous Baja taco shops.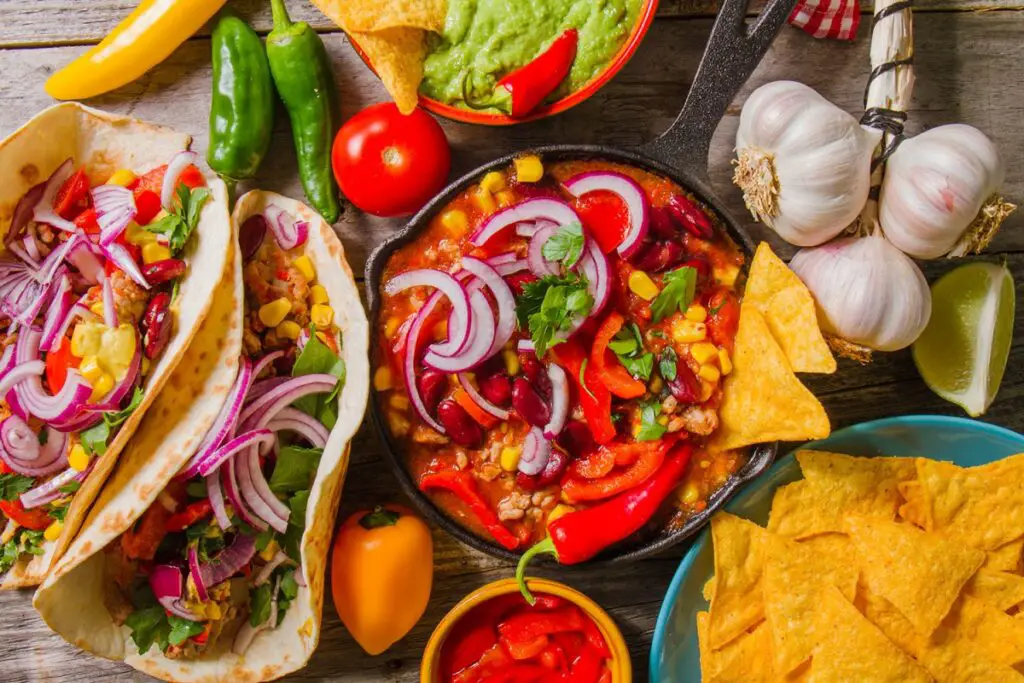 If you don't feel like trying tacos, opt for El Nido Restaurant. A great diversity of meals and an artistic atmosphere will never let your down! Just choose what you wish and discover the taste of Mexican cuisine.
For pizza fans, Ollies are the best choice. You can try any kind of pizza you wish, even including the Nutella pizza!
If you like eating outdoors, visit Susanna's. You will love their custom-made furniture and perfectly cooked food in the open kitchen.
#14. Try the hot drinks
If you are interested in Mexican wines and beers, you will have a great deal to explore! Get the perfect sensory experience and discover the local beverages.
Valle de Guadalupe is a famous region with a wide range of premium wines and craft beers that are produced there. Explore the unique taste of local wines and beers!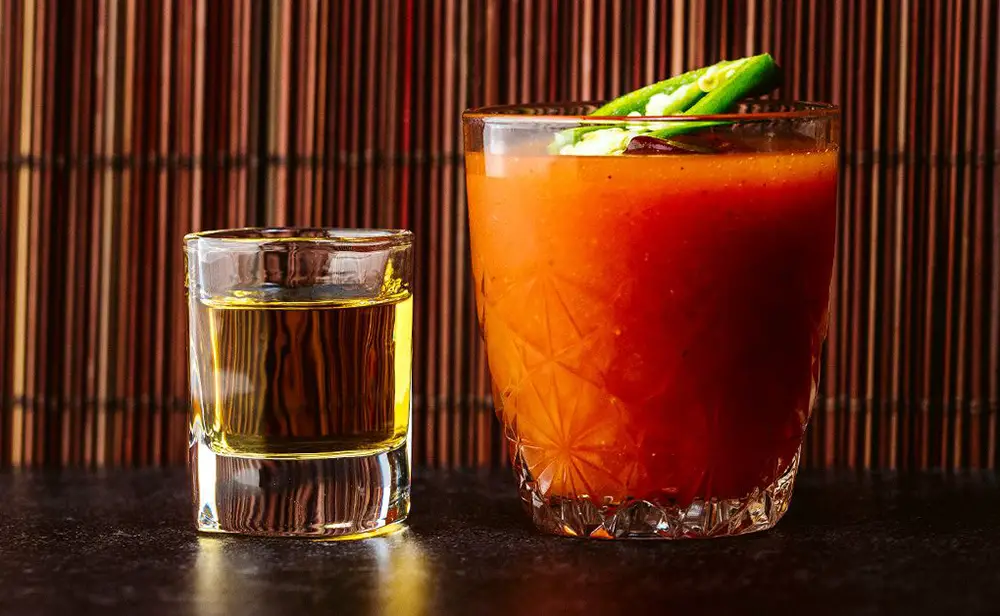 Contact the local operator for booking a two-to-four-day trip to Valle de Guadalupe.
For tequila lovers, a good choice is to visit Mercado del Mar. In general, it offers more than 1,000 different types of liquor to visitors!
Located in downtown Rosarito, it is hidden behind a small market. You can find lots of different liquors, wines, and, of course, various types of tequila. There are 350 different types of tequila available in the store!
#15. Tour the Baja Studios
The famous Baja Studios is one of the most prominent facilities in Rosarito.
Originally, the Baja Studios was built for filming Titanic, the famous blockbuster movie. That's why millions of tourists are eager to visit this place to take a closer look.
Besides, Baja Studios has one more interesting feature. Inside it, there is one of the largest water tanks all over the world. The capacity of this water tank is 17 million gallons!
#16. Travel to the Coronado Islands
Are you one of those tourists who prefer solitude and want to spend a relaxing day away from the crowded town? Then, a tour of the Coronado Islands will be heaven for you!
Coronado Islands are a group of islands that are situated off the Northwest coast of Baja California. As these islands are mainly uninhabited, they are a perfect place to relax and escape from bustling city life.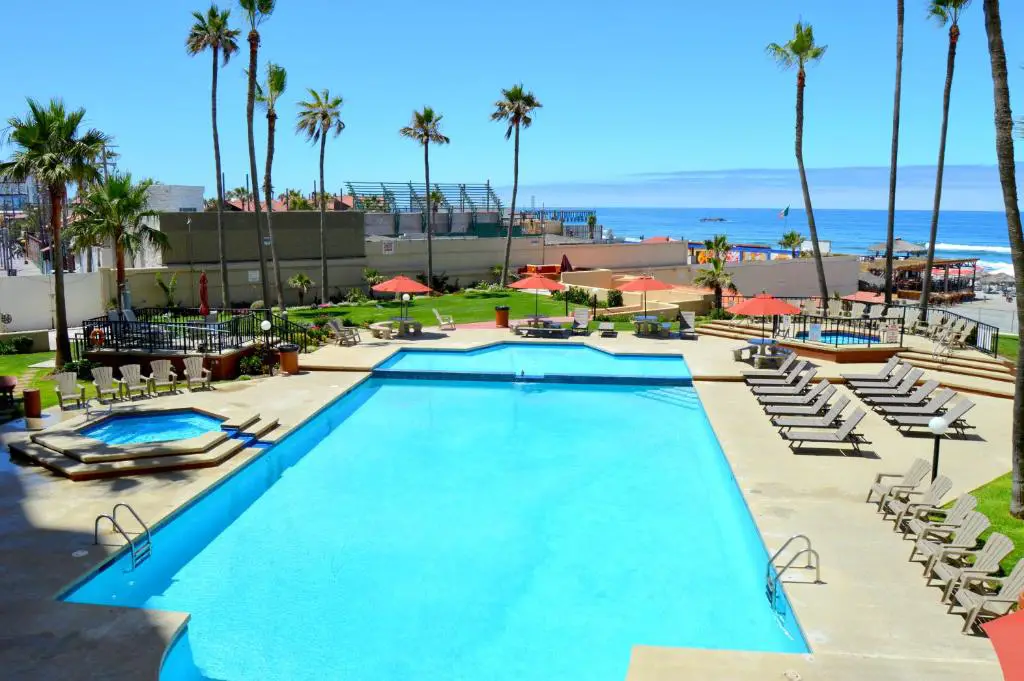 You can travel there directly from Rosarito and stay for a relaxing day. Enjoy swimming, surfing, and sunbathing without a crowd of tourists!
However, be aware of the open sea currents surrounding the islands.
#17. What about Pikin?
For the most adventurous tourists, Pikin offers a great zip-line adventure. Enjoy this thrilling outdoor activity!
The complex also includes a campground, living bungalows, a restaurant, a swimming pool, and a playground for kids.
#18. Relax at Le Spa
Are you tired after a long adventurous day? Visit Le Spa which combines luxurious service and affordable prices!
Le Spa's service includes lots of body treatments, massages, facials, or pedicures up to any taste.
#19. Visit the Historical Rosarito Canyon
This is one more perfect and less explored spot for nature lovers. Generally, this place is visited for trail running and dirt biking.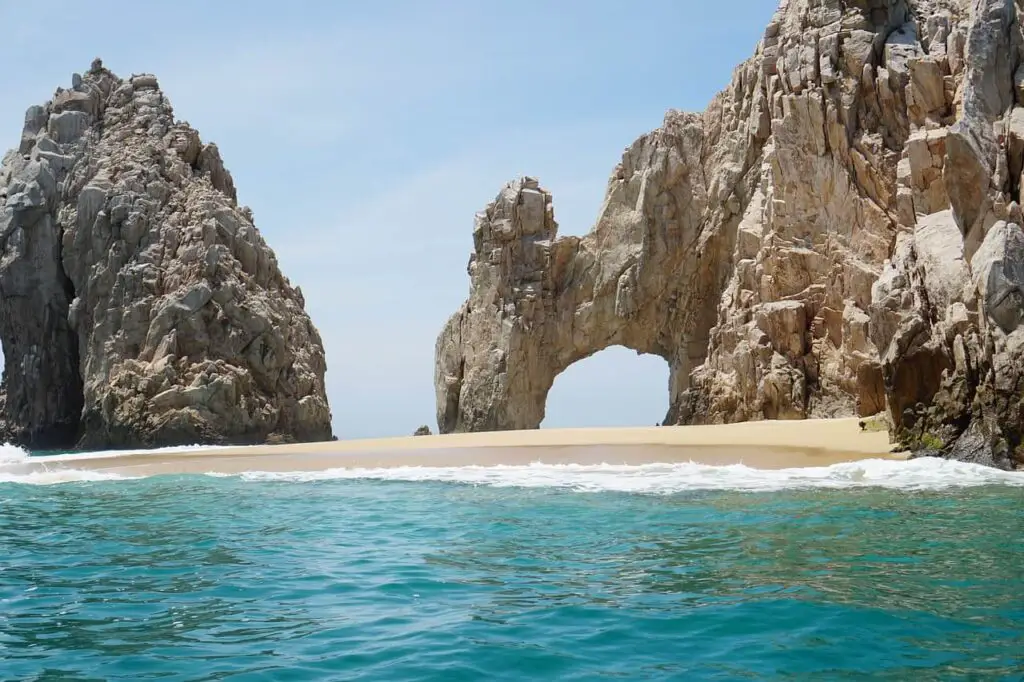 Twice a year, you can see the traditional Rosarito-to-Ensenada 50-mile bike ride visited by thousands of people!
#20. Relax at Hotel Festival Plaza Playas Rosarito
This hotel is located a few minutes from the Rosarito Theatre Guild and Baja California Center.
You can stay for a day at one of the 120 luxury rooms and pamper yourself with body treatments, massages, and facials.
FAQ
Is Rosarito Mexico worth visiting?
Playas de Rosarito is a great place with lots of reasons to visit it. No matter if you are an adventure-seeker or just want to relax on the beach far away from your daily hustle – anyway, you will find what you are looking for:
white sand beaches
scenic views
delicious foods and drinks
comfortable hotels
cultural life
hiking and riding tours
exciting attractions
famous showplaces
beach parties
other great facilities
What do I need to know before going to Rosarito?
While you are planning your vacation in Rosarito, Mexico, here are some tips to keep in mind:
#1. Get proof of your citizenship!
When packing for a trip, don't forget to take your valid ID card, US passport, and driving license (unless you are going to take a bus or taxi).
In case you are going to stay in Rosarito for more than 72 hours, then you will need a special visa.
#2. Be on the safe side!
Generally, Rosarito is a safe town, so don't be afraid of any incidents while traveling.
However, a good rule of thumb is to avoid isolated areas. Stay away from the deserted places on the beach, especially when going there at night.
To feel more confident, stay in a secure place. Avoid camping on the beach with no security nearby. Opt for a secure hotel, hostel, or Airbnb to stay in.
#3. Opt for a money-saving trip!
In comparison to the United States, spending your vacation in Rosarito is much cheaper. Compare the costs of facilities and activities in Rosarito and the US, and feel the difference.
However, this is true unless you are planning to opt for high-end accommodation.
Generally, traveling to Rosarito is rather inexpensive. But keep in mind that seasonal prices can vary a lot. For example, in October which is known as lobster season, the prices become higher!
#4. Don't drink the local water!
While staying in Mexico, avoid drinking any tap water! The local water is not safe to drink. Instead, buy bottled drinking water that is surely clean and safe to consume.
Do you need pesos in Rosarito?
You can use US dollars in Rosarito. Both cash and credit cards are widely accepted, so you can use dollars without paying pesos.
However, if you are going to take a local bus, be ready to have pesos to pay the fare. Exchange some of your United States Dollars for Mexican Pesos to have them for such cases.
Final thoughts
If you are still looking for a great option to spend your vacation at, don't hesitate and choose the trip to Rosarito!