What do we usually seek when planning a beach vacation on the Caribbean coast of Mexico? This is the cerulean sea, pearly white sands, and comfort. We don't want to think about anything or take care of things. No, we are on our well-deserved vacation, and our only mission is R&R. That's exactly when we go for an all-inclusive resort.
An all-inclusive resort is a place where all your needs will be met, and you won't have to go anywhere for any additional service. All are included. Lots of folks always choose this type of accommodation. It's stress-free and comfortable. All-inclusive resorts are usually very high-end and provide their guests with excellent service.
We selected several all-inclusive resorts in Tulum Mexico, which should satisfy the most refined tastes. Tulum all-inclusive resorts are located in one of the most fascinating small towns on the Yucatan Peninsula. Tulum is a well-established tourist center where everything is aimed at making the guests happy.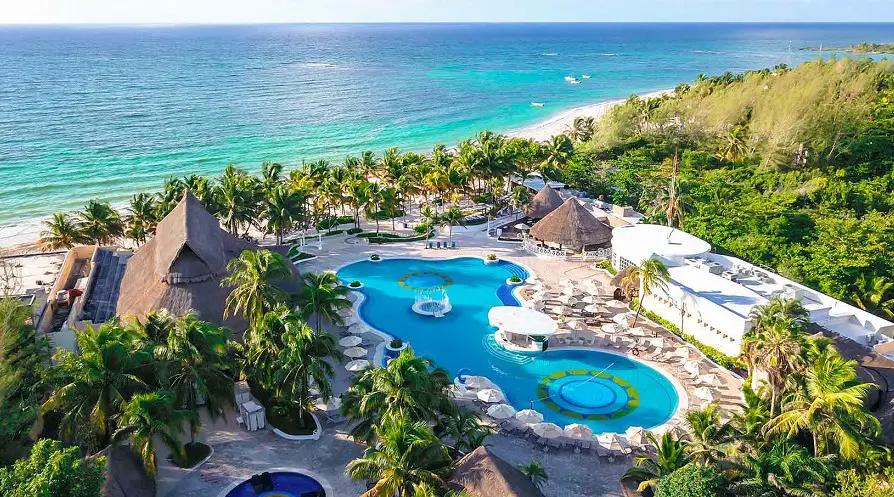 Your dream vacation in Tulum all-inclusive resorts with or without kids
We decided to divide all the best all-inclusive resorts that we recommend to you into two categories: best all-inclusive resorts for adults only and best all-inclusive resorts for families with children. These groups should be separated because they have entirely different goals for their vacations.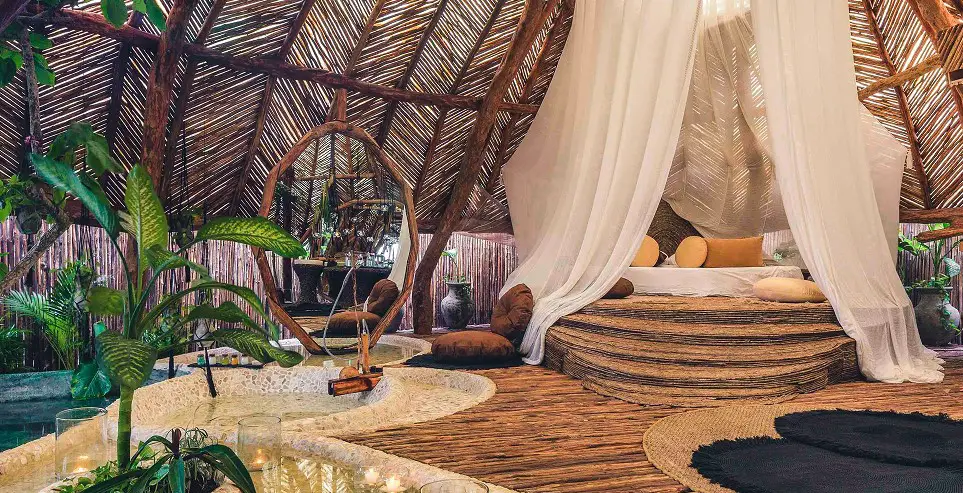 Adult dreams in Tulum all-inclusive resorts
Is it a romantic getaway with your significant other?
Or this is the first vacation together to see if you get along? Tulum is a perfect romantic location.
Azure waters of the Mexican Caribbean Sea, stunning beaches, famous cenotes, lush jungle, sports activities, and ancient Mayan ruins for history lovers are a wonderful choice where everyone can find something they enjoy.
A hotel is an integral part of a perfect dream. Let us show you the gems that we found. There are Tulum all-inclusive resorts. They all invite-only adult guests.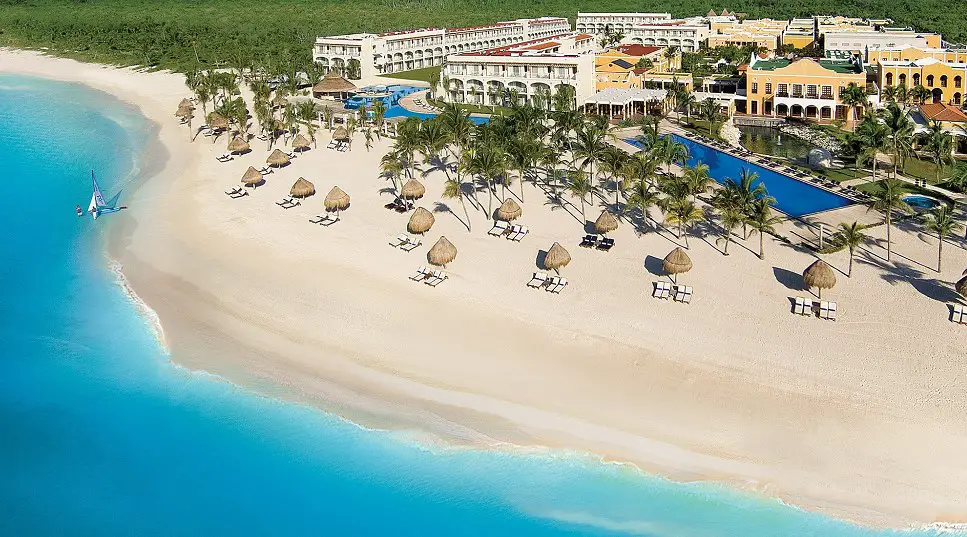 Catalonia Royal Tulum Beach & Spa Resort
We just love the location of this all-inclusive resort. On Riviera Maya, but distancing itself from the town's hustle and bustle (not too far, just half an hour's drive away), Catalonia Royal Tulum Beach & Spa is surrounded by beauty.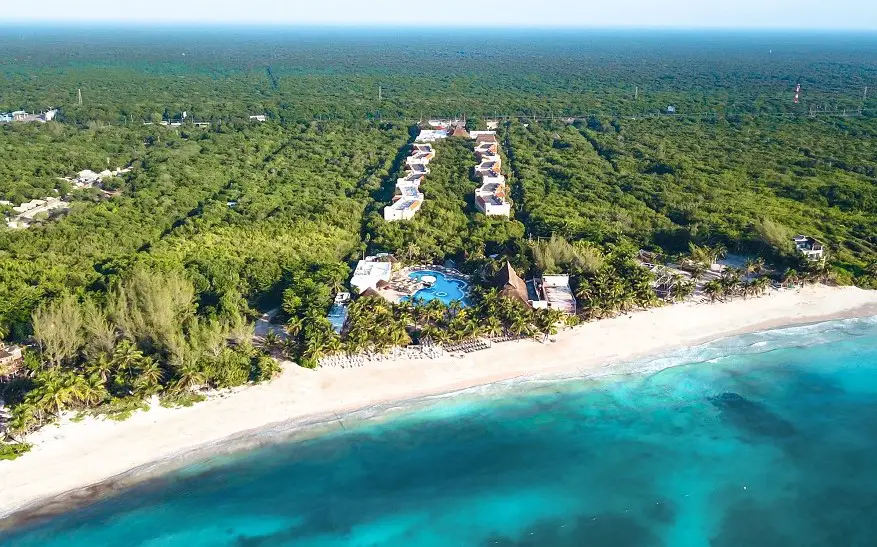 Here is a gorgeous Xpu-Ha Beach with the whitest sand and exuberant greenery of beautiful gardens. For those in favor of wildlife, a real jungle is waiting for you to take a stroll.
The famous cenotes are here for you to enjoy too. These picturesque natural pools of clear water are some of the many Mexican wonders. The hotel offers all the comfort and luxury you can wish for. Excellent concierge service will make sure that all your needs and caprices are met.
Every room is equipped with all modern amenities and designed with an exquisite style. Private balconies and terraces allow you to enjoy the view of the Caribbean Sea or the gorgeous sunset.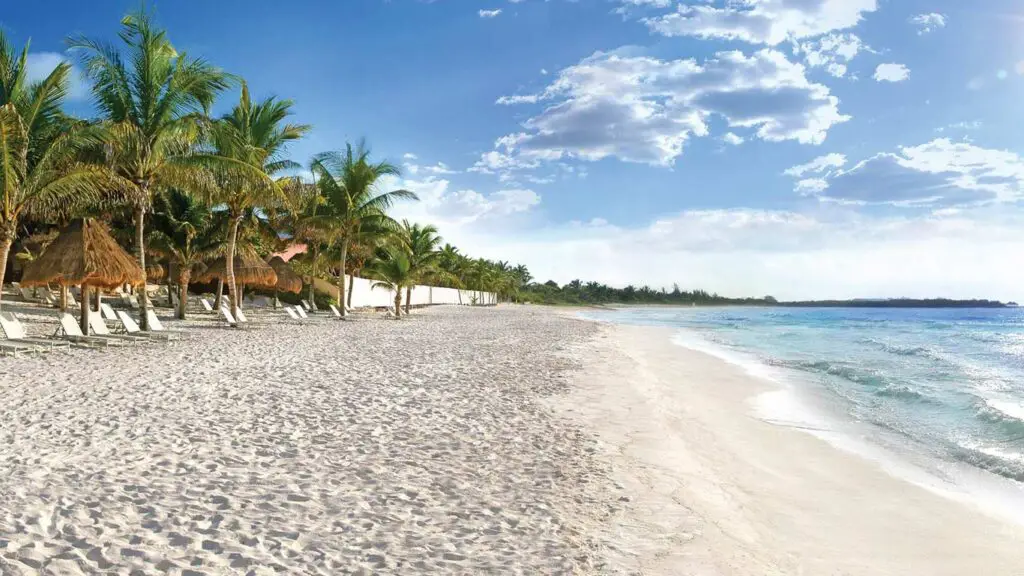 Catalonia Royal is one of the Tulum all-inclusive resorts that provide convenient direct beach access, where you can relax under the gentle sun, swim in the sea or engage in one of the many activities the hotel is happy to offer, like beach volleyball, football, or various water sports.
There is an amazing pool with a jacuzzi, of course in this Tulum all-inclusive resort. We love the swim-up bar there. It's so relaxing to soak in warm, but refreshing water lazily enjoying a glass of Margarita.
There are 9 restaurants and bars to make all your culinary wishes come true. Mexican and international cuisine will be appreciated even by the most demanding guests.
Catalonia is one of the best Tulum all-inclusive resorts, which may be the reason why it often hosts beach weddings. It has all the essential facilities and services for that.
As most all-inclusive resorts Tulum can offer, Catalonia has an exquisite Spa Alegria, where you can indulge in a sensual massage experience or take various other options. There's a well-equipped fitness center as well, of course.
And one more thing. If you are a golfer, the resort got you covered. They don't have their own golf course but will be happy to organize your trip to the excellent Riviera Maya Golf Club.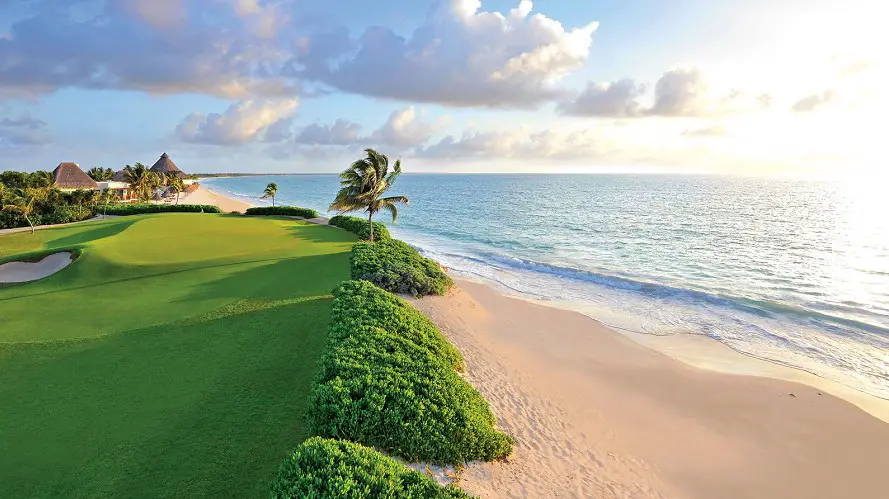 Kore Tulum Retreat & Spa Resort
It is one more option from our list of the best all-inclusive resorts in Tulum. And it is one more adults-only resort.
Kore Tulum Retreat is the epitome of romance, a perfect place to spend time as a couple. The suites offer absolute comfort and sophisticated luxury. All the modern amenities will be at your service, and besides — a breathtaking view (sea or garden) and an outdoor jacuzzi.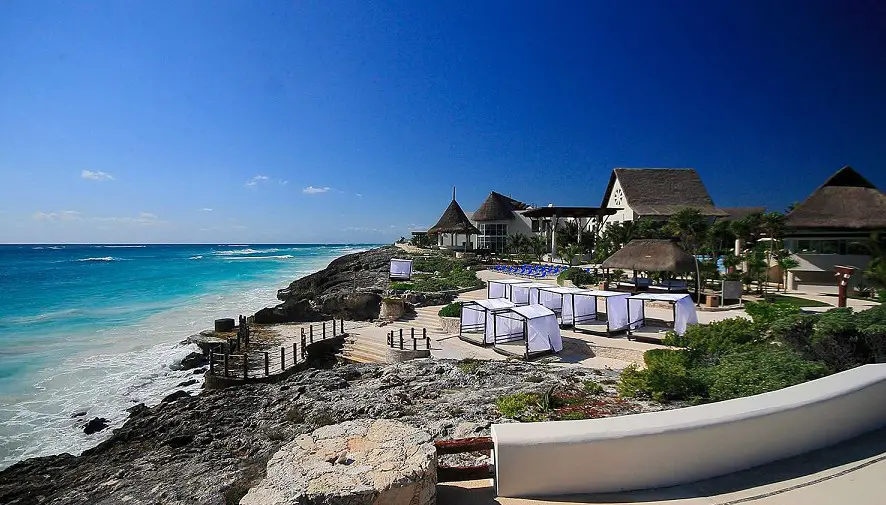 The Kore Tulum resort is basically a wellness center because it takes such good care of your body and soul. 3 restaurants will offer you delicious Mexican and international dishes made of local produce.
When we stayed at Tulum all-inclusive resorts, we always wanted to taste authentic regional cuisine.
And here at the place called Nirvana, we were enchanted by the regional dishes but prepared with a creative twist. We haven't tried anything similar in other Tulum all-inclusive resorts.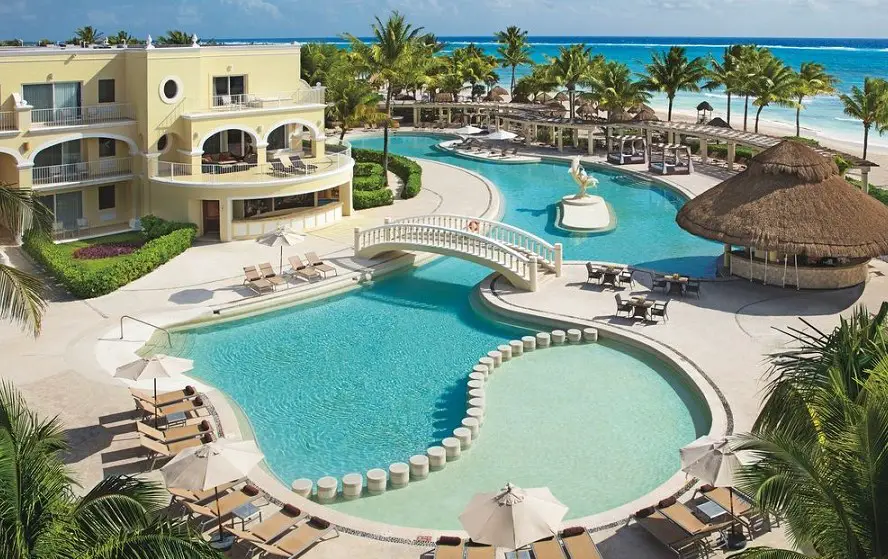 As it's a spa resort, you will be offered a wide range of massages and treatments (including for couples), yoga on the beach, and meditation.
There's an outdoor pool with a cute bar for a lazy afternoon drink and a sunbath.
We recommend renting a bike (at the resort) and exploring the neighborhood, which is fascinating. You can ride to Tulum town too, it will only take 7 minutes.
Secrets Akumal Riviera Maya Resort
Akumal Riviera Maya Resort is an absolutely enchanting and adults-only resort. Here is a beautiful territory with elegant white buildings facing the waterfront, the outdoor pool winding along the resort venues, and excellent service.
You can choose from different suites and rooms depending on the budget, but they are all gorgeous and designed with elegance and care for the guests. You may notice the huge hot tubs in the suites, all the modern amenities, the amazing Akumal beach, and breathtaking views.
What else to wish for? Do you want a fitness center, excellent restaurants, or a club? There are 7 restaurants, a fitness center and a beauty salon, and a fantastic nightclub for those who want to party.
Family fun in Tulum all-inclusive resorts
Vacationing with children is a completely different kind of rest. First, there's less rest. And the time that you spend at Tulum all-inclusive resorts is not only about your fun but also about the fun for the kids.
Therefore, a kids club, beach and water activities and kid-friendly menus are important. In a way, it's more challenging than adults-only resorts. But Tulum all-inclusive resorts rise to the challenge.
Bahia Principe Grand Tulum Beach Resort
One of the most exquisite all-inclusive resorts in Tulum is amazing as a family vacation spot. The rooms and suites are luxurious, comfortable, and equipped with everything you may need during your stay. And the views from a private balcony on the endless Caribbean Sea are breathtaking.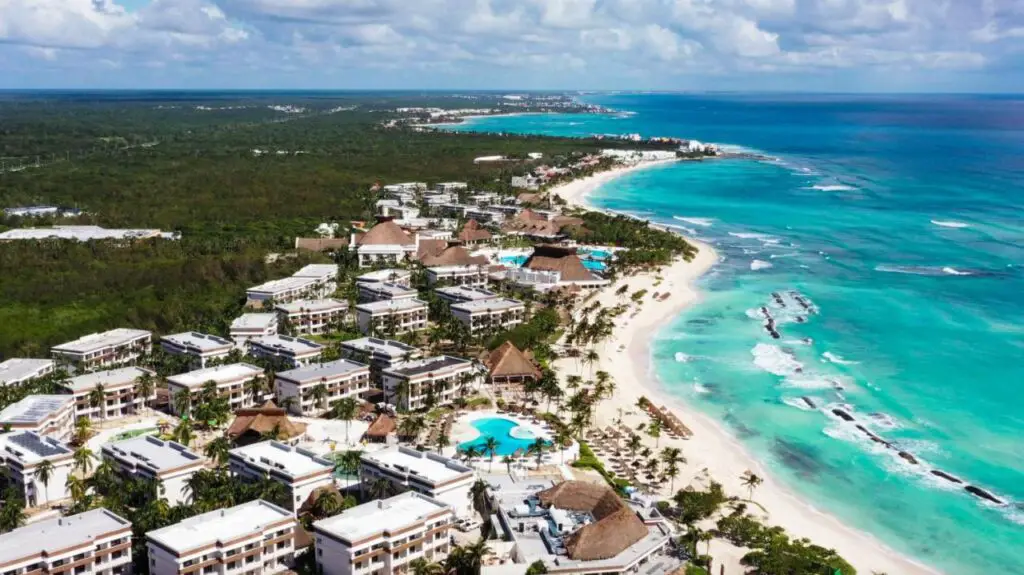 This family-friendly resort boasts 13 restaurants, both buffet style and a la carte restaurants. We loved a Mexican place called Tequila serving authentic dishes. It was divine.
Guests can enjoy their cocktails while waiting for their spa appointment in the 3 resort bars. A spa salon offers amazing treatment including a famous chocolate treatment that will make you feel like a royal.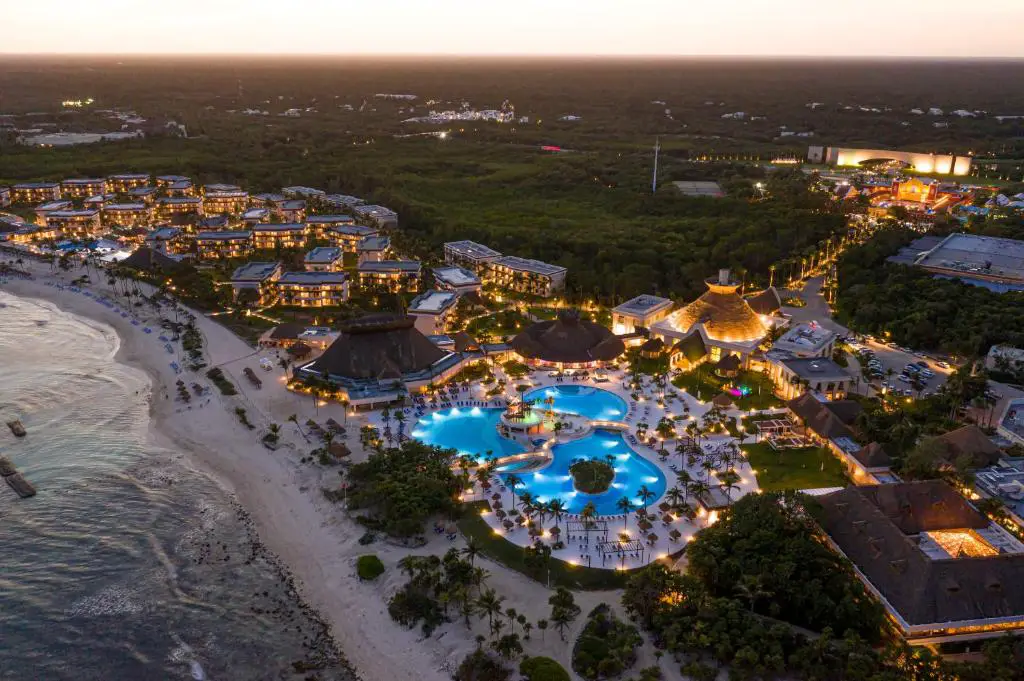 For both adults and children, Bahia Principe Grand Tulum offers a great tennis court and a golf course.
You don't need to leave the hotel territory to play your favorite games.
A club for the kids will give parents some breathing space while children are occupied.
Renting a car and visiting Tulum town can be a fun way to spend a day.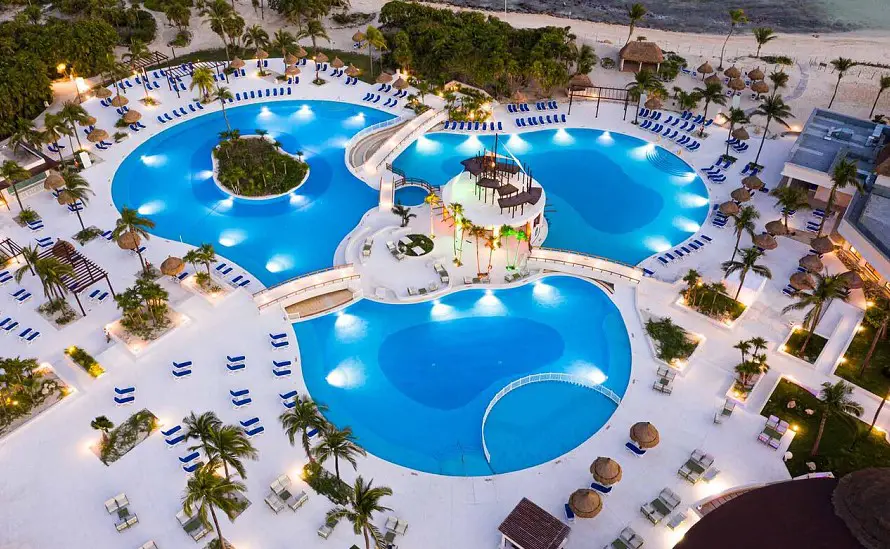 Bahia Principe Luxury Akumal Resort
Most all-inclusive resorts in Tulum are amazing, and Akumal Resort is one of the best.
We loved the interior of the suites. It is really tasteful and elegant. The service is flawless, and the staff is doing their best to make you feel at home.
We adored the idea that was implemented there (we think it's the only all-inclusive resort that has it): when parents wanted to spend some quality time as couples, they could go to a special area for adults only and have some time alone without kids.
And the kids have a lot of options including the kids club, sports activities, and other kinds of fun.
Of course, the resort offers luxurious spa treatments at the salon. Don't hesitate and indulge. It's worth it.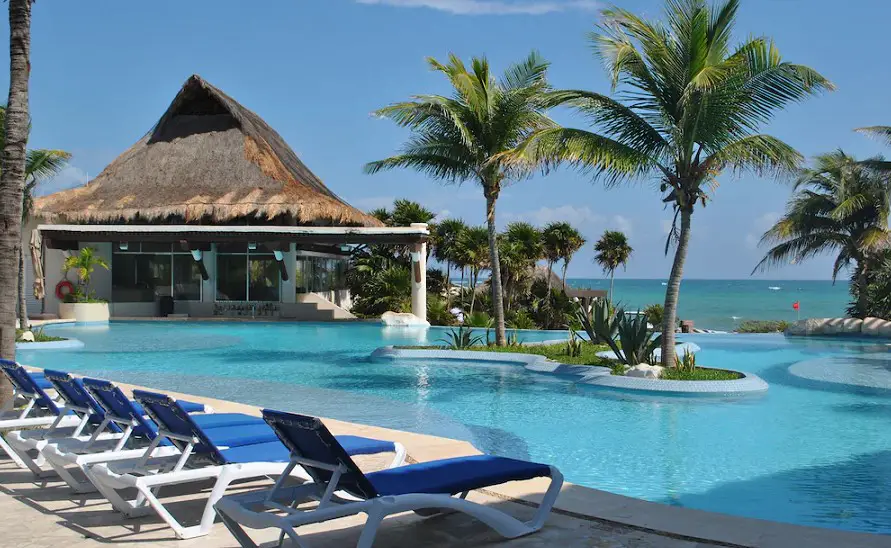 Anyone, even the guests with the most demanding taste will find delicious meals in the resort's 7 restaurants and multiple bars. We were enchanted by the Grand Tortuga restaurant and visited it several times during our stay.
And if you don't feel like going to the beach, 3 swimming pools offer you the comfort of leisurely mornings or afternoons.
Bahia Principe Grand Coba Resort
The all-inclusive resorts Tulum offers its guests are amazing, and Grand Coba isn't an exception. It has a beautiful territory with lush greenery and pools that remind us of the winding rivers flowing through the jungles.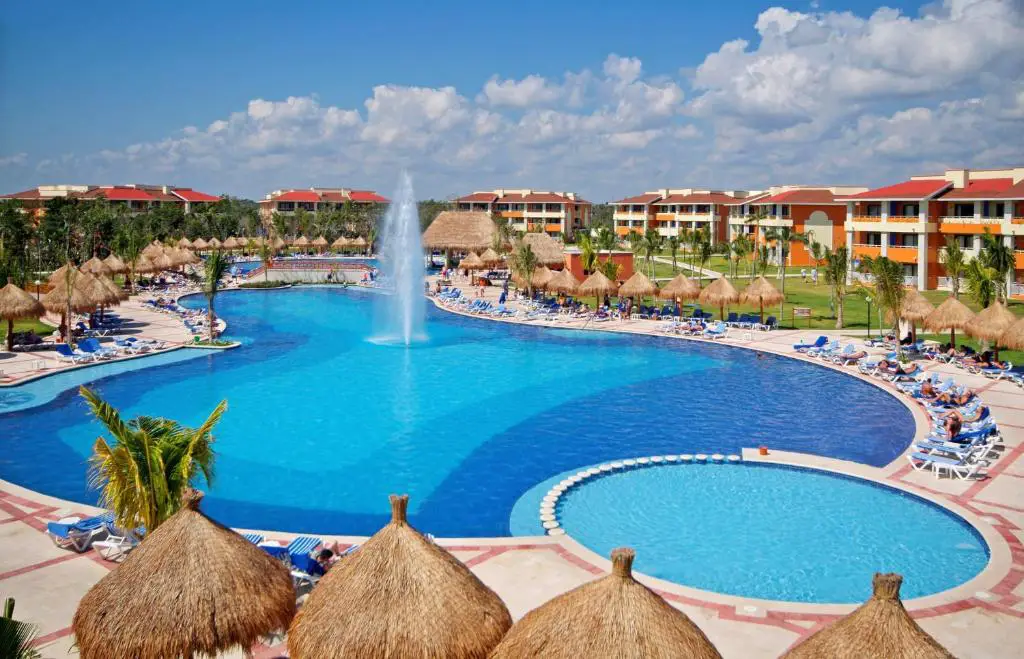 The Caribbean Sea is offering you amazing experiences. The turtles of Akumal Bay will let you swim with them in their natural habitat. Your kids will be ecstatic. One of the family-oriented Tulum all-inclusive resorts provides families with kids with unforgettable events like dolphin shows which take place every day at the resort, or various water sports activities.
Not all Tulum all-inclusive resorts can boast such an exclusive golf course. The course which belongs to the resort is located right at the beach, and the golfers can enjoy the stunning view while playing their favorite game.
Elegant, spacious suites with balconies and terraces, impeccable service, and all the facilities guests can wish for are all here. Here is a fitness center for those who want to burn all the delicious meals they had at the restaurants, and a spa for relaxation and massage afterward.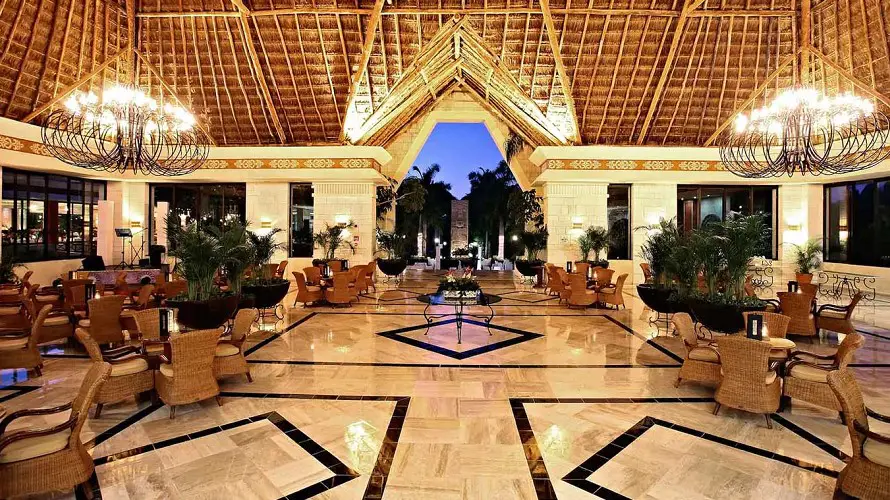 Grand Sirenis Riviera Maya Resort & Spa
Each of the many Tulum all-inclusive resorts has some special individual features. For Grand Sirenis, it's the way ancient cultural heritage was used to design the hotel. With love and care, elegant, eclectic architectural solutions pay tribute to the history of this land.
The resort's pools create a fascinating ensemble with a river flowing through the picturesque resort grounds.
A private beach with pearly white sand is where you can relax or engage in numerous activities the resort is providing, like kayaking or snorkeling. One of the favorite activities for many guests here is beach yoga. It is peace for the mind and body during your perfect vacation.
Spa salons are integral parts of Tulum all-inclusive resorts, and Sirelis has a luxury spa with exquisite treatments and massages.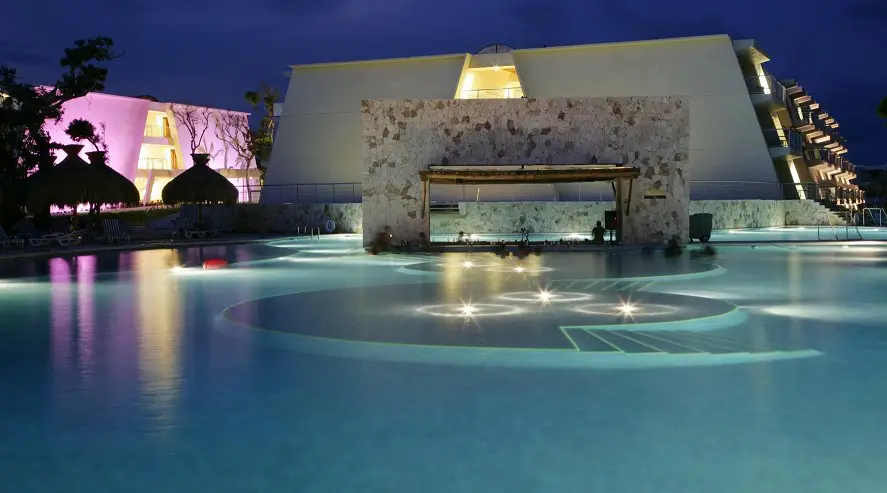 The resort has 10 excellent restaurants serving national cuisines from all over the world: Thai, Japanese, Brazilian, Italian, and of course authentic Mexican food. It is pure delight.
You can take a day trip and visit Tulum, Playa del Carmen, and Mayan ruins. It's so exciting to get to know the country you're visiting, its culture, and its traditions.
Private luxury
We decided to include one more category in our resort guide. We thought it would be a good idea to show you a place where you can stay with or without kids, and use it as a romantic retreat or a family vacation spot.
We fell in love with this place as soon as we saw it.
Although all Tulum all-inclusive resorts are lavish and magnificent, this private villa is luxury personified.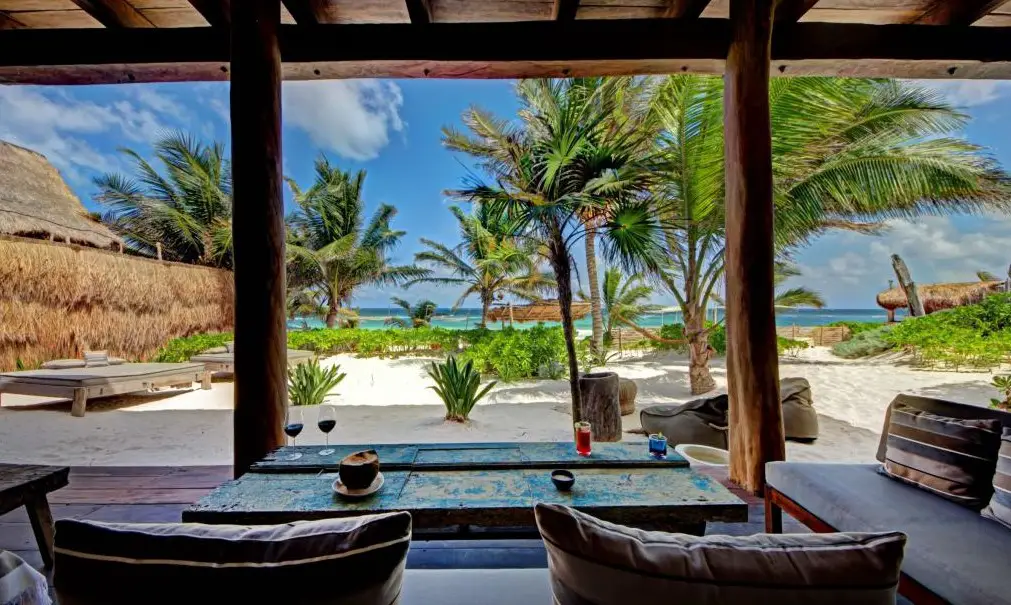 Villa Playaakun
Among all Tulum all-inclusive resorts, it's a gem. It is an all-inclusive private gem.
The villa is gorgeous. Luxurious and elegant suites in soft earthy tones in striking contrast with the cerulean sea view create an incredible ensemble. It's called ecological chic because it's so nature-inspired and organic.
It has a private beach with sand of a pure white color where you can enjoy seclusion. There's a beautiful pool too. The staff is really efficient and will respect your privacy.
The villa can accommodate up to 10 guests, who can stay in 5 bedrooms.
FAQ
Are all Tulum all-inclusive resorts good?
There is a big chance that all Tulum all-inclusive resorts are very good because generally, all-inclusive resorts are high-end establishments. All Tulum all-inclusive resorts that we visited or heard about had excellent reviews.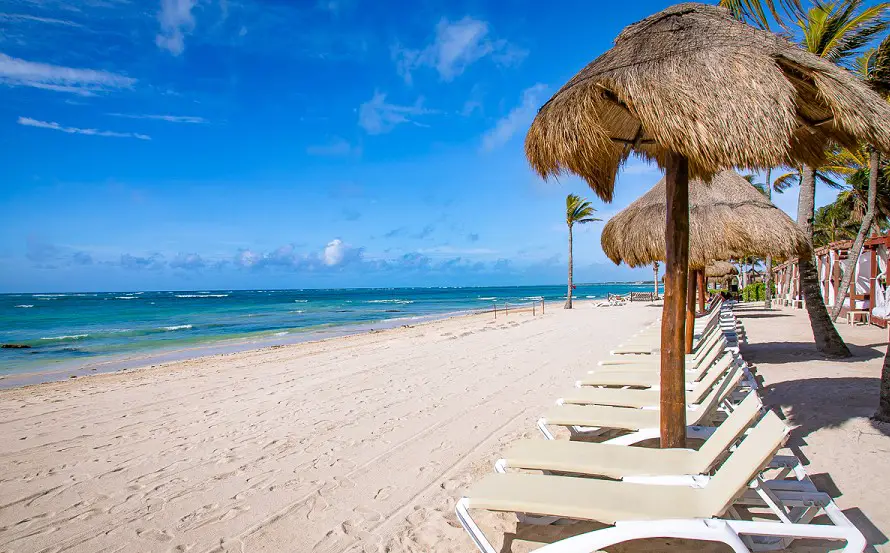 Are Tulum all-inclusive resorts expensive?
All Tulum all-inclusive resorts are not cheap, but the prices vary depending on the resort or the season. For example, Dreams Tulum Resort & Spa is quite pricey, but you can always hunt for seasonal discounts and promotion campaigns. You can get a really good deal.
Are Tulum all-inclusive resorts family-friendly?
Some Tulum all-inclusive resorts are family-friendly, and some are only for adult guests.
Final choice
When there are so many outstanding Tulum all-inclusive resorts to select from, it's hard to make the final choice. That's why we tried to categorize them according to the target groups. We also provided you with the information we have about something special about these Tulum all-inclusive resorts. Hopefully, that can help too.
It's objectively a difficult decision to make. We told you about the places we've had experience with, but there are so many other excellent Tulum all-inclusive resorts, like the famous Dreams Tulum Resort & Spa or Luxury Bahia Principe Sian Ka'an. We're actually going to check out Dreams Tulum Resort next winter.
Whatever choice you'll make, we are confident you can't go wrong. Tulum all-inclusive resorts are not the ones to disappoint their guests.
Read More: 8 Best All-Inclusive Resorts in Tulum