Are you looking for the best snorkeling in Mexico? Baja California Peninsula is the right place! Mexico's coastline is teeming with snorkeling spots: vibrant coral reefs, colorful marine life, and captivating cenotes.
Whether you're a beginner or an experienced snorkeler, you'll find something to explore here. Come with us as we dive into some of the best snorkeling spots and reefs that the Caribbean Sea has to offer!
We'll show you where to go and what to expect when snorkeling in these idyllic locations. From vibrant coral gardens and whale-watching sites to cenotes filled with unique creatures and picturesque views, we've got it all covered! 
So grab your snorkel gear and let's explore some of Mexico's most beautiful snorkeling spots with sea lions, whale sharks, green sea turtles, and the underwater world!
Visit Mayan ruins such as Coba, Tulum, or Chichen Itza, take surf lessons in del Carmen or Tulum, zip-line through jungle canopies in Akumal Bay, or explore underground caves at Cenote Dos Ojos near Tulum.
Experience the Yucatan Peninsula
The Yucatan Peninsula is full of fantastic snorkeling spots, from the wide array of cenotes to the almost-limitless Caribbean reefs.
Here, you'll get to experience some of the most stunning views and underwater wildlife as you snorkel in Mexico.
For a once-in-a-lifetime experience, try snorkeling with whale sharks in Isla Mujeres or explore the spectacular coral gardens along the Riviera Maya.
Or why not venture a bit further and explore some of Mexico's many cenotes?
The underwater caves are home to a diverse range of marine species, flora, and fauna, making them an ideal place for both novice and experienced snorkelers alike.
Get ready to make ruly unforgettable memories with some of these top spots:
Playa del Carmen: With its crystal clear waters, vibrant coral reefs, and myriad tropical fish, Playa del Carmen is the perfect spot for a magical diving adventure!
Cozumel: The world's second-largest barrier reef is located just off Cozumel's shore! This is one snorkeling spot that's not to be missed. There are also several dive shops located right in town which offer guided tours.
Cancun: Cancun has some amazing beaches that offer top-notch snorkeling opportunities. Explore the region's many beautiful cenotes or take a boat tour out to Isla Contoy for some exciting deep-sea exploration!
The best snorkeling in Mexico: Meet the manta rays of Isla Mujeres
Are you looking for a once-in-a-lifetime snorkeling in Mexico? Isla Mujeres is one of the best snorkeling spots!
At many beaches, you can find the majestic manta rays. They reach up to 6m wide and are found in shallower parts of the Mexican Caribbean.
They are friendly and even rub against humans when they feel welcomed. The best part is that, as they approach, they won't hurt you and they will even interact with swimmers as they pass by.
Aside from the Manta Rays, there is plenty of other life to see while snorkeling off Isla Mujeres.
Schools of tropical fish hide in coral and sponges while an occasional sea turtle or stingray can be spotted near the surface.
Whether it's a morning dip or an afternoon adventure, diving in Isla Mujeres will surely make for an unforgettable experience!
The best snorkeling in Mexico: take a trip to Puerto Morelos for a unique cenote adventure
Are you looking for a unique and unforgettable snorkeling experience? Head on over to Puerto Morelos for the opportunity to snorkel in underground caverns called cenotes.
A cenote is a natural pool or sinkhole with clear blue waters that were once sacred to the ancient Mayans.
Snorkeling in these cenotes will transport you to an entirely different world of spectacular fish, fascinating rocks, and spooky stalactites and stalagmites.
Snorkeling here offers something for everyone. If you're more into tranquil sightseeing, the cenotes can provide beautiful views of sunrise and sunset.
If you want to get adventurous, we suggest exploring the greater depths of the cenotes where you'll be able to swim among submerged rock gardens, coral formations, and an impressive display of marine life.
If it's your first time snorkeling in cenotes, or if you just need a refresher lesson on safety tips, definitely take advantage of the many guided tours available here!
So take your next vacation in Puerto Morelos for a one-of-a-kind snorkeling experience that you'll never forget!
The best snorkeling in Mexico: explore the Artificial Reef in Cancún
If you're looking for an incredible snorkeling adventure, then Cancun should be on your radar.
Here, you'll find the man-made Underwater Museum, which was created with the sole purpose of introducing an artificial reef to the area, and it hasn't disappointed!
On your trip, you'll get to explore over 500 sculptures that were made with eco-friendly materials. Plus, the museum is a great way to teach people about marine wildlife and conservation.
In addition to the sculptures, there are plenty of other attractions here too, including a variety of unique fish species.
Plus, you don't even need to dive deep to explore all that this reef has to offer – many of the attractions are in shallow water so even those who aren't very experienced can still enjoy a great snorkeling experience here.
What you can expect
At the Underwater Museum of Cancun, you'll get to explore:
Colorful reefs and equatorial fish
Unique sculptures designed by world-renowned artists
An abundance of diverse marine life including sharks and dolphins
A variety of plants and other fascinating organisms
So if you want an amazing snorkeling experience in Mexico then make sure that you add the Underwater Museum of Cancun to your list!
Discover dolphins and whale sharks in Riviera Maya
Ready for a truly special experience? The Riviera Maya offers visitors a unique snorkeling spot with dolphins, sea lions, whale sharks, and other species.
With its shimmering turquoise waters, you'll be immersed in a dreamy world full of exotic fish, tropical corals, seagrass beds, and colorful reefs bustling with life.
Keep your eyes peeled for more than just bright fish; you could spot bottlenose dolphins, nurse sharks, and even whale sharks (the largest species of fish in the world!)
Dolphin encounter
If you want to get up close and personal with the dolphins of Riviera Maya, then sign up for a dolphin encounter! You can join the pod and swim alongside these graceful creatures as they playfully dart around you. It's an unforgettable experience that will stay with you forever!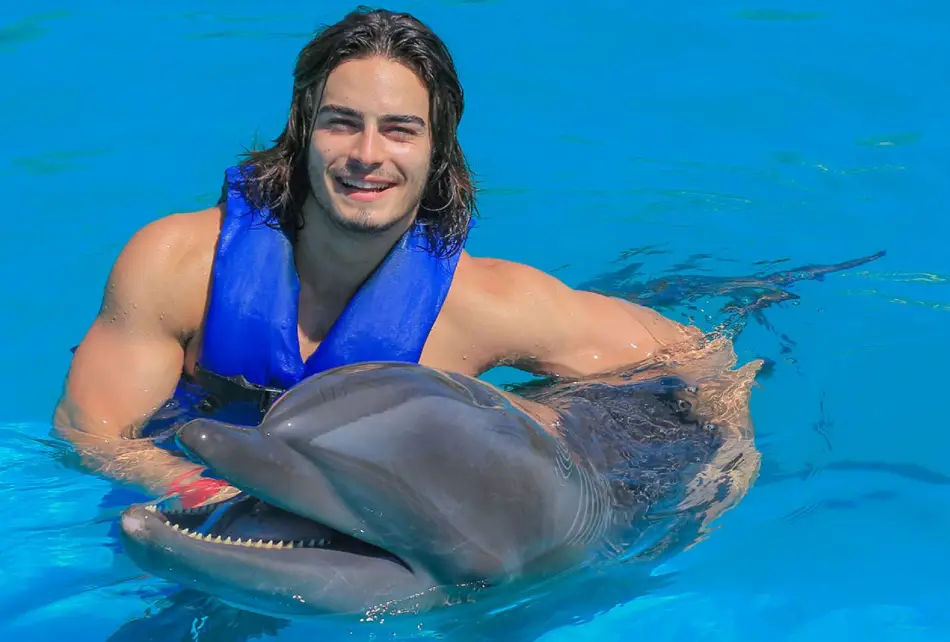 Shark snorkeling
For a more daring adventure, why not go on a shark snorkeling tour?
Not only is it an incomparable way to explore some of Mexico's most captivating underwater landscapes – but by donning snorkeling gear and diving down into the depths of the sea, you'll have an incredible encounter with giant whale sharks and other species of shark.
Experience the thrill and excitement of snorkeling in Mexico with these unforgettable adventures:
Dolphin encounter
Whale Sharks snorkeling
Explore sea beds
See colorful fish and reefs
The best snorkeling spots in Mexico: Akumal Bay
Akumal Bay is a popular snorkeling destination in Mexico because marine life takes the center stage. During the tourist season, Akumal Bay can get quite crowded here, so keep that in mind when planning your trip.
Akumal Bay has a mile-long stretch of picture-perfect white sand beach. This makes it ideal for an all-day beach trip, complete with swimming and snorkeling. If you are visiting during the peak season, get there early to avoid crowds.
Akumal Bay is located on the Riviera Maya, close to Tulum and del Carmen. The green sea turtles that feed on the seagrass beds in this marine area are primarily responsible for the popularity of Akumal Bay.
Best snorkeling: explore Humpback whales in the Pacific
When it comes to experiencing the humpback whale in its natural habitat, there's no better place than Mexico's Pacific Coastline.
Named for the distinctive hump that appears when they migrate, humpback whales live deep in the Pacific Ocean and its nearby coasts.
During peak season, usually between January and March, you can witness up to a thousand of these majestic creatures as they migrate from Alaska to mate and calve off Baja California Peninsula shores.
Snorkeling with humpback whales is an incredible experience and one of the best ways to get up close and personal with these gentle giants.
You can join a boat tour that takes you out onto the ocean and encourages you to swim in shallow depths with these creatures, allowing them to interact with you in their natural environment.
Here are some things you'll need before joining a tour:
Appropriate swimwear
A snorkel mask
Flippers
Sunscreen
You may also want to bring a GoPro or underwater camera so that you can capture your once-in-a-lifetime experience.
With its warm waters and abundance of marine life, there is hardly a better snorkeling experience than here on Mexico's Pacific Coastline. So don't miss out on the chance to explore this unique landscape!
Whale shark snorkeling off Playa Del Carmen
One of the most incredible experiences you can have snorkeling in Mexico is a whale shark snorkeling off Playa del Carmen.
Not only is this one of the best places for whale shark sightings, but it's right on the beach! There is nothing more thrilling than coming face to face with these gentle giant creatures.
Whale sharks can grow up to 12 meters and reach a weight of more than 20 tons. They are active predators, however, they are very shy and tend to stay away from humans.
However, they love to feed on plankton, which makes them relatively easy to find in the shallow lagoons off del Carmen beach.
What you can expect to see
In addition to whale sharks, there is also plenty of other marine life you can see while snorkeling on the del Carmen beach.
Caribbean reef sharks, sea turtles, stingrays, colorful parrot fish, and angelfish can all be found here. With a little luck, you may even spot some barracudas and mantas too!
When you should go
The best time of year for whale shark snorkeling off the del Carmen beach is from June to September when sightings are at their peak.
During this time the waters are warm and calm, making for a perfect day out in nature exploring the reef systems and interacting with all sorts of sea life!
Best snorkeling: experiencing an abundance of sea life at Cabo San Lucas
There is hardly a better snorkeling and scuba diving experience than here in Mexico. And one of the best places to explore is Cabo San Lucas. It fronts a sparsely populated stretch of coast and is home to North America's only hard coral reef.
With its distinctive granite rocks and clear, sparkling waters, it's no wonder why this popular spot is often crowded with visitors (scuba divers, snorkelers) from all over the world.
But beyond its beauty, Cabo San Lucas hides an incredible experience, as this area gifts you with an abundance of sea life (sea lions, whale sharks, a coral reef, etc.)!
From small fish to large pelagic species like mantas and large sharks, you will witness an array of exotic creatures that you can almost touch if you're brave enough to enter the water.
Not only can you swim and explore around the rocks at Cabo San Lucas, but snorkeling here offers many more opportunities:
Visit a vibrant coral reef that houses countless tropical fish and try to spot rare species like eels, angelfish, and stingrays!
Experience the thrill of swimming alongside huge humpback whales during their annual migration- and maybe even spot some dolphins!
Dive into the depths of the mesmerizing blue abyss in search of unique cenotes full of secret wonders!
Challenge yourself with deeper dives, where bizarre sea creatures such as giant sea turtles await your arrival!
So don't wait any longer – it's time to grab your mask and jump into a dreamy underwater adventure where you can observe an incredible variety of species in one of Mexico's most impressive settings!
Discover unique cenotes for unforgettable snorkeling
Discover unique cenotes for unforgettable snorkeling. These underground caves and rivers are filled with crystal-clear freshwater and are home to some of the most spectacular marine life.
Snorkeling in a cenote is a great way to explore the depths of Mexico's natural environment while admiring the beauty of its marine life.
You can explore tunnels and underground caverns while taking in the unique formations of stalactites and stalagmites.
Pristine waters
In many places, you can find amazingly clear water for snorkeling around cenotes. With excellent visibility of up to 10 meters, you'll get an unforgettable experience with visibility rivaling that of any Caribbean island.
Abundant with life
Cenotes are bustling with life! From schools of colorful fish to ancient species, you can encounter all sorts of life in these freshwater caves. Even if you don't see any other living creatures on your visit, just looking at the rock formations will take your breath away!
Unique geology
The geological formations in a cenote make it an unforgettable sightseeing spot.
Cenotes are sinkholes or collapsed limestone that expose underground freshwater tunnels carved by an ancient river system called "Cueva de los Solteros".
The walls are also covered in fossils and other interesting rock formations making it an exciting place to explore!
A snorkeling adventure through these unique geological features is something that everyone should experience at least once in their lifetime.
The best snorkeling in Mexico: admire the beautiful corals of Acapulco
Acapulco is a popular destination for snorkeling in Mexico. It is surrounded by beautiful coral formations that offer a mesmerizing view of underwater life.
The warm waters around Acapulco also provide a perfect habitat for sea stars and other invertebrates.
There are plenty of shallow spots for beginners and those looking for an easy dive, but due to its popularity with tourists, these shallower waters can be crowded.
For a less crowded experience, try heading out to deeper waters on one of the dive boats.
El Caletón offers some unique underwater experiences, such as rock formations and ledges that are perfect for exploring. Don't forget your camera to capture this magical destination.
Snorkeling on the Pacific Coast of Mexico
The Pacific Coast of Mexico is a popular snorkeling location due to its proximity to many popular tourist destinations and its warm water temperatures.
It is also home to a variety of marine life, such as manta rays, clownfish, and green turtles, as well as tropical fish and other colorful creatures swimming in and out of the coral reefs.
Additionally, many tour operators offer guided snorkeling adventure trips, allowing you to safely explore these shorelines accompanied by an experienced guide.
Popular scuba diving and snorkeling destinations in the Pacific Region
Below are some spots where you can enjoy fantastic scuba diving or snorkeling right from the beach! Scuba divers love it! 
Los Arcos National Marine Park near Puerto Vallarta
Islas Marietas near Punta Mita
La Tovara National Park near San Blas
El Morro Beach near Puerto Escondido
Isla Espíritu Santo near La Paz
No matter which place you choose, there is something magical about exploring underwater when snorkeling here on Mexico's Pacific coast!
With its vibrant colors and endless opportunities for exploration, there's no doubt that it should be on your bucket list!
The coral reefs of the Caribbean Coast
Mexico's Caribbean Sea coastline is the perfect place for an underwater adventure, with colorful coral reefs providing the perfect backdrop for a snorkeling experience.
Snorkeling tours offer all the necessary gear and guide to help navigate you through the reef.
To ensure a safe and enjoyable experience, it is important to choose a spot with a few other divers, stay close to your group, and wear sunscreen while out in the Mexico's bright sun.
FAQs
What part of Mexico has the best snorkeling?
Choose Cozumel if you want to snorkel from the beach. It is a no-brainer for a diving vacation. Cozumel has a plethora of fantastic dive sites, the majority of which are within a 25-minute boat ride. Cozumel outperforms Cancun for scuba divers. 
Can you snorkel from the beach in Mexico?
Snorkeling and SCUBA diving are two of the most popular activities at Mexico's beach resorts. The coastlines of Mexico are teeming with colorful underwater life, and you will undoubtedly want to see it for yourself.
What is the best time of year to snorkel in Mexico?
The best time to visit Mexico for snorkeling is during their cooler season, which runs from November to March. Between November and January, Mexico is at its coolest. Temperatures range between 72 and 79°F during this period, with water temperatures averaging 79°F.
Read also: Cancun in July: weather, interesting places for visiting. Cancun travel tips