Trying to decide between a trip to Los Cabos or Cancun? We feel your dilemma – both Cancun and Cabo are stunning beach destinations in Mexico.
The good news is that you can't go wrong either way, but which is the better choice for you? Here we'll compare the two so you can make an informed decision on where to spend your Mexican getaway.
Both Cancun and Cabo have plenty of sunny beaches for lounging and swimming, unique culture, fun activities, and delicious food.
But when it comes down to it, what exactly sets them apart? What will you find in one that's missing in the other? Get ready to pack your beach sandals and learn more about each location.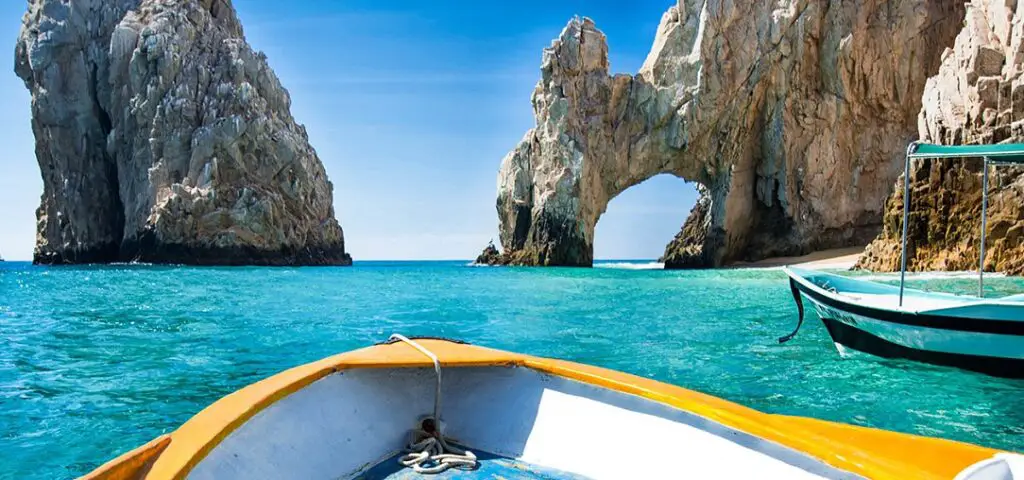 Choose a trip destination: Los Cabos or Cancun?
So, how do you choose between Cabo and Cancun? It's a tough decision, but the key is to know what each destination has to offer.
Los Cabos
Los Cabos is the perfect destination for travelers looking for a peaceful beach vacation. It offers some of the most beautiful beaches in Mexico, as well as incredible sightseeing opportunities. 
The area known as Cabo San Lucas is a popular destination for families and couples alike.
You'll find luxury resorts equipped with all the amenities, plus plenty of activities to keep your family entertained.
If you want tranquility and relaxation, Los Cabos is an excellent choice.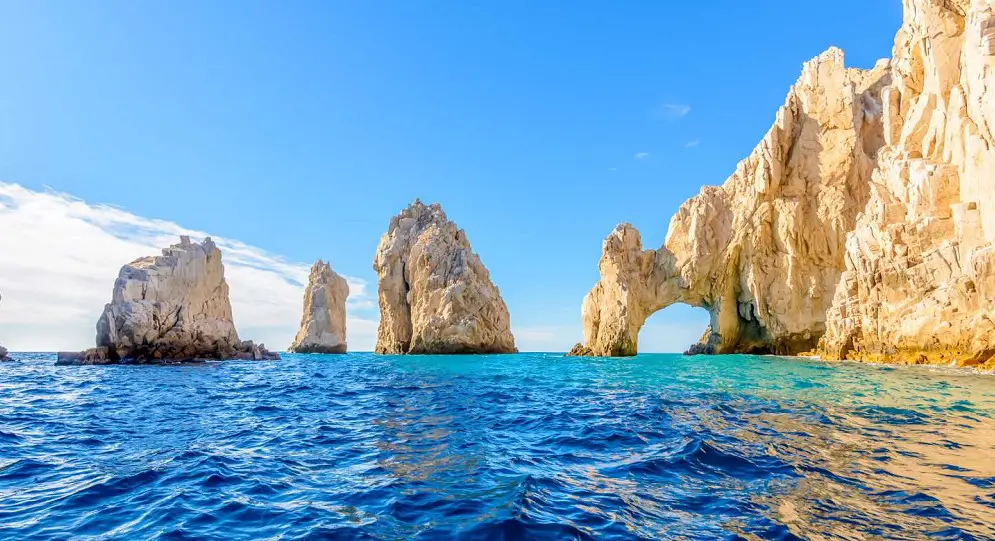 Visiting Cancun
Cancun is a great choice for those looking for adventure and fun in the sun.
Its bustling nightlife scene is the envy of beach spots around the world, offering an exciting atmosphere and plenty of live entertainment. 
There are lots of things to do outside on the beach or in nearby parks; Cancun even has archeological sites that you can explore!
For those seeking something more intense than relaxing on white-sand beaches, Cancun is an ideal choice.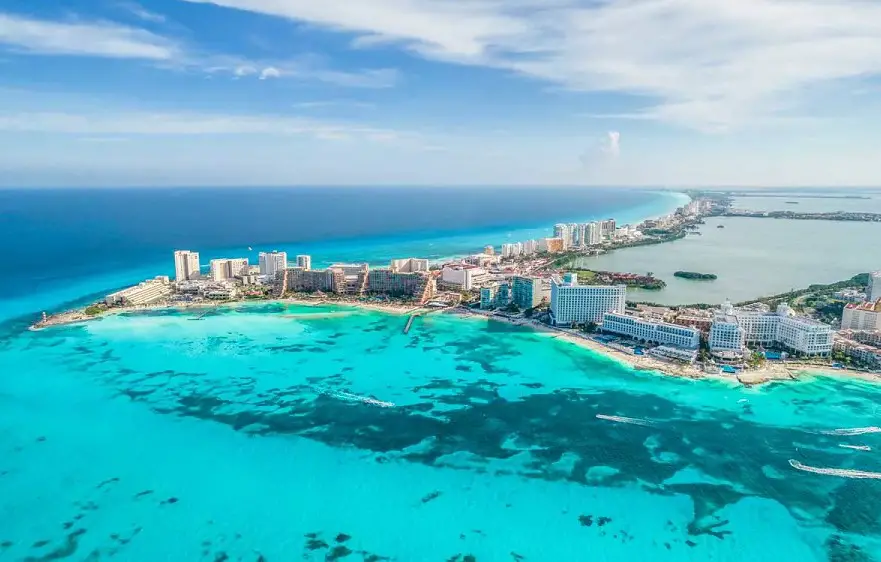 Comparing Los Cabos and Cancun
Getting to Cabo
Los Cabos, Pacific Coast is a resort town on Mexico's west coast, located at the tip of the Baja California Sur. You can visit the capital – La Paz from here (Cabo San Lucas to La Paz takes 2 hours).
It has two main towns, Cabo San Lucas and San Jose del Cabo, which are about 20 miles apart (about a 35- to 40-minute drive). 
Cabo San Lucas has more clubs and is more party-oriented, whereas San Jose del Cabo exudes a colonial Mexican atmosphere.
The Tourist Corridor, which includes beaches and resorts, connects the two towns. "Cabo" refers to both the town of Cabo San Lucas and the surrounding Cabo area. 
Los Cabos International Airport (SJD) is located close to San Jose del Cabo. Many direct flights from San Francisco, Los Angeles, Vancouver (Canada), Calgary, Houston, Toronto, Chicago, and other North American cities serve it.
The flight time from Los Angeles is just under 2 and a half hours. The flight from Chicago takes about 5 hours.
Many resorts are condos with full kitchens, and shopping at Costco and Walmart will make you feel at home.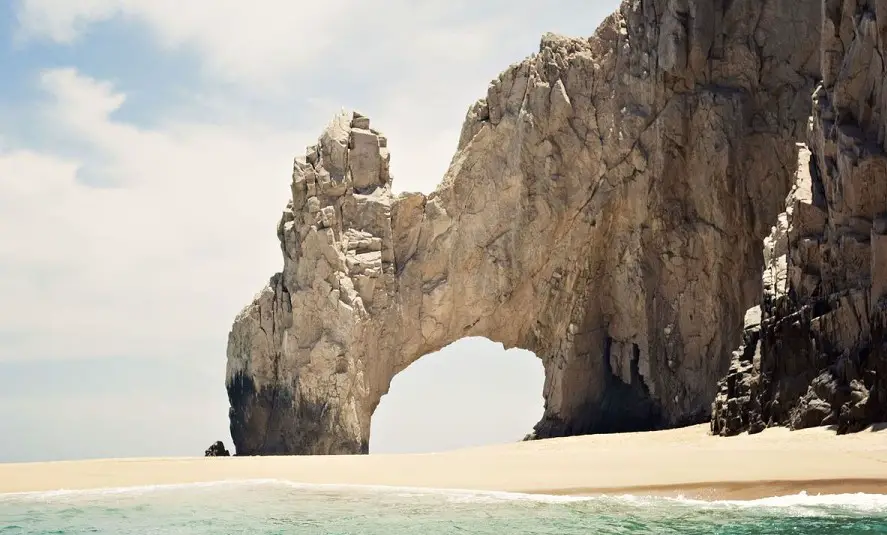 Getting to Cancun
It is located on Mexico's east shore, on the Yucatan Peninsula.
The glitzy hotel area of Cancun is a 13-mile-long beach strip lined with deluxe hotels, restaurants, clubs, and shops. Cancun International Airport (CUN) also serves as a gateway to the nearby Riviera Maya. 
The Riviera Maya is a 100-mile stretch of coastline just south of Cancun that hugs the turquoise Caribbean Sea all the way to hippie-chic Tulum.
Playa del Carmen is a cosmopolitan beach town located halfway between Cancun and Tulum. 
Cancun and the Riviera Maya are quick trips from the Midwest and East Coast. Flights from Houston take 2 hours and 15 minutes nonstop. 
Flights from Chicago take less than 4 hours, while flights from New York take slightly longer. If you live in Atlanta, you can arrive in 2 hours and 40 minutes (as opposed to a 4-and-a-half-hour flight to Cabo).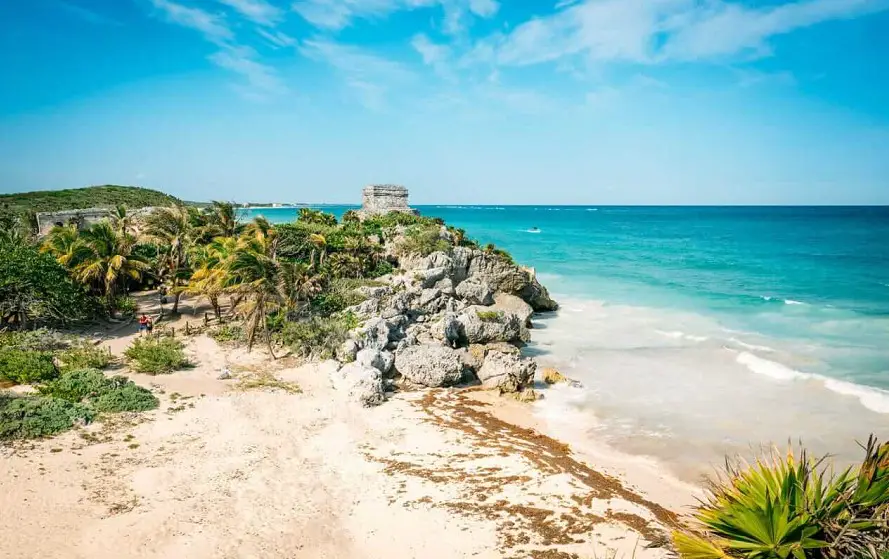 Introducing Mexico's favorite beaches
Cabo and Cancun are two of Mexico's most popular beaches, offering different experiences that are sure to make your holiday unforgettable. 
Situated on the southern tip of the Baja Peninsula, Cabo, is a calm, laidback spot with stunning beaches and independent restaurants and bars, while Cancún is known for its vibrant nightlife scene and cultural attractions. 
Ultimately, it comes down to personal preference, but both offer a unique experience that will make your holiday in Mexico special.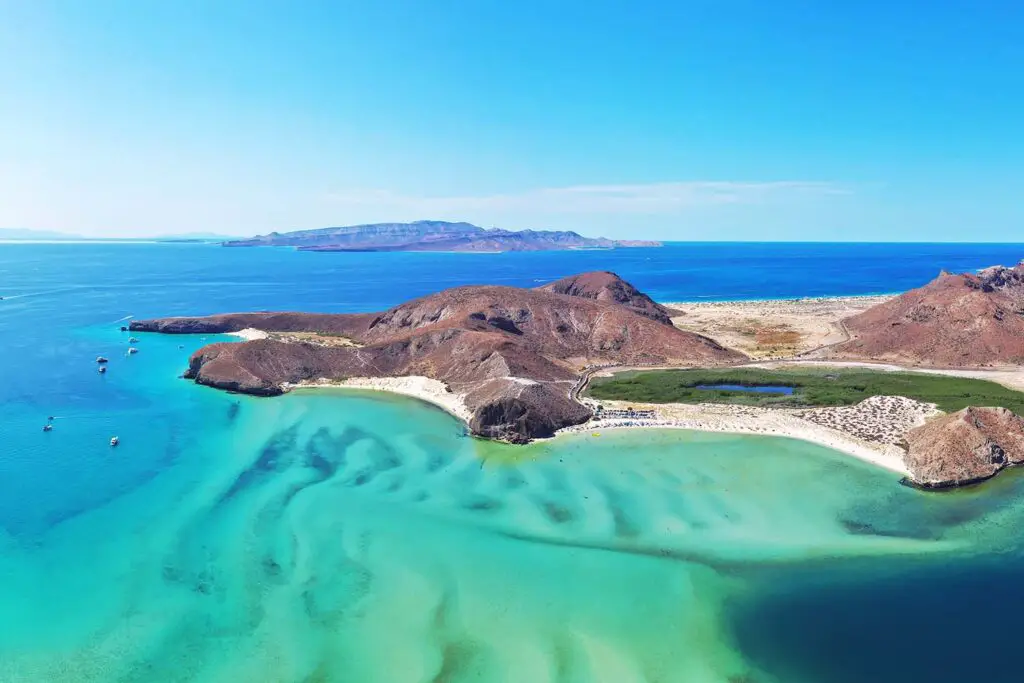 What makes Cabo San Lucas unique?
Cabo San Lucas is a unique vacation destination with a variety of beach activities and activities off the beach.
San Lucas is known for its clear blue waters, desert landscape, and bustling nightlife. 
The beaches offer endless opportunities for fun and relaxation, such as swimming, sunbathing, snorkeling, jet skiing, and whale watching. 
There are also plenty of activities to keep you entertained, such as boat tours, whale-watching tours, ATV tours, and nightlife. 
If you're looking for something more low-key, there are plenty of chill spots to grab dinner or drinks with friends in San Lucas.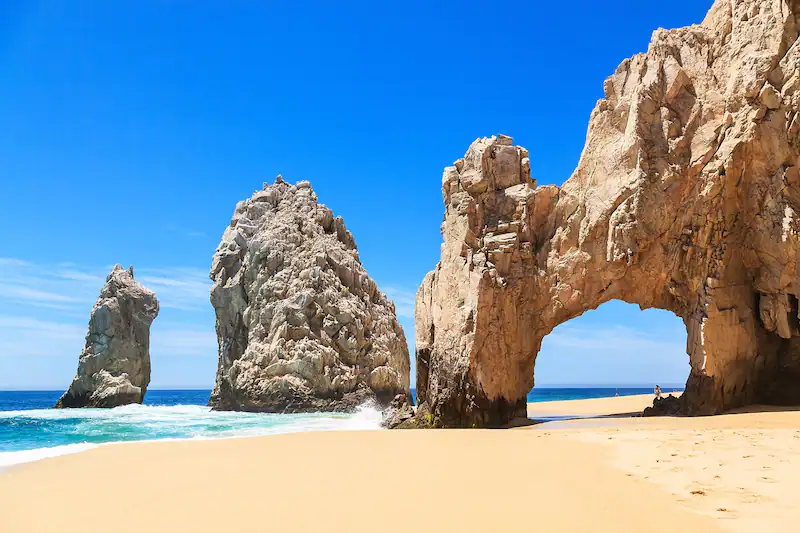 Exploring Yucatan Peninsula's East Coast
Cancun and Cabo are both located on Mexico's eastern coast, but the similarities end there.
Cancun is a bustling city that is constantly busy with tourists looking to take advantage of its nightlife and beaches, while Cabo is a laid-back city full of natural beauty and luxury resorts.
Both cities offer a wild nightlife, with plenty of beach bars and clubs to choose from.
Cabo also offers amazing nature activities such as fishing, diving, snorkeling, and whale watching.
There are also hidden coves perfect for respite from beachgoers. When it comes to food options, both cities offer world-class Mexican fare and fresh seafood.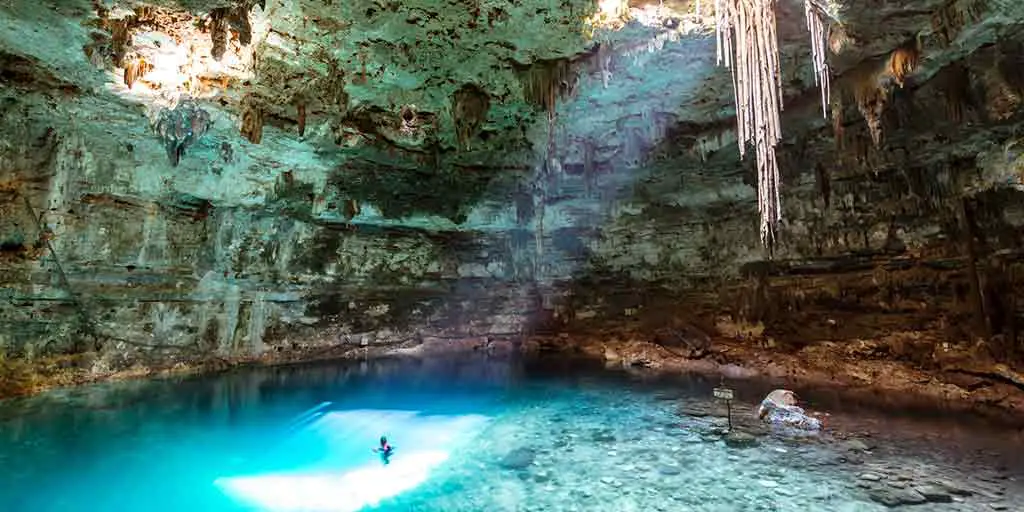 Highlighting the best of Los Cabos
Cabo is an ideal location for travelers who want to explore the true beauty of Mexico. It offers a variety of activities, from water sports to food and nightlife.
Water sports include snorkeling, swimming with sea lions, fishing for marlin and tuna, jet skiing, parasailing, and more.
Food and nightlife include freshly-caught seafood dishes, traditional street food blends, and lively places offering incredible music and drinks.
The unique landscape of Cabo provides some eye candy and opportunities for exploration.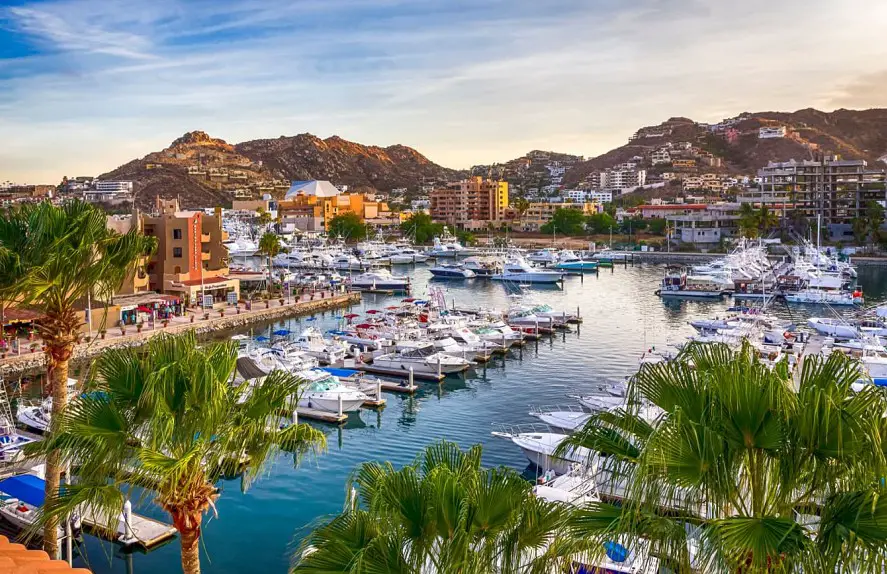 Whale sharks in Los Cabos vs Cancun
If swimming with massive creatures from a different world is your thing, you're going to love scuba diving or snorkeling with whale sharks offered in both Cancun and Cabo.
While there are plenty of other amazing encounters that you can have around the two locations, this is certainly one of the most thrilling animal experiences.
Cabo offers one of the biggest whale shark activities in the world. From November to May, you can join a day tour and get up close and personal with whale sharks.
If you want year-round experiences, then Cancun is your best bet as locals run whale shark sighting excursions from May to September.
Whether you choose to swim with these magnificent beasts in Cabo or Cancun, this will undoubtedly become one of the most unforgettable memories of your trip.
Plus, whale sharks are gentle by nature so even if it's your first time snorkeling or encountering these fascinating giant fish, you'll be sure to have an enjoyable experience!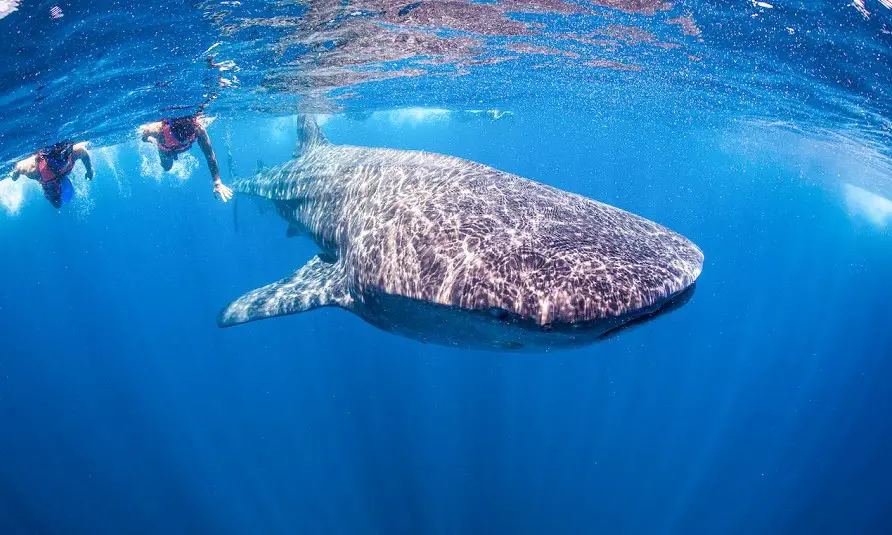 Cancun vs Cabo: exploring nature's beauty
Exploring the great outdoors is one of the top reasons to visit Cabo and Cancun, with each destination offering plenty of opportunities for outdoor adventures.
In Cabo, you can go snorkeling and explore the colorful sea life in its crystal-clear waters. There are also several world-renown surf spots where you can catch a wave or two.
And don't forget about the breathtaking landscapes along its coastline, from the iconic Arch of Cabo San Lucas to the pristine beaches and coves on the Pacific side.
Meanwhile, in Cancun, you can marvel at its lush jungles and hidden cenotes (natural underground pools) scattered throughout its many Mayan sites.
You can also visit ancient ruins like Chichen Itza or take a boat tour to nearby Isla Mujeres for snorkeling or a relaxing beach day away from it all.
Whichever destination you choose, you won't be disappointed!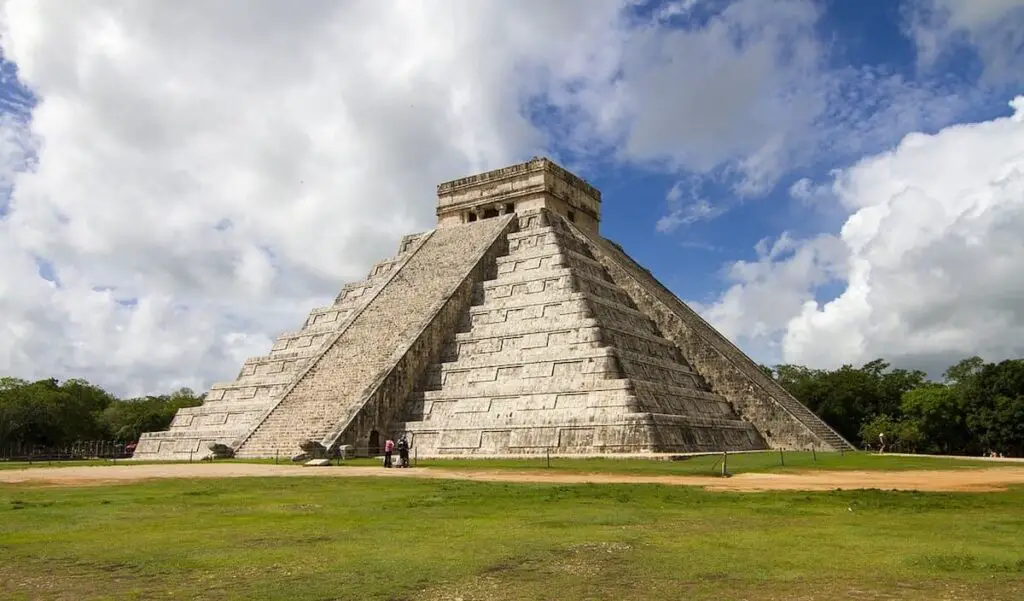 Cancun vs Cabo: finding the perfect beach for relaxation
When you're deciding between Cabo and Cancun, you should also think about which beach activities are your favorites.
Both locations offer stunning beaches with plenty of ways to relax, but the exact activities will vary depending on where you go.
Cabo beaches
Cabo is known for its spectacular beaches and stunning views of sandstone cliffs and crystal-clear waters.
If relaxation is your top priority while in Cabo, consider a visit to Playa Del Amor ("Lover's Beach") at the tip of Land's End.
Here, you can lounge on soft sands under a shady palapa or take a dip in the calm bayside waters.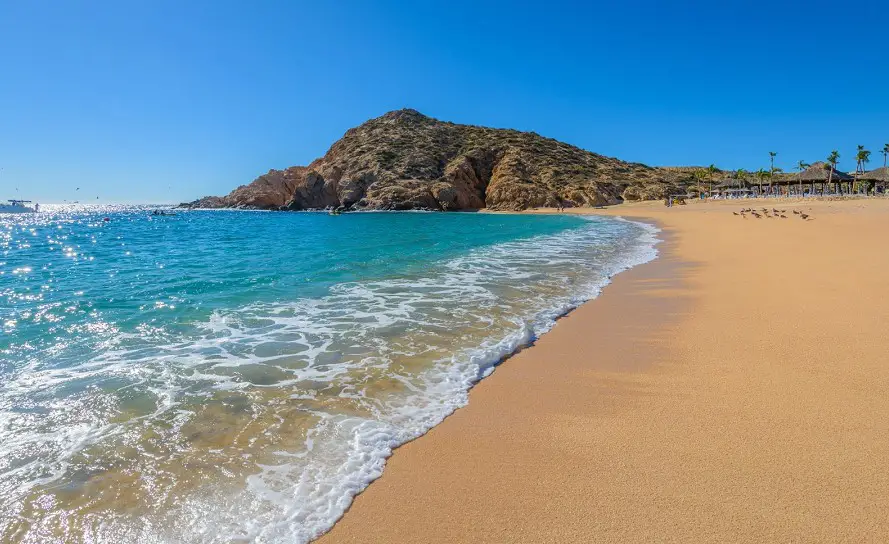 Cancun beaches
In Cancun, you'll find white-sand beaches galore with plenty of space for lounging and sunbathing.
Along with popular spots like Playa Tortugas and Playa Carolinas, one of the most beautiful beach experiences can be found at Punta Nizuc just outside Cancun city proper—here you'll also find colorful coral reefs just offshore for snorkeling or diving adventures.
Further south down the coast lies Isla Mujeres ("Island of Women"), an island paradise that's home to luxurious resorts, colorful markets, and postcard-perfect beaches such as Playa Norte (North Beach).
Whether it's an afternoon spent snorkeling through vibrant coral reefs or kicking back with a margarita by a poolside cabana, there are plenty of ways to relax here in Cancun!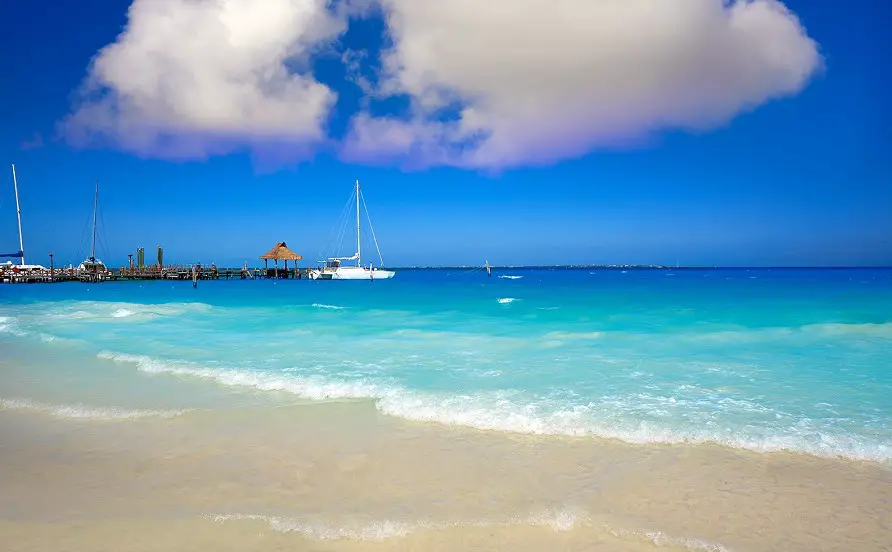 Cancun vs Cabo: choosing the perfect resort
So, how do you choose the perfect resort to stay in in Cabo or Cancun? After all, no two resorts are the same. It can be quite challenging to decide which one would be a great fit for your needs.
Fortunately, there are a few key criteria you can look at to help make the best decision. Here are some of them:
Location
The location is amazing in both cities.
You'll want to choose a resort that is close to the beach and attractions that you plan on visiting.
In Cabo, for instance, resorts located in Pedregal and El Medano offer incredible views of Land's End that are hard to match anywhere else.
Or in Cancun, resorts near Playa Delfines will have great access to both the beach and downtown Cancun for sightseeing purposes.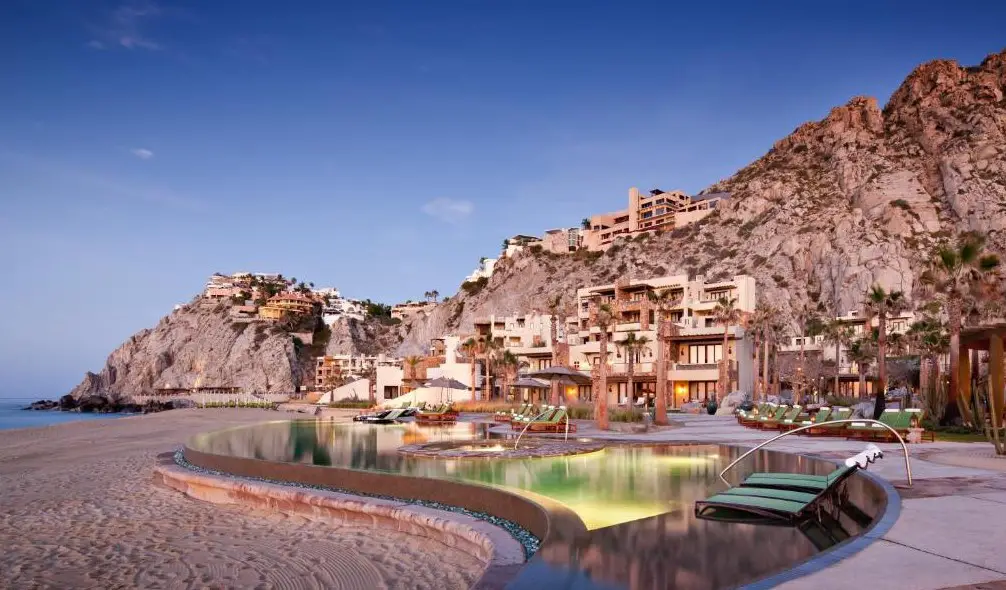 Pool and beach features
You'll want access to swimming pools and other amenities like spas or gyms during your stay.
Do some research on what type of features each resort offers — most resorts boast their unique pool designs and activities they provide their guests with.
And if you're into water sports, then it might be best to look at resorts that offer equipment rentals or organized activities while also providing beachfront space so you can take full advantage of your stay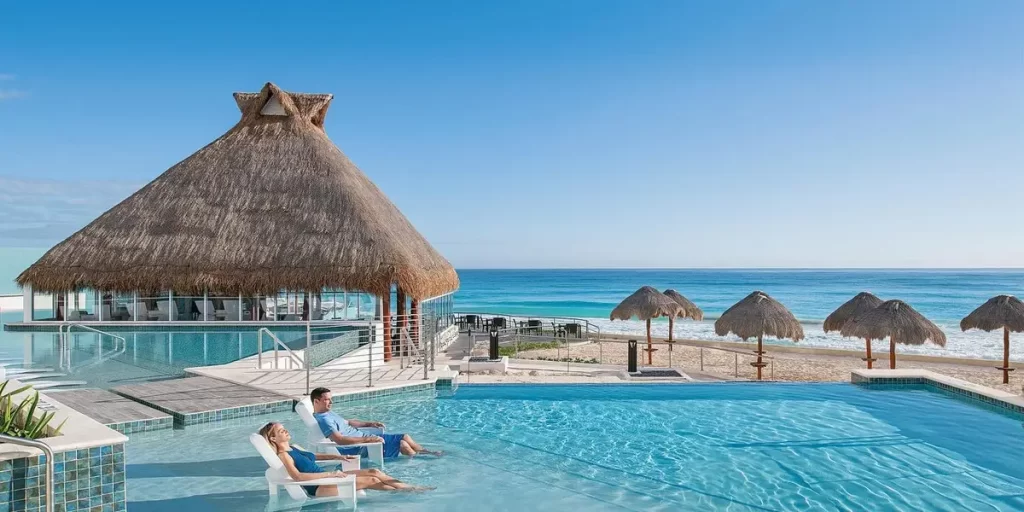 Accommodations & amenities
Find out what type of accommodation each resort offers — do they provide basic rooms or suites with premium amenities?
Are there options ranging from budget-friendly hotels to luxurious all-inclusive resorts? Make sure that whatever type of accommodation you choose meets your needs and budget when comparing Cabo vs Cancun. Additionally, consider how big your family is.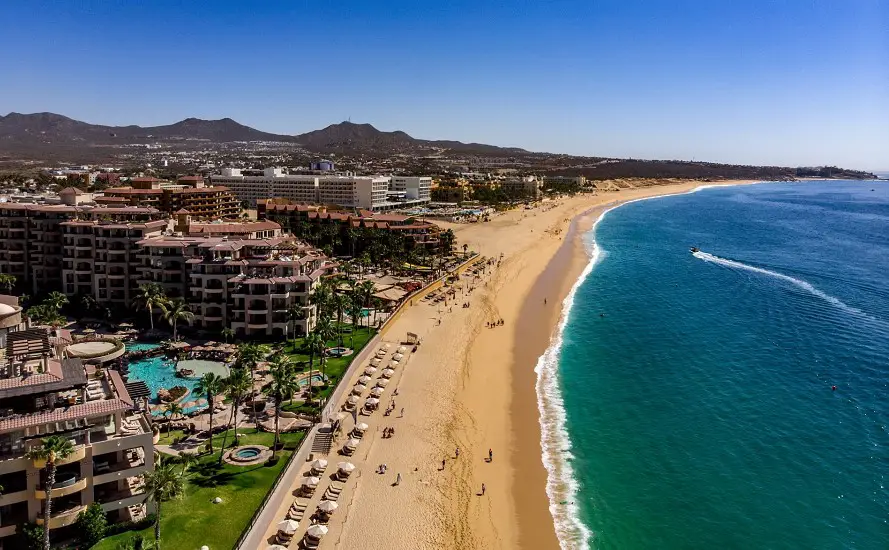 Cancun vs Cabo: discovering ancient culture
Did you know that both Cabo and Cancun have ancient cultures to explore?
Whether you're looking to learn something new or simply admire the unique architecture, there are plenty of options to choose from in both locations.
In Cabo, you can explore Chichen Itza, a large pre-Columbian city built by the Maya civilization over 1,400 years ago.
Travel up the coast to the eclectic and mystical Todos Santos, or venture to the capital, La Paz, while in Cabo.
Learn about their incredible scientific, architectural, and agricultural history in this awe-inspiring site. Or take a tour of ancient Mayan ruins such as El Castillo and El Caracol.
Meanwhile, in Cancun, there are just as many historical sites to visit – from El Rey archeological zone with its remarkable collection of Mayan sculptures, to Tulum's seaside
Fortresses for an up-close look at ancient Mayan civilization. You can also take a tour of Xcaret Park for an even deeper dive into the culture and history of Mexico.
Aside from these fascinating ruin sites, both Cabo and Cancun offer plenty of modern cultural attractions as well!
Spend some time exploring the local galleries or musical performances in either city; you're sure to find something that will inspire you.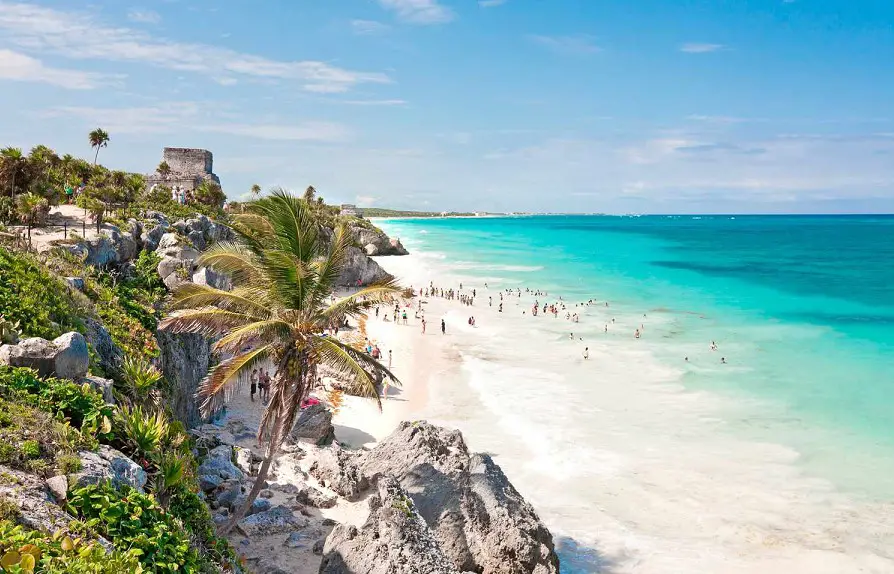 Cancun vs Cabo: enjoying delicious cuisine
Cabo and Cancun offer a variety of dining options for all tastes and budgets.
In Cabo, you'll find a variety of local cuisine, including seafood dishes, tacos, and other Mexican favorites, as well as international cuisines like Italian, Japanese, and French.
The nightlife in Cabo is also bustling with bars, clubs, and live entertainment venues offering great late-night meals.
In Cancun, traditional Mexican cuisine is available, but you'll also find dishes from around the world like Italian pasta dishes or fresh seafood.
And don't forget the dessert, churros or flan.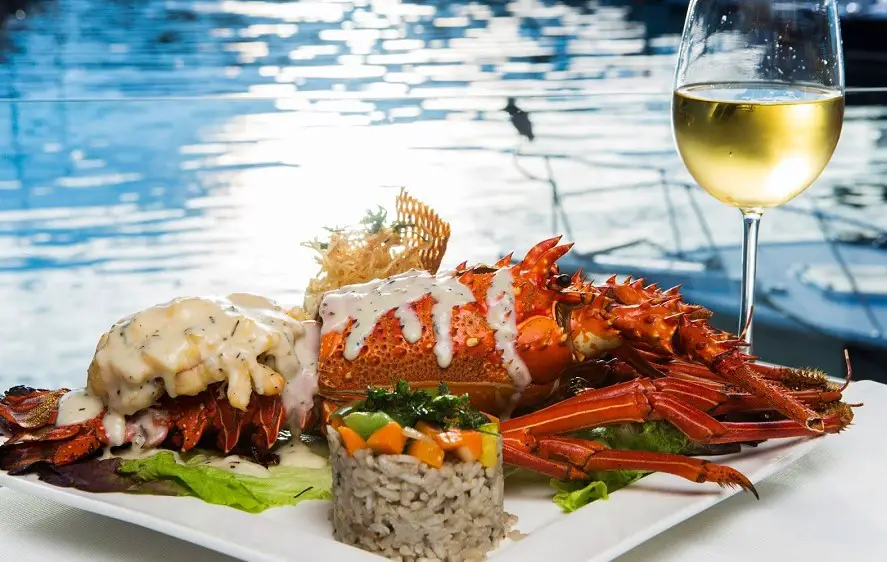 Exploring Cancun's hotel zone
Cancun is a great destination for people of all ages. It has many popular attractions, such as Mayan ruins and water parks, and is full of restaurants, bars, and shops.
The hotel zone runs roughly 10 miles from south to north along the coastline, and it can take up to an hour by taxi.
Try out the local cuisine, relax on the beaches, and take part in water sports activities.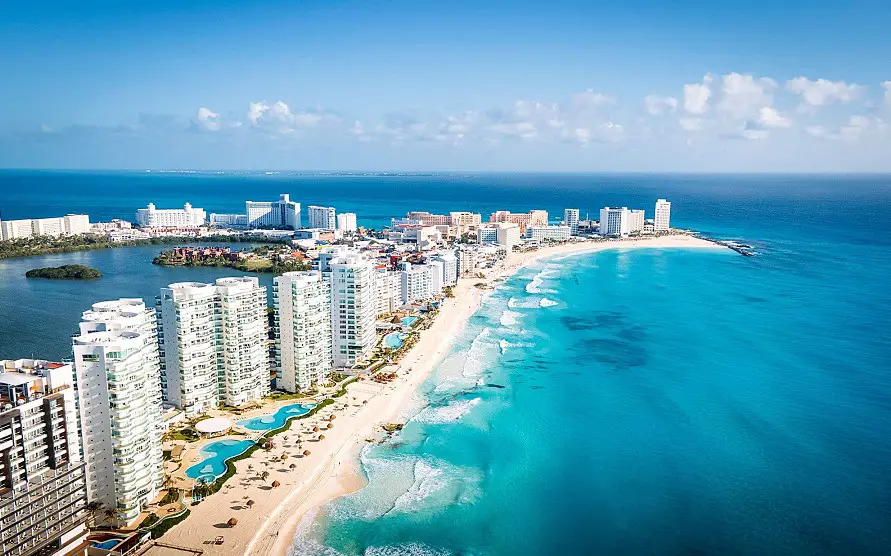 Cancun vs Cabo: pros and cons
So, let's start by highlighting the pros and cons of both Cabo and Cancun.
Los Cabos offers you a more secluded, relaxed atmosphere, with more diversity in landscapes, a stunning natural environment, and beautiful beaches.
You can tee off on the Baja Peninsula's world-class golf courses or take in the stunning views of El Arco de Cabo San Lucas.
On the flip side, Los Cabos' accommodation prices are on average quite a bit higher than Cancun's prices, so that's something to keep in mind when budgeting for your trip.
For Cancun, one of its main draws is its proximity to the Mayan ruins and other archeological sites.
Plus, it's famous for its wild nightlife – it's considered one of the best spring break destinations in Mexico!
At the same time, it has a reputation for being quite crowded due to its size and popularity as a vacation spot.
Ultimately both offer unique experiences that you'll only get from visiting either place so if you can swing it financially we'd say go for both!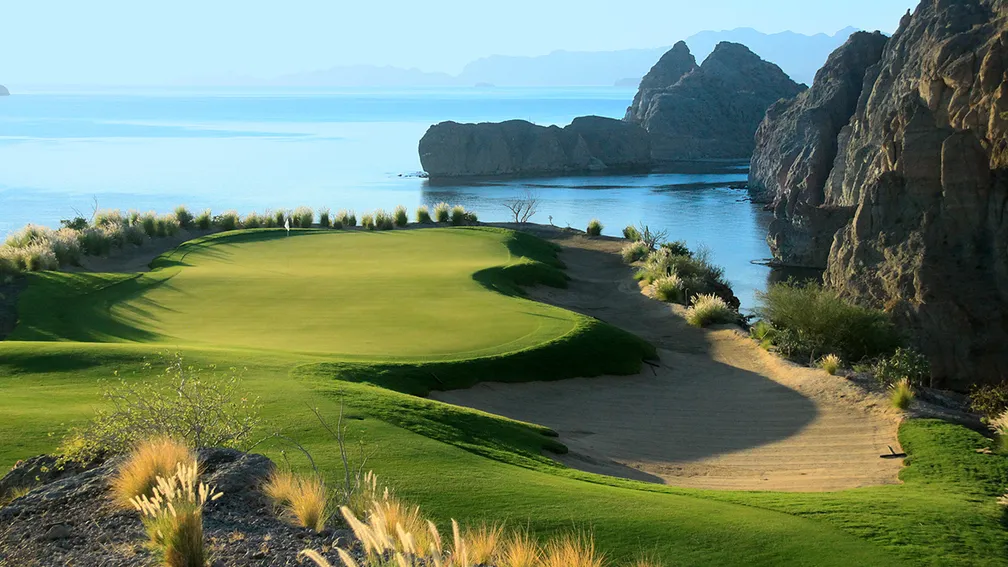 Cancun vs Cabo: location and climate
Cabo and Cancun are both located on the coast of the Gulf of Mexico, but there's an important difference in their climate.
Cabo, located on the Baja California Peninsula, has a semi-desert climate with warm and sunny days and cooler nights, while Cancun has a tropical climate that is humid and sunny all year round.
In addition, winter in Cabo is comparable to winter in Southern California. Cabo receives approximately 10 days of rain per year on average.
The choice of which season to go will depend on your weather preference, but if you like warm, sunny weather all year round, Cancun is definitely for you.
If you're looking for something a little cooler, Los Cabos might be the place to stay. Either way, you can expect plenty of sun during your stay.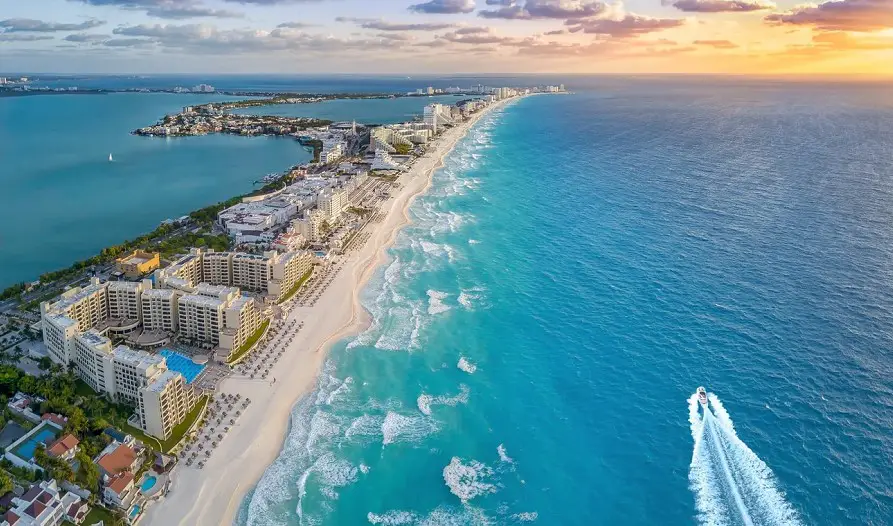 Activities and attractions in Cabo and Cancun
When it comes to activities and attractions, Cabo and Cancun have plenty of options to keep you entertained.
From beautiful beaches to golf courses and local markets, these two Mexican destinations deliver something for everyone.
In Los Cabos, you can explore the city's charming old downtown area and its abundance of art galleries and shops.
For outdoor enthusiasts, there are plenty of opportunities for diving into the Sea of Cortez.
There are plenty of touristy spots in downtown Cabo San Lucas for mainstream travelers, but those looking for authenticity should head to San Jose del Cabo.
You can also tee off at one of the many stunning golf courses in the region or take a boat tour out to some hidden coves.
In Cancun, the beach is the main attraction – but there's so much more to do beyond lounging in a cabana.
Visit ancient Mayan ruins such as Chichen Itza or El Rey Archeological Site to learn about some fascinating local history.
Or, take a stroll around Plaza Las Americas and explore some local markets – you'll find plenty of souvenirs or tasty snacks here.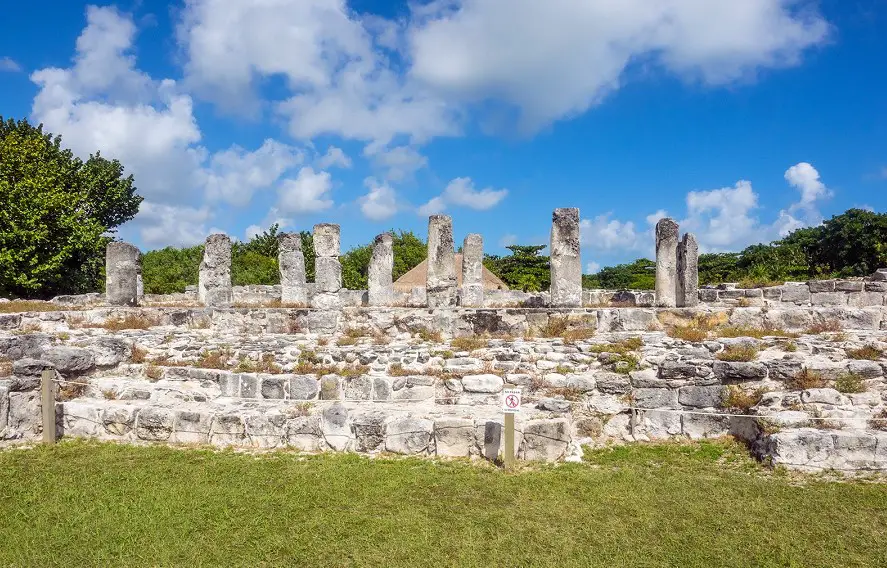 Beaches in Cancun and Los Cabos
When it comes to beaches, both Cabo and Cancun have plenty of stunning shores perfect for lounging, swimming, and soaking up the sun. The biggest differences between the two destinations are the types of beaches they offer.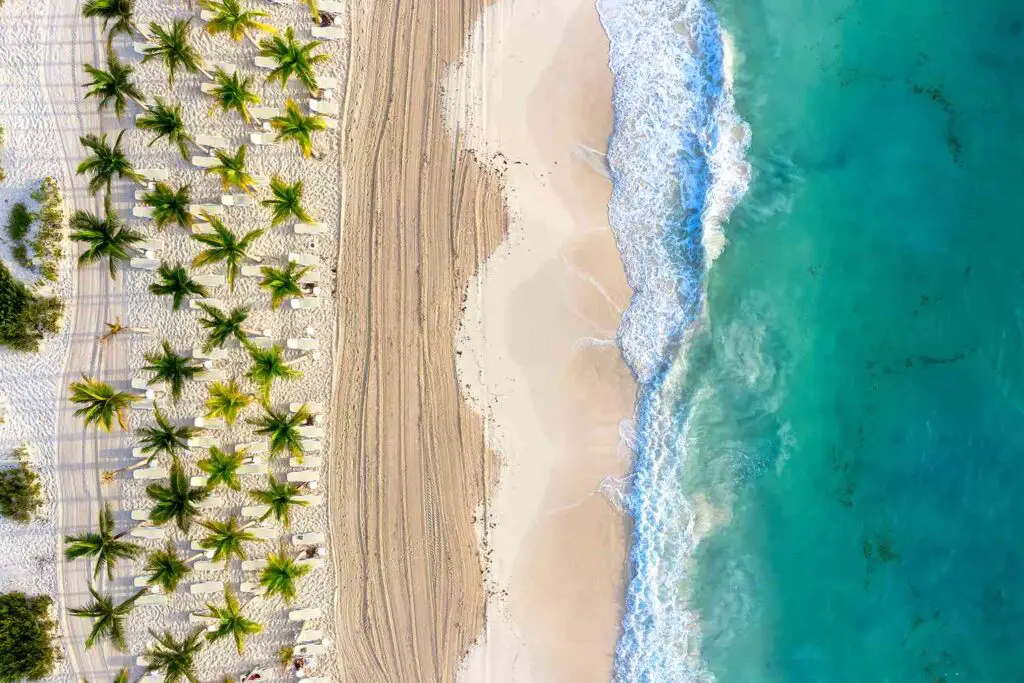 Cabo's beaches
Los Cabos boasts pristine, vast stretches of golden sand beaches with crystal clear turquoise waters and dramatic rock formations.
Many of these beaches are on the Sea of Cortez side which is known for its calm waters, while the Pacific Ocean side is ideal for surfing with its consistent waves.
Some popular beaches in Los Cabos are Playa del Amor (Divorce Beach), Chileno Beach, and Santa Maria Beach.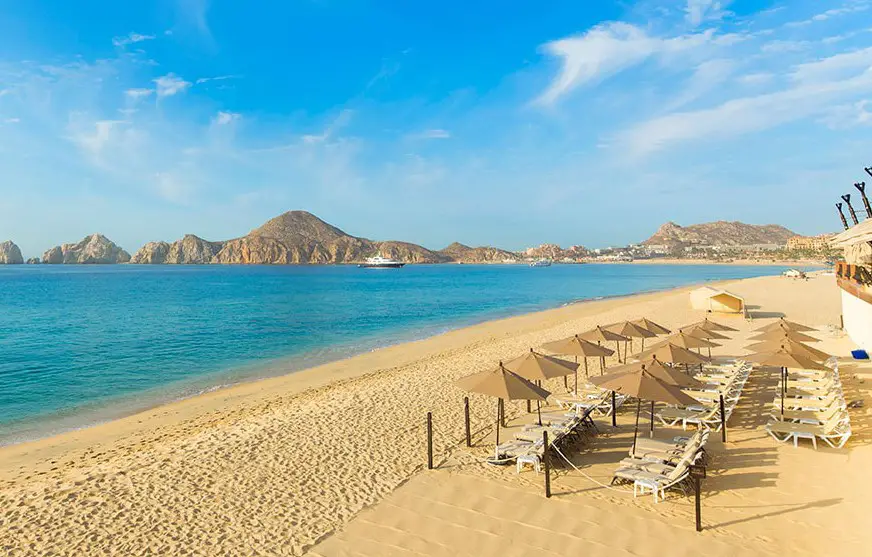 Beaches in Cancun
Cancun also offers breathtaking white-sand beaches with aquamarine water that's great for swimming.
Alongside the 10-mile-long Hotel Zone beach strip, you can find one of their most famous—Playa Delfines—as well as Playa Ballenas and Playa Caracol.
Unlike Los Cabos, Cancun's Caribbean coast is flatter which makes it great for a wide range of water sports including parasailing, jet skiing, and snorkeling at areas like Isla Mujeres or Holbox Island.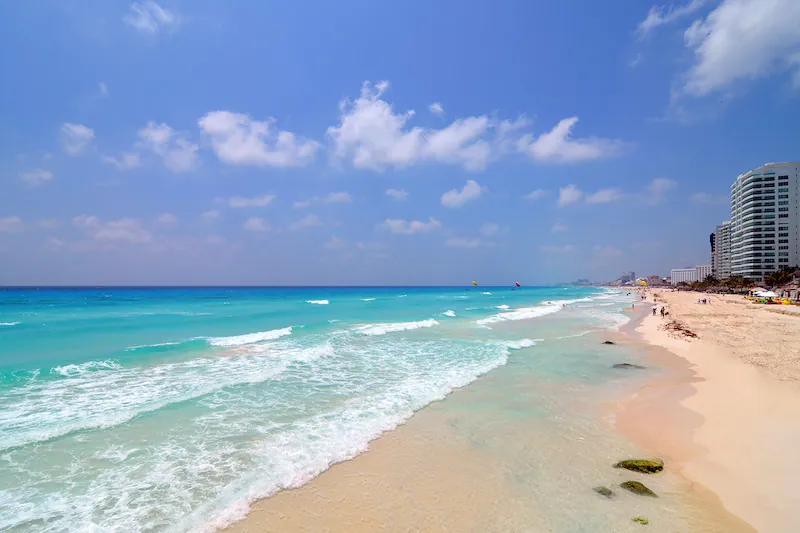 The nightlife in Cancun and Los Cabos
Both Los Cabos and Cancun offer a variety of nightlife options, from energetic bars, pubs, and nightclubs to laid-back beach bars and lively nightclubs.
Los Cabos offers an array of hot spots from chic lounge bars to venues with live music, drawing tourists from all over the world as well as locals.
Cancun is also home to some exciting nightlife establishments, such as Coco Bongo and the rooftop bar overlooking the Caribbean coast.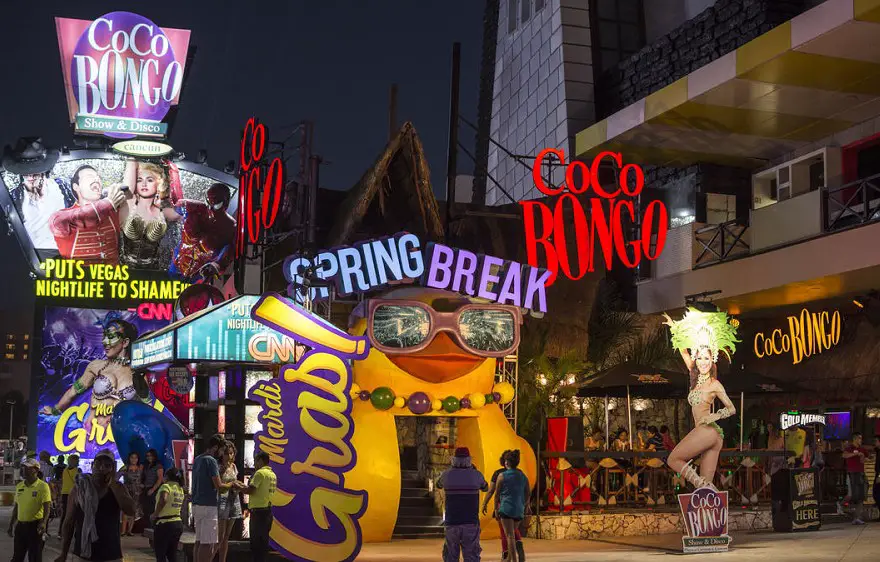 Where to stay: comparing Los Cabos and Cancun
Los Cabos offers a range of resorts with stunning views and amenities, while Cancun offers big resorts and smaller, budget-friendly hotels. Cancun also offers all-inclusive resorts, so guests don't have to worry about where to eat or activities.
Los Cabos accommodation
Los Cabos has plenty of high-end hotel and beachfront resort options near famous beaches like Medano Beach and Lover's Beach on the Sea of Cortez Coast.
Many hotels offer amenities like personal beach lounges and access to pools, hot tubs, or swim-up bars.
There's something for everyone in Cabo, from casinos for nightlife experiences to pet-friendly hotels and eco-lodges for those wanting a more low-key getaway.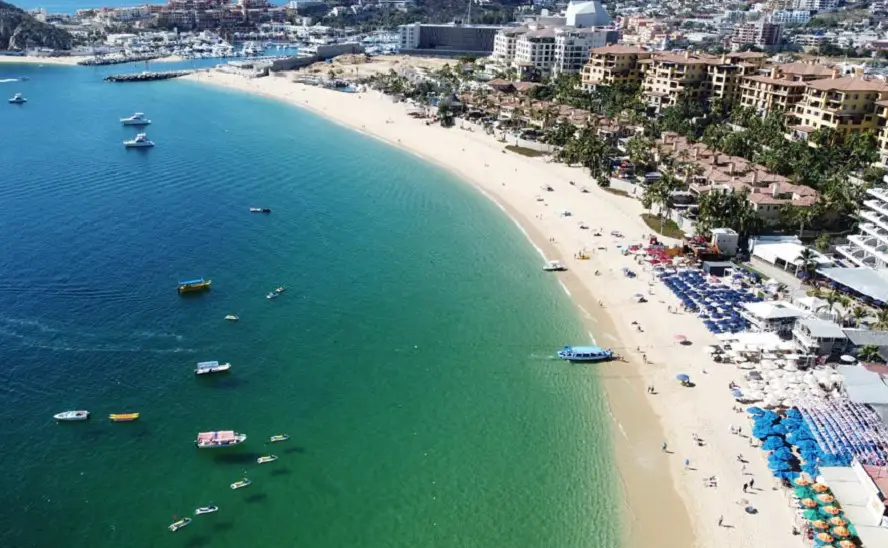 Cancun accommodation
Cancun is known primarily for its big beachfront all-inclusive resorts offering plenty of activities to keep busy with and lots of restaurants included in the room rate.
That said, there are still small affordable hotels available just a short distance from downtown Cancun or Isla Mujeres where visitors can explore the local culture in an even more private way.
Regardless of whether you choose Los Cabos or Cancun as your Mexican destination, you're sure to have an unforgettable.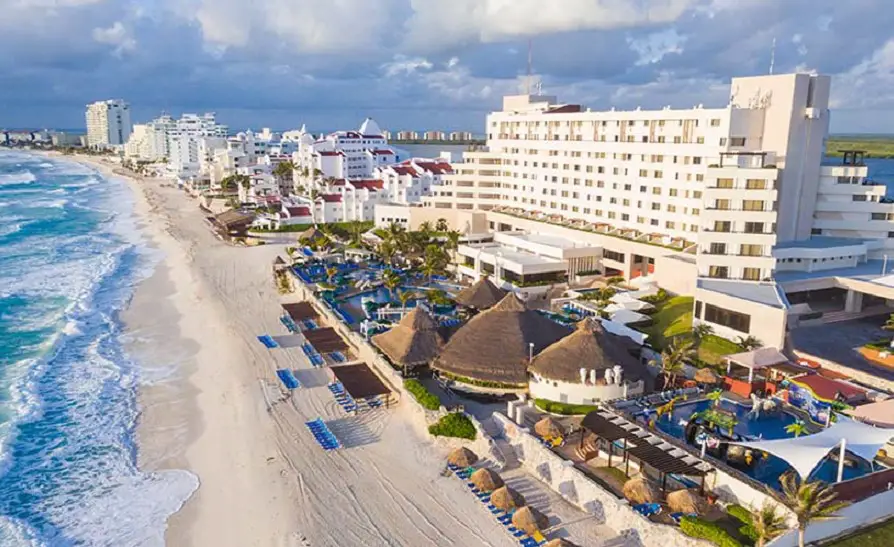 Cancun vs Cabo: airports
When you're trying to decide between Cancun and Cabo for your Mexico vacation, another key factor to consider is the airports. How easily can you get there? How long does it take? Here's how the two airports compare.
Cabo International Airport (SJD)
The Cabo airport is located just 19 miles from the San Jose del Cabo area and 27 miles from Cabo San Lucas. The airport adds flights frequently so it's becoming easier to get there, and it serves more than 20 domestic and international airlines.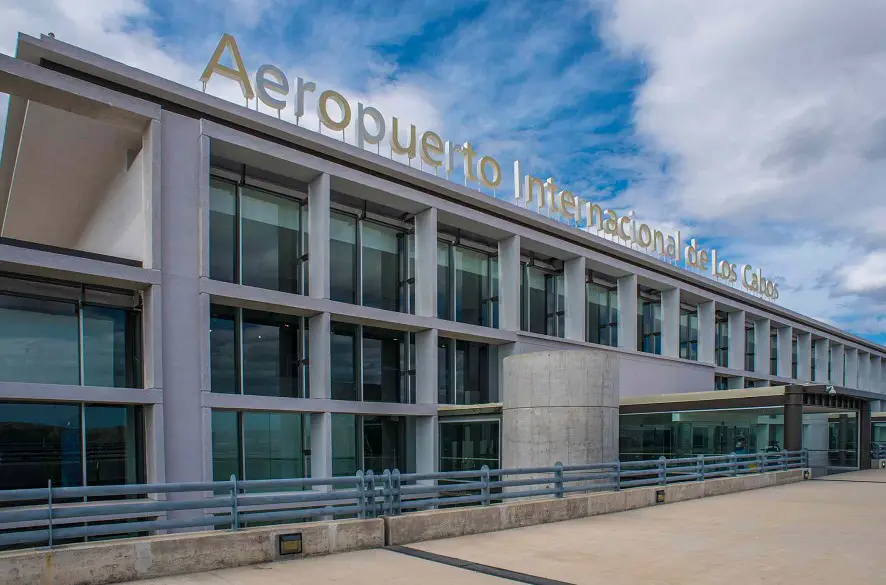 Cancun Airport (CUN)
The Cancun Airport (CUN) is located just 16 miles outside of downtown Cancun, on Mexico's east coast.
The airport receives flights from all over the world and serves more than 50 airlines. It's one of the busiest tourist airports in Mexico.
You now have an idea of what to expect when you arrive at either destination — now, it's time to choose between them!
Weigh your options, choose what's best for you, add a few beach sandals to your luggage, and hop on a flight to make your dreams come true!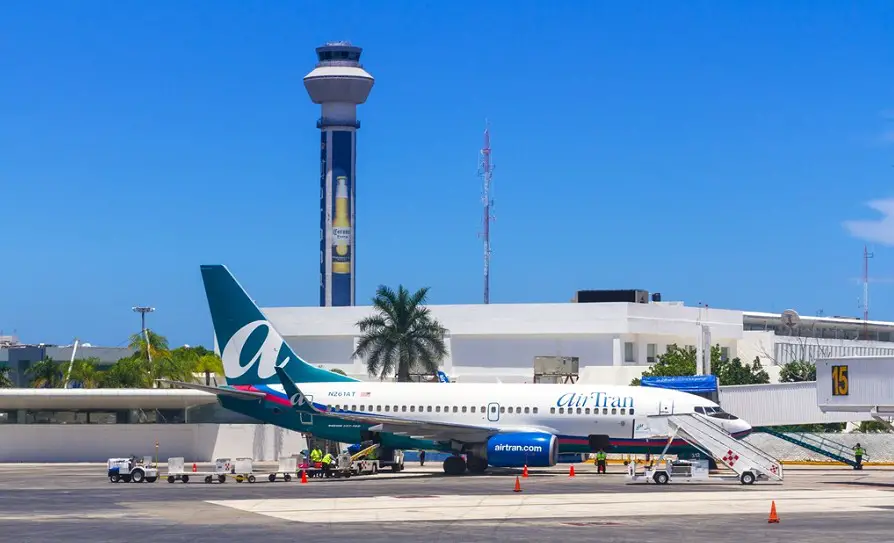 FAQs
Is Los Cabos better than Cancun?
There's no better choice than Cabo or Cáncán to make a Mexican escape. Cabo offers luxurious travel for families, and Cancun beats Cabo for nightlife and parties. In general, though, it's important to study flights and nonstop travel.
Is Los Cabos more expensive than Cancun?
Cabo is often seen as the cheapest destination, but Cancun can become more expensive according to your travel preference. To save money in Cancun, consider staying at a hotel within Hotel Zones.
How is Cabo different from Cancun?
Los Cabos is cooler but dry and it is similar to Southern California's stunning weather. Cancun can be humid in the Gulf of Mexico which increases the risk of hurricanes and severe storm events. Cabo receives a maximum of 10 showers of rain per year. Cancun has many budget travel destinations.
Is Los Cabos same as Cancun?
Cabo and Cancun lie opposite to Mexican borderlands. Cabo sits on the tip of a peninsula in the Baja California area right beside oceans and the Cortez Sea. Cancun lies opposite the sea on either side of the Caribbean Sea and the Gulf of Mexico.
Conclusion
Cancun and Cabo have beautiful beaches and luxurious resorts, but vacations vary greatly. We've listed their advantages and the things you can do on either beach. So it's up to you now!
Read More: Cancun or Cabo: Which Mexico Destination Is Better for You?