Living in Puerto Escondido is a dream come true for those seeking a tropical paradise with year-round warm weather and stunning beaches. While the laid-back lifestyle may seem idyllic, it can be challenging to maintain balance in a place where relaxation and leisure are the norms.
In this article, we explore how residents of Puerto Escondido can find balance in their daily lives, including tips for staying active, healthy, and connected to loved ones. From outdoor activities to social events and cultural experiences, there are many ways to make the most of life in Puerto Escondido while maintaining a healthy work-life balance.
If you are digital nomads or ex-pats, this guide will help you succeed in this tropical paradise.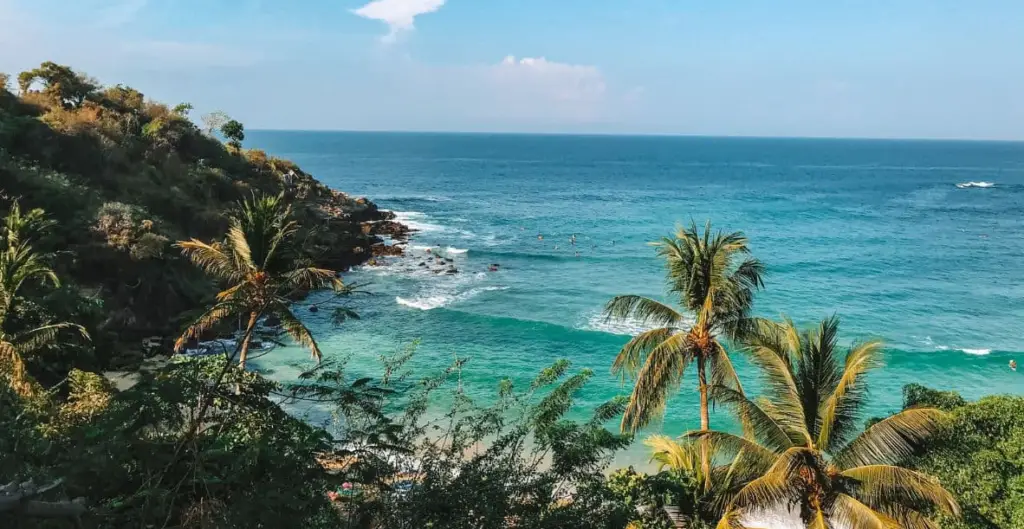 What is good about life in Puerto Escondido?
Puerto Escondido is a picturesque town located on Mexico's southern Pacific coast in the state of Oaxaca.
Known for its warm weather, stunning beaches, and laid-back lifestyle, it's no wonder that Puerto Escondido has become a popular destination for ex-pats and retirees seeking a tropical paradise to call a home country. However, before making the move to Puerto Escondido, it's important to consider the pros and cons of living in this unique destination.
One of the main advantages of living in Puerto Escondido is the low cost of living compared to many other destinations in North America. Housing, food, and transportation costs are relatively low, making it an attractive option for those looking to stretch their retirement savings or live on a budget.
The natural beauty of Puerto Escondido offers plenty of free or low-cost activities such as surfing, beachcombing, and exploring local markets and cultural sites. In El Adoquin, you can discover artisan markets, while in Playa Principal, you can savor the catch of the day.
Another advantage of living in Puerto Escondido is the warm weather and tropical climate year-round. This makes it an ideal destination for those who enjoy outdoor activities such as swimming, hiking, and cycling. Additionally, the laid-back lifestyle of Puerto Escondido offers residents the opportunity to slow down and appreciate the simple pleasures of life.
Living in Puerto Escondido also comes with its challenges. The town can be prone to natural disasters such as hurricanes and earthquakes, and the healthcare system is not as well-developed as in some other destinations.
While Puerto Escondido is generally safe, like any destination, it's important to take precautions and be aware of your surroundings.
Job opportunities can also be limited in Puerto Escondido, particularly for those seeking high-paying or specialized positions. While the town does offer opportunities in industries such as tourism and hospitality.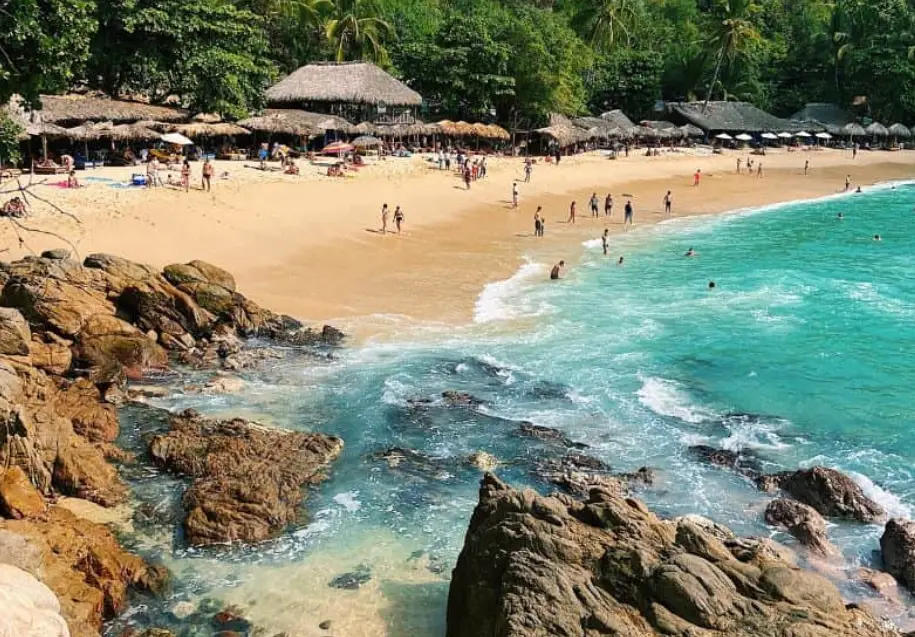 What are the most ideal beaches in Puerto Escondido?
Puerto Escondido is home to several beautiful beaches (Playa Zicatela, La Punta, Rinconada, andother beaches), each with its unique charm and atmosphere. Here are some options for the best beaches, visiting Puerto Escondido:
Playa Zicatela beach is the main beach area in Puerto Escondido and is popular among surfers and tourists. It has a lively atmosphere with plenty of beachfront restaurants, cafes, and shops. If you're looking for a more active and social lifestyle, Zicatela beach could be a good fit.
La Punta is a small peninsula located just south of Zicatela beach. It has a more bohemian vibe and is known for its surfing, yoga studios, and laid-back lifestyle. La Punta is a quieter and more relaxed area than Zicatela, with a focus on wellness and healthy living.
Rinconada is a residential area just north of Zicatela. It has a mix of apartments and houses and is popular among ex-pats, digital nomads, and retirees. Rinconada is a quieter area than Zicatela but still has a good selection of seafood restaurants and cafes.
Playa Carrizalillo is a small cove located just east of Puerto Escondido. It has a more upscale feel and is known for its luxury homes and ocean views. Playa Carrizalillo is a quieter area than Playa Zicatela and La Punta, with a more relaxed atmosphere.
Bacocho is a residential area located just west of Puerto Escondido. It has a mix of apartments and houses and is popular among families and retirees. Bacocho is a quieter area than Playa Zicatela and La Punta, with a more suburban feel.
Los Tamarindos and Brisas de Zicatela are situated within walking distance of the bustling Zicatela beach. Although they are quieter and more residential, they offer a great opportunity for extended walks or as a base for accessing the main Zicatela beach.
Puerto Escondido has something for everyone when it comes to beaches. Whether you're looking for a lively surf spot or a secluded cove, there is sure to be a beach in town that will suit your needs.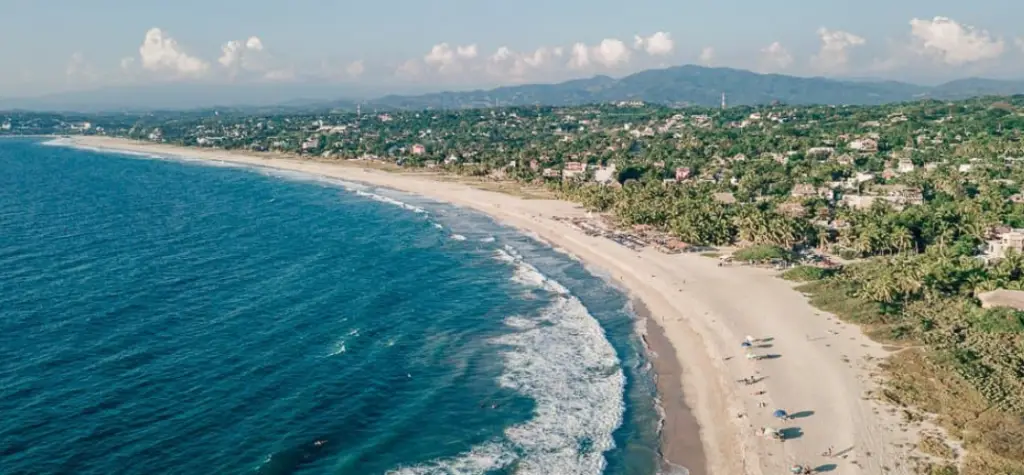 Can Puerto Escondido be considered a city with a party?
While Puerto Escondido has a lively and fun atmosphere, it is not necessarily a party city in the traditional sense. There are certainly plenty of bars and restaurants, where you can enjoy a drink or two, the nightlife in Puerto Escondido is generally more laid-back than in other destinations in Mexico, such as Cancun or Cabo San Lucas.
That being said, there are a few events throughout the year that do draw crowds and can be considered more of a party scene.
For example, the Puerto Escondido International Surfing Competition, which takes place in November, is a major event that brings surfers and spectators from around the world, and there are often parties and events associated with the competition.
And also during Semana Santa, a significant holiday in Mexico, Puerto Escondido can be lively and crowded, which is typical for this time of year.
The town can certainly be a fun and lively destination, it is not necessarily a party town in the traditional sense. Rather, it is a place where visitors can enjoy a mix of relaxation and excitement, with plenty of opportunities to enjoy the beautiful beaches, outdoor activities, and local culture.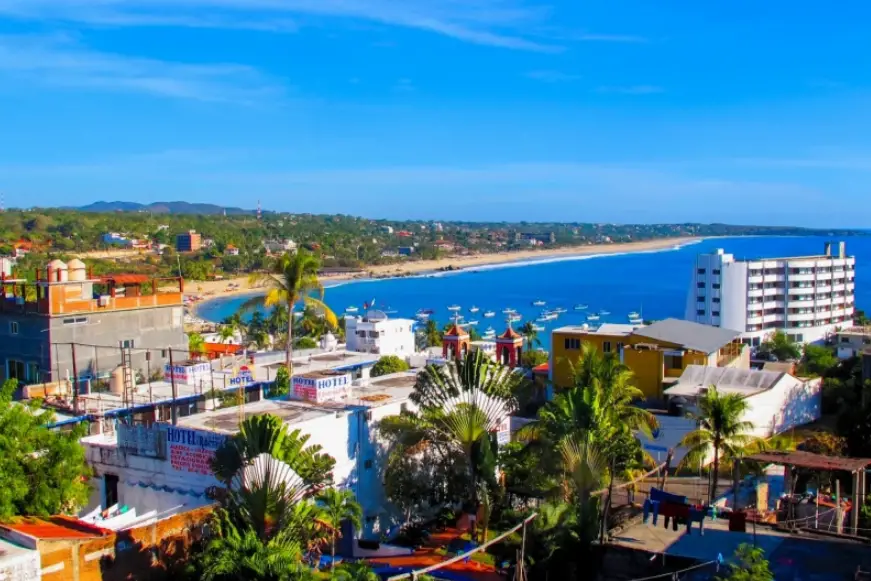 What to do in Puerto Escondido?
Located on the Pacific coast of Mexico, Puerto Escondido is a popular destination for surfers, beach lovers, and nature enthusiasts. With its stunning beaches, diverse wildlife, and vibrant culture, there is no shortage of things to do in Puerto Escondido. Here are some of the top activities and attractions to check out.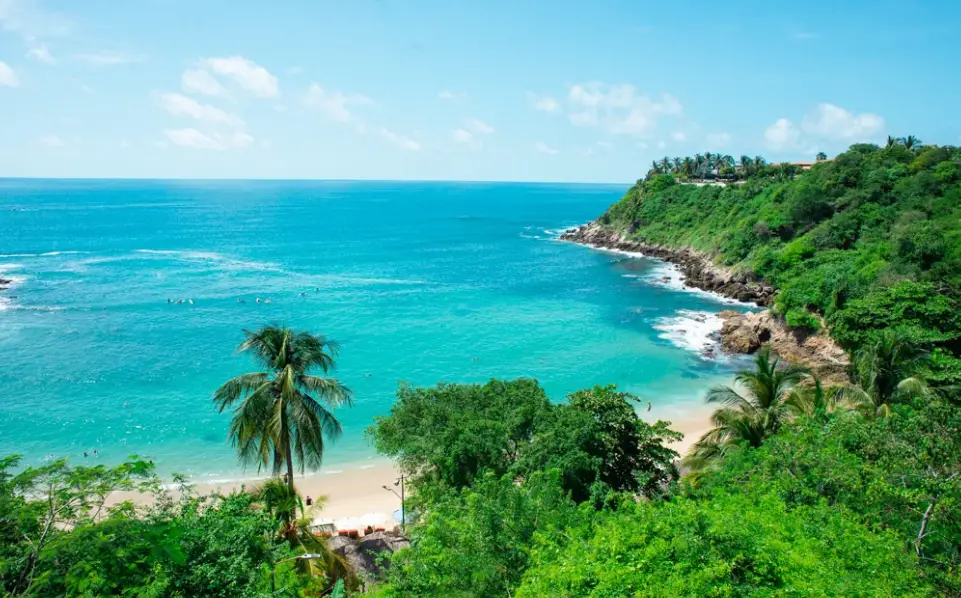 Experience swimming with bioluminescent plankton in Puerto Escondido
Swimming with bioluminescent plankton is a unique and unforgettable experience that can be had in Puerto Escondido. Bioluminescent plankton are tiny organisms that emit a bright blue-green light when they are agitated, creating a stunning and surreal effect in the water.
To swim with bioluminescent plankton, you can take a night tour with a local tour operator, who will take you to a spot where the plankton is present. Once you are in the hot springs, you can move around and agitate the water with your hands or feet to activate the bioluminescence.
It's important to note that while swimming with bioluminescent plankton is a magical experience, it's also important to be respectful of the fragile ecosystem. Avoid using sunscreen or other chemicals that can harm the plankton, and follow the guidelines provided by your tour operator.
Observe dolphins in the wild
Dolphin watching is an incredible activity to experience while in Puerto Escondido. The town is home to a diverse array of dolphin species, including bottlenose dolphins, spinner dolphins, and spotted dolphins, which can be spotted in their natural habitats within the Pacific Ocean.
Various tour operators offer dolphin-watching tours in Puerto Escondido, typically lasting for a few hours. These tours usually involve a boat ride out into the ocean, where you can witness these majestic creatures jumping and playing in the water.
Aside from dolphin watching, many tours also offer the opportunity to spot other marine life, such as sea turtles, manta rays, and whales, making for an even more unforgettable experience.
It is worth noting that while dolphin-watching tours can be an incredible experience, it is important to choose a tour operator that prioritizes the welfare of the animals and follows ethical guidelines to ensure that the wildlife is not disturbed or harmed. Always choose a reputable operator with a good track record and do your research before booking a tour.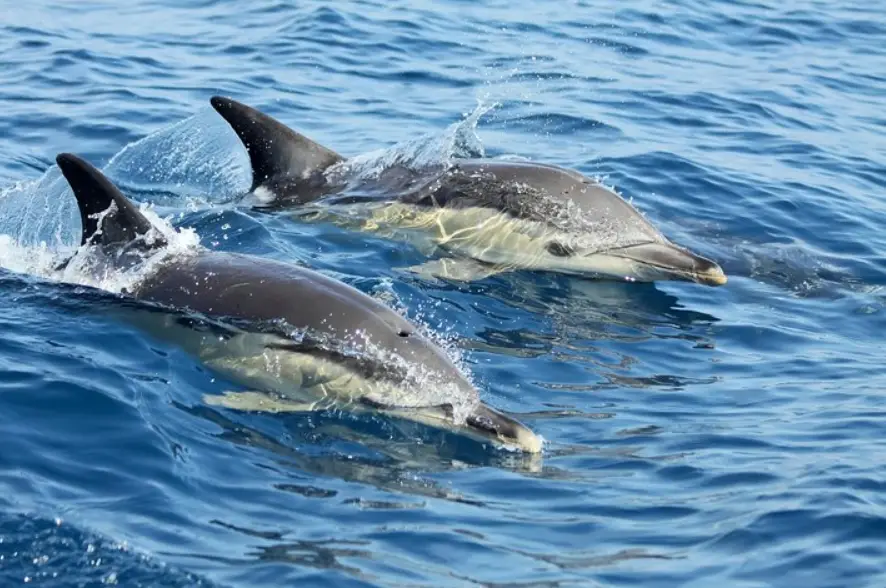 Trying your hand at sport fishing
Trying your hand at sport fishing can be an exhilarating and rewarding experience for those who enjoy spending time on the water and love the thrill of the catch. Whether you're an experienced angler or a novice looking to learn more about the sport, there's something for everyone when it comes to sport fishing.
In Puerto Escondido, sport fishing is a popular activity due to the abundance of fish species in the surrounding waters.
The warm waters of the Pacific Ocean provide a rich habitat for many different types of fish including marlin, sailfish, tuna, dorado, and wahoo. The best time to go sport fishing in Puerto Escondido is from October to April when the water is warmer, and the fish are more active.
There are many different ways to go sport fishing in Puerto Escondido, from chartering a boat to renting your equipment and setting out on your own. Chartering a boat is the most popular option, as it provides a more organized and guided experience.
Many fishing charters in Puerto Escondido offer half-day or full-day trips and provide all of the necessary equipment and expertise to help you make the most of your time on the water.
One of the most important things to keep in mind when sport fishing in Puerto Escondido is to always respect the environment and the fish you catch. It's important to use sustainable fishing practices and to release any fish that you don't plan to eat.
This helps to ensure the longevity of the fish populations and preserves the natural beauty of the ocean for future generations to enjoy.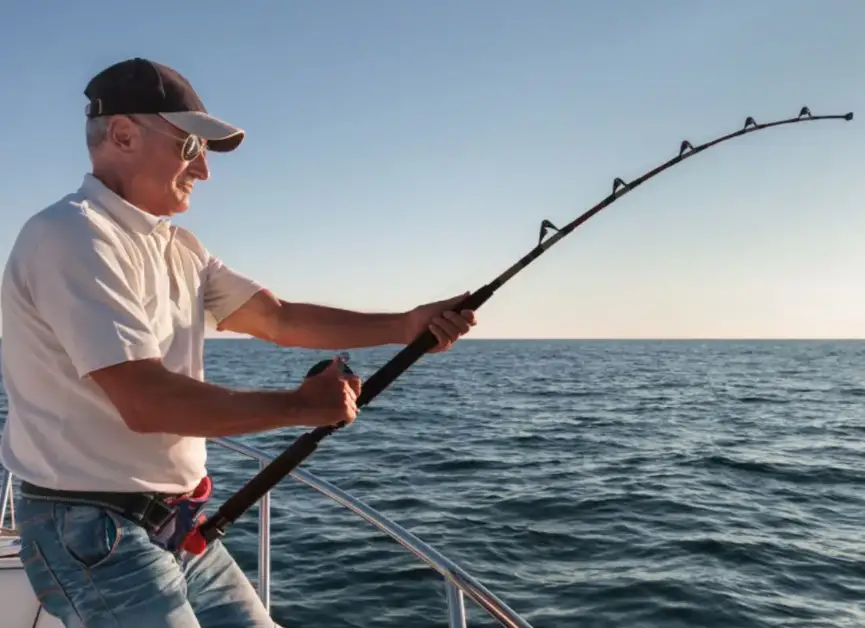 Explore the underwater world by snorkeling
Snorkeling is an exhilarating and immersive experience that allows you to explore the stunning underwater world teeming with life. And if you're visiting Puerto Escondido, you're in for a treat as there are plenty of incredible snorkeling spots waiting for you to discover.
One of the most popular places to go snorkeling in Puerto Escondido is Playa Carrizalillo. The beach is located in a small cove, sheltered from the open ocean, making it ideal for snorkeling. The crystal-clear waters are home to a vast array of marine life, including colorful fish, baby turtles, and even manta rays.
Another fantastic spot for snorkeling in Puerto Escondido is Playa Coral located just a short drive from the town center. The beach is a protected marine reserve, which means that the ecosystem is pristine and full of life. Here, you can spot an impressive variety of fish, octopuses, eels, and even sharks in their natural habitat.
If you're up for an outdoor adventure, you can also take a snorkeling tour to nearby locations like Mazunte, San Agustinillo, and Zipolite. These places are known for their beautiful coral reefs and marine life including dolphins and whales.
Before you go snorkeling, make sure you have the proper equipment including a mask, snorkel, fins, and a life jacket. If you don't have your gear, you can easily rent it from one of the many dive shops and tour operators in Puerto Escondido.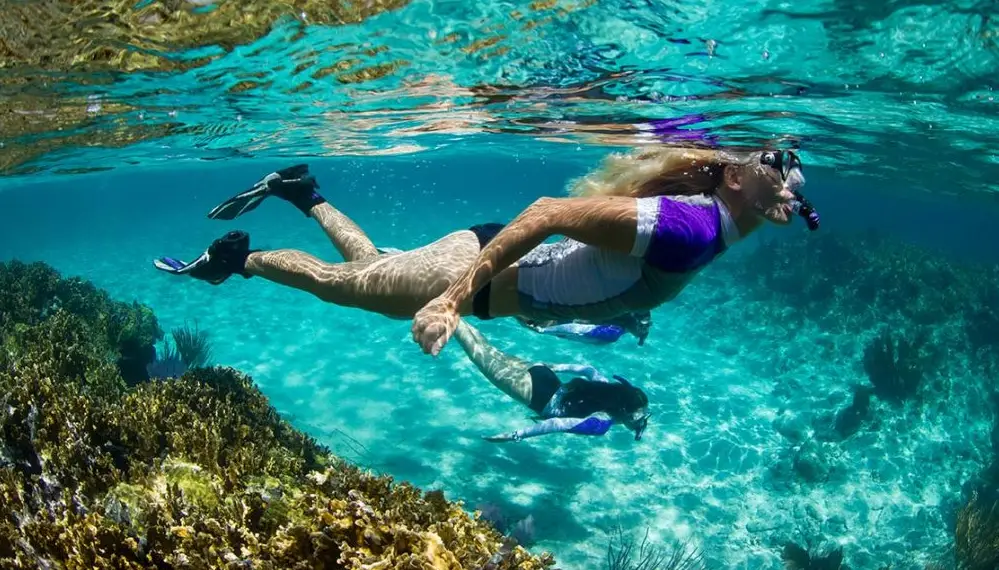 Visit Huatulco
Huatulco, a popular tourist destination and national park, is just a 2-hour drive away from the city. Many tourists stay in Huatulco and miss out to the visit Puerto Escondido, which is a shame. While the area has many expensive resorts, it is located on a bay with turquoise waters that are perfect for swimming and snorkeling.
You can either take a day tour to Huatulco or catch a local bus and spend a night or two there. If you just want to explore the different beaches in the bay, I recommend taking the catamaran tour from Puerto Escondido.
If you want to drive to Huatulco and see the town, the Huatulco city tour with a local guide is an excellent option to learn about the area's history and culture.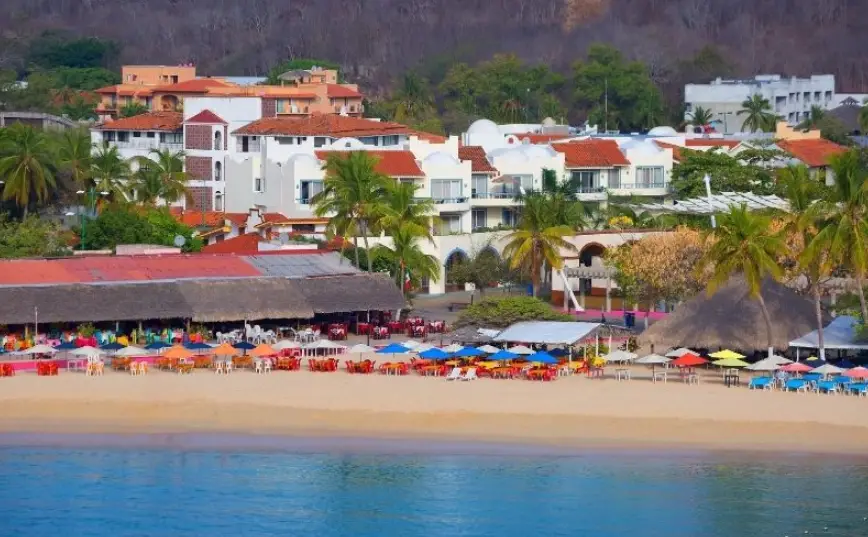 Try a food tour
Puerto Escondido offers an excellent opportunity to go on a food tour, as Oaxaca is renowned for its cuisine. A culinary adventure is a great way to learn about the local food and the area, while also getting a chance to taste some delicious dishes.
Food tours are very popular, so it's essential to book in advance. This particular culinary adventure in the city has received fantastic reviews and takes visitors to some hidden local gems, where they can indulge in authentic Oaxacan cuisine and drinks. For food enthusiasts, it's an excellent way to experience the local food scene.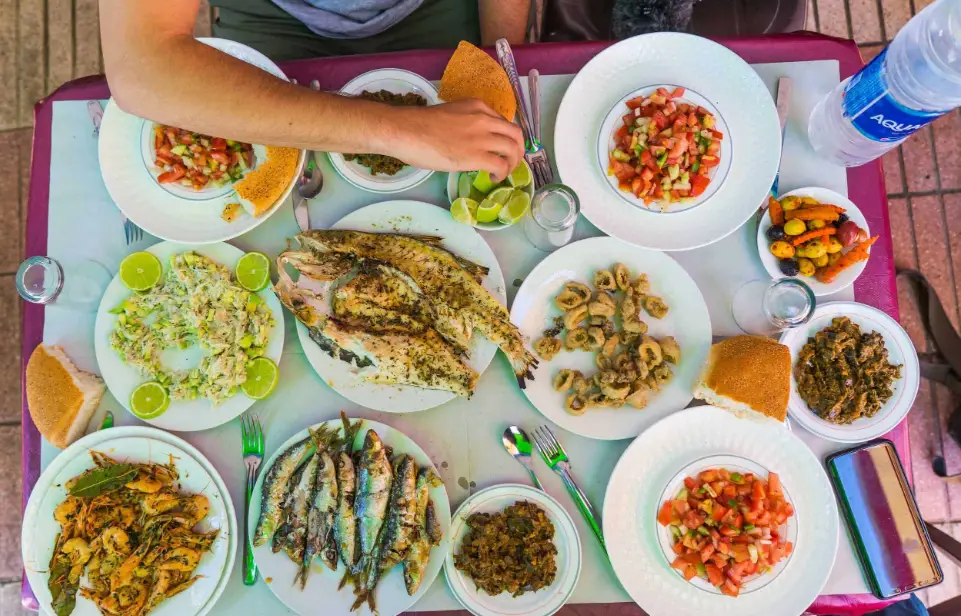 Visit the pool
Staying at a hotel with a pool can be a great way to relax and cool off during your vacation. Puerto Escondido is known for its beautiful beaches and warm climate, but sometimes it can get too hot, especially during the rainy season. That's why having access to a refreshing pool can be a game-changer.
Whether you want to take a dip in the morning before heading out for the day, or spend an afternoon lounging poolside with a book, having a pool on the premises can make your stay much more enjoyable.
In addition to being a great way to beat the heat, staying at a hotel with a pool can also provide a range of other benefits. For one, pools are a great way to get exercise. If you're someone who enjoys swimming or water aerobics, having a pool on hand can be a convenient way to stay active during your vacation.
Furthermore, pools can be a great way to meet other travelers. If you're traveling solo or as a couple, spending time at the pool can be a way to connect with other guests and make new friends.
Many hotels with pools also offer poolside bars or restaurants, which can be a great way to socialize and enjoy a cool drink or snack while sitting on lounge chairs under umbrellas.
When choosing a hotel with a pool, there are a few things to consider. Firstly, make sure the pool is well-maintained and clean. You want to be able to relax in the water without worrying about hygiene or safety.
Secondly, check if the pool is heated, especially if you're visiting during the cooler months. Lastly, consider the location of the pool within the hotel. Ideally, you want a pool that is easily accessible from your room and provides a nice view.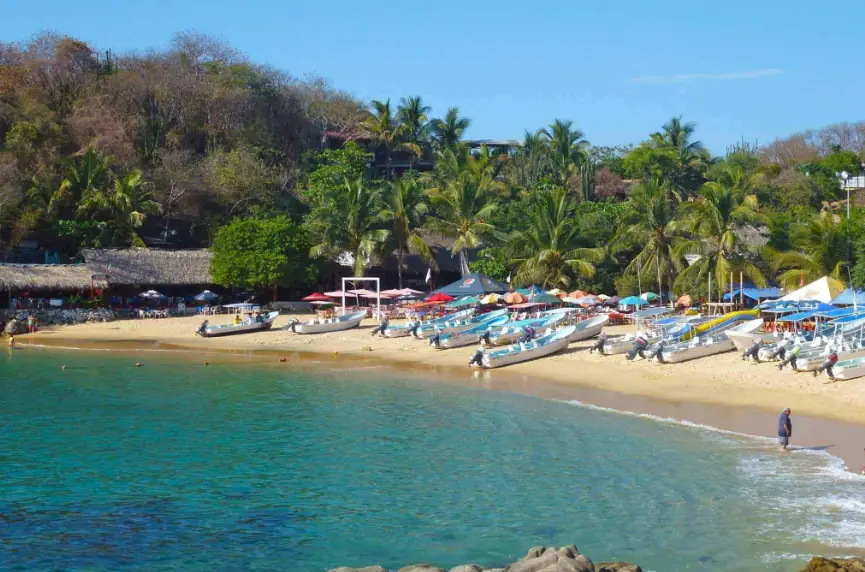 Visit the local market for a shopping experience
Puerto Escondido has a diverse shopping scene, ranging from local markets to artisan markets and modern plazas.
The Mercado Benito Juarez is a popular spot to find local products, while the El Adoquin artisan market offers unique handmade items. For a more modern shopping experience, check out the Plaza Commercial Oaxaca, which also has a movie theater and restaurants.
Copalita Archaeological Site
The Copalita Archaeological Site is a must-visit attraction for history enthusiasts located within the Huatulco Ecological Reserve. The site has dense forest vegetation where pre-Hispanic monuments have been discovered. Archeologists believe that this place was inhabited by Mexican Gulf settlers around 500 BC.
The site features three pyramid bases, an old lighthouse, and a museum showcasing the 16 different ethnic groups that lived in the area. To get to the site, visitors need to drive for around two hours east or opt for a tour that includes hotel pick-up and drop-off. The tour also includes a chance to relax, swim, or snorkel on a nearby beach after exploring the site.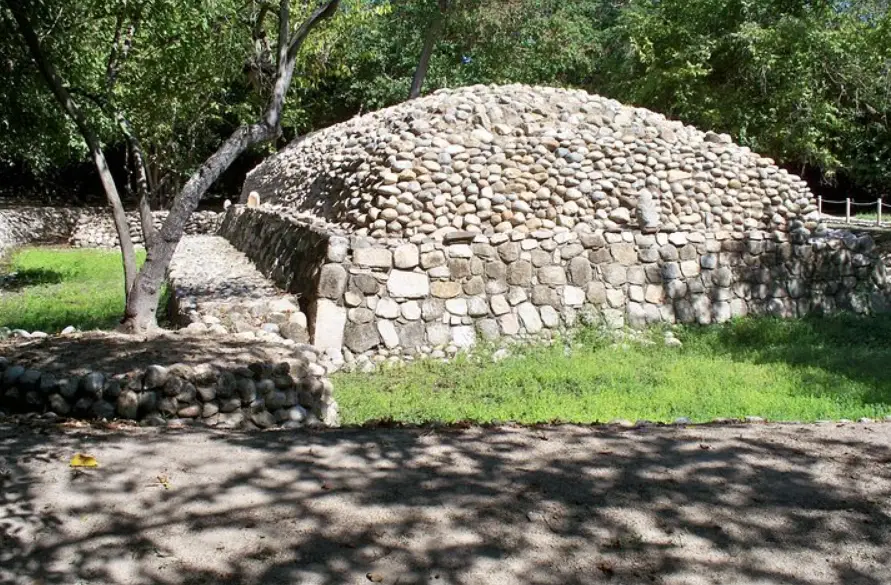 A mezcal-tasting session
Mezcal tasting is a popular activity in Puerto Escondido and throughout the Oaxaca region. Mezcal is a distilled alcoholic beverage made from the agave plant, and it has a smoky flavor that is unique to the region.
Many mezcal producers in the area offer tastings and tours of their facilities, where you can learn about the production process and the different types of mezcal available. Some of the most popular places to visit for mezcal tastings include the Mezcaloteca, Mezcalogía, and El Cortijo.
Mezcal tasting can be a fun and educational experience. Just be sure to pace yourself and drink responsibly!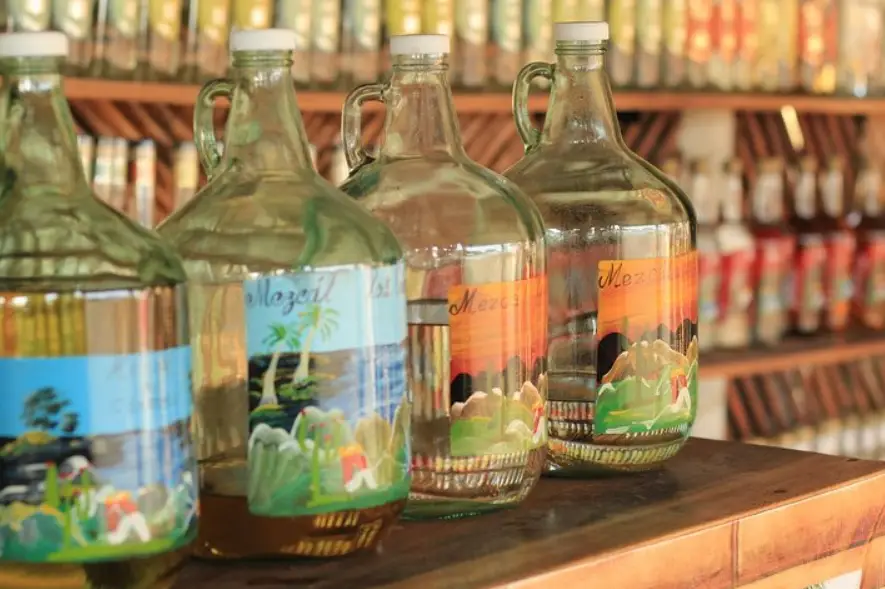 What is the cost of living in Puerto Escondido Mexico City?
The cost of living in Puerto Escondido can vary widely depending on an individual's lifestyle and needs. However, generally speaking, the town is considered an affordable destination, particularly compared to other popular coastal towns in North America.
Housing is one of the most significant expenses for those living in Puerto Escondido Mexico City. Rent for a one-bedroom apartment in the town center can range from $300 to $600 per month, depending on the location and amenities.
A two-bedroom and private meeting rooms apartment can cost between $450 and $1,000 per month. Those interested in buying property in town can expect to pay between $75,000 and $250,000 for a modest home or condo.
Food costs in Puerto Escondido Mexico city are generally low, particularly if one shops at local markets and prepares meals at home. A week's worth of groceries for two people can cost around $50. Eating out at local restaurants is also affordable, with meals ranging from $5 to $15 per person, depending on the restaurant and the menu.
Transportation costs in Puerto Escondido Mexico city are also low, with taxis and public transportation readily available at affordable rates. Taxis are metered and generally cost between $2 and $10 per ride, depending on the distance. Buses are even more affordable, with fares ranging from $0.50 to $1 per ride.
The cost of living in Puerto Escondido Mexico city can be quite affordable for those who are willing to embrace a simpler lifestyle. While there are certainly luxury options available, those seeking a more modest existence can comfortably live on a budget of around $1,000 to $1,500 per month, depending on housing costs and other factors.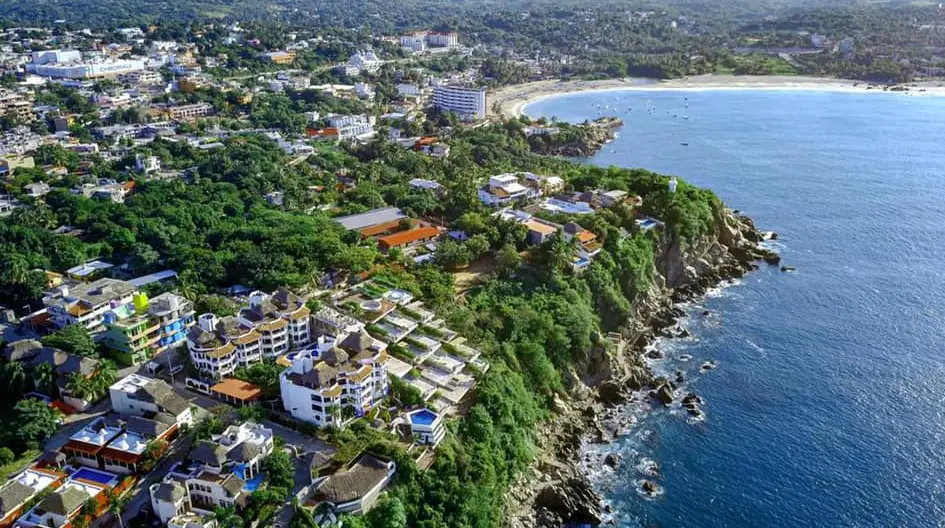 Security in Puerto Escondido
Puerto Escondido safe place to visit, but like any other city, there are certain precautions you should take to ensure your safety.
The crime rate in Puerto Escondido is lower than in other cities in Mexico, but that doesn't mean that crime doesn't occur. As with any tourist destination, pickpocketing and theft are always a concern. It's important to be aware of your surroundings, especially in crowded areas, and to keep an eye on your belongings at all times.
The aforementioned occurrences are particularly common on the Andador Escenico, which is a peaceful walking path stretching from Playa Principal to the lighthouse.
While violent crime is relatively uncommon in Puerto Escondido, it's always a good idea to exercise caution, particularly at night. Avoid walking alone in poorly lit areas, and stick to well-lit, busy streets. If you're planning on drinking, be sure to do so responsibly and avoid getting drunk in public places.
Another potential safety concern in Puerto Escondido is the ocean. The area is known for its strong currents and rough waves, which can make swimming dangerous. It's important to pay attention to any warnings posted at the beach and to only swim in areas designated as safe.
You can also catch viruses and get a fever. To prevent the chance of contracting dengue fever or Zika virus, a useful precaution is to wear long clothing during the rainy season and apply DEET repellents.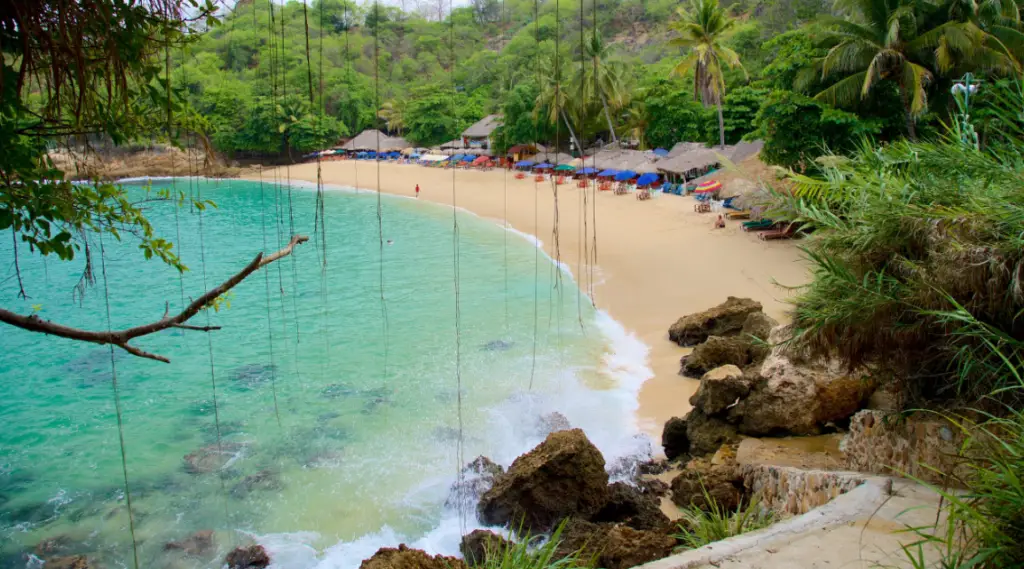 A hospital in town
Healthcare in town, while available, may not meet the needs of individuals seeking extensive medical treatment. The town has a small private hospital, The Ángel del Mar Medical Clinic, which provides specialized treatment and emergency care. However, the hospital has limited services and may not be equipped to handle all medical situations.
Alternatively, there is a public hospital, The Hospital General de Puerto Escondido, that offers a wider range of medical services than The Ángel del Mar. Nonetheless, patients may experience longer wait times and overcrowding.
For more comprehensive medical care, individuals may need to travel to Oaxaca City or Salina Cruz. These hospitals (Oaxaca City and Salina Cruz) are well-funded with a wider range of facilities and treatments. However, private healthcare costs in Mexico are still less expensive than in the US or Canada.
Many ex-pats opt to take international health insurance plans that cover them in both Mexico and their home country to ensure comprehensive coverage for medical emergencies.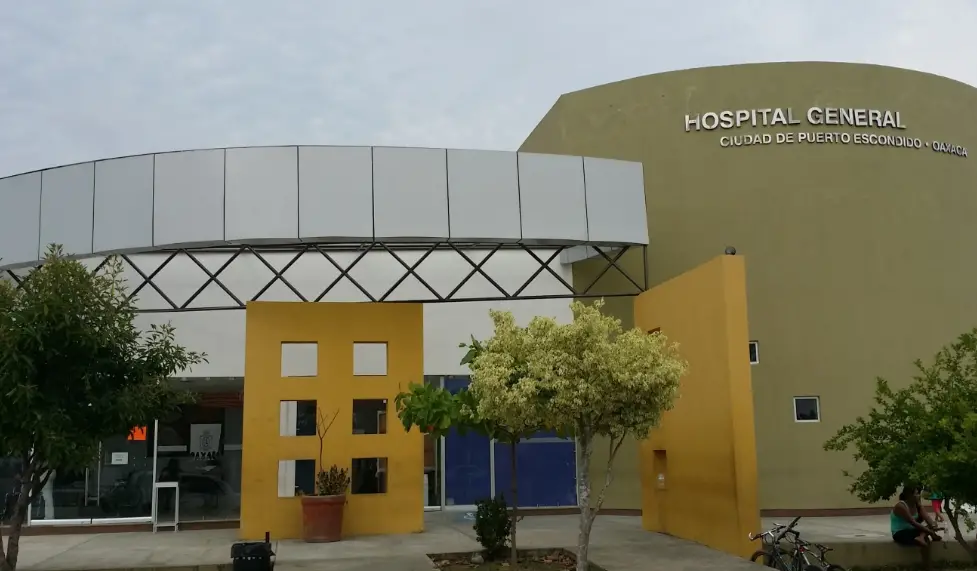 Places to stay in Puerto Escondido
There are a variety of places to stay in town, ranging from budget hostels to luxury resorts. Some popular options.
Hotel Santa Fe
Located in the heart of Puerto Escondido, this hotel is just a short walk from the beach and the main shopping and dining areas. The hotel features a pool, a restaurant, and comfortable rooms with air conditioning and satellite TV.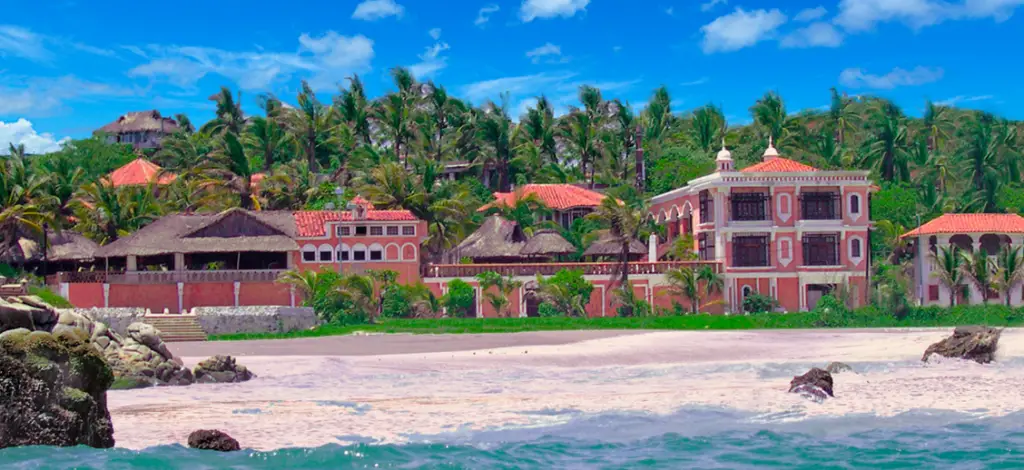 Selina Puerto Escondido
This trendy hotel is known for its vibrant decor and fun atmosphere. The hotel features a pool, a bar, a restaurant, and a rooftop terrace with great views. The rooms are bright and comfortable, and some have balconies with ocean views.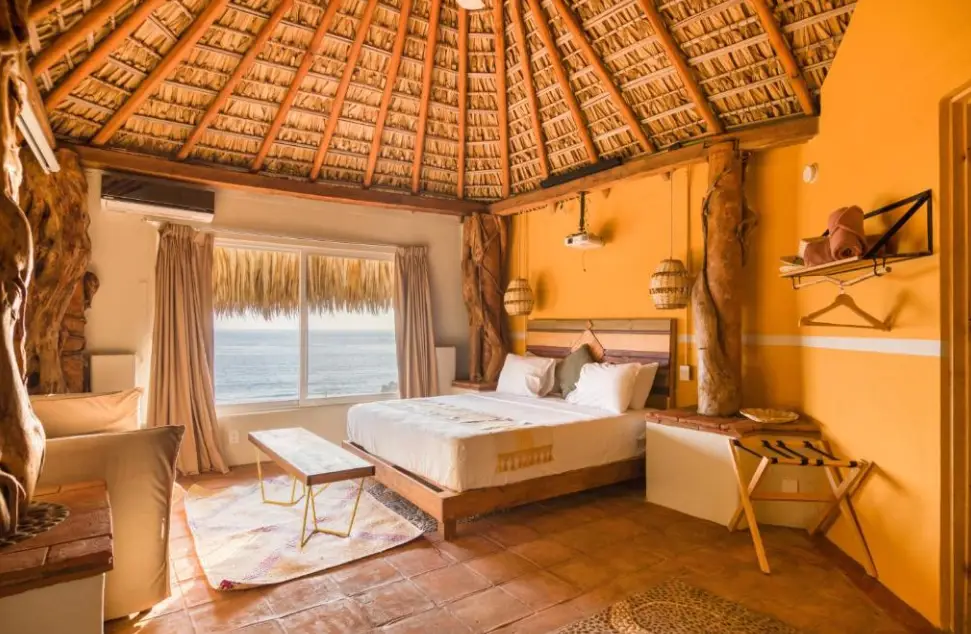 Hotel Escondido
This luxury hotel is located on a secluded beach, away from the crowds of the city. The hotel features a stunning infinity pool, a beach bar, and comfortable rooms with ocean views. The hotel is perfect for those looking for a more private and exclusive experience.
Villas Carrizalillo
This hotel is located in a quiet residential area, just a short walk from the beautiful Carrizalillo beach. The hotel features a pool, a restaurant, and comfortable rooms with ocean views. The hotel is perfect for those looking for a more peaceful and relaxing vacation.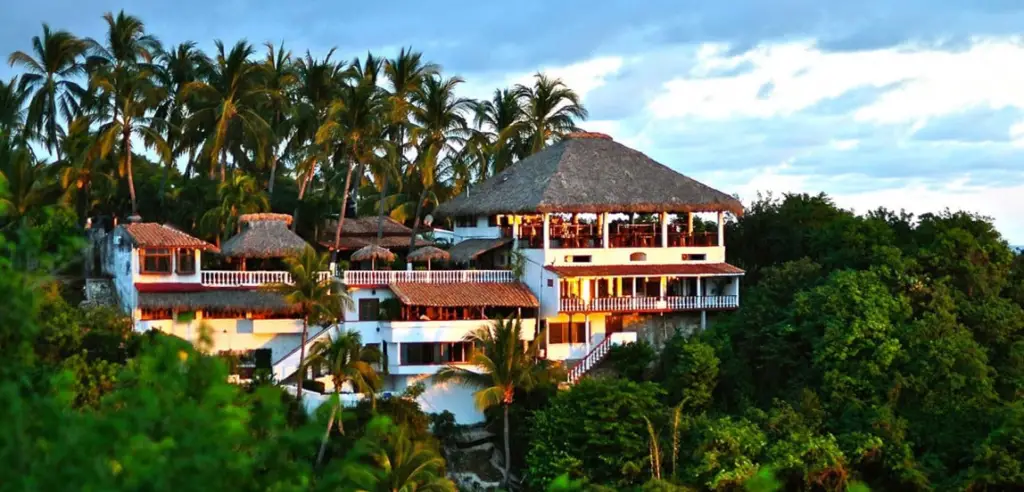 Vivo Resorts
This resort is located just outside of town, in a secluded and tranquil setting. The resort features a pool, a spa, a restaurant, and comfortable suites with ocean views. The resort is perfect for those looking for a more luxurious and secluded vacation.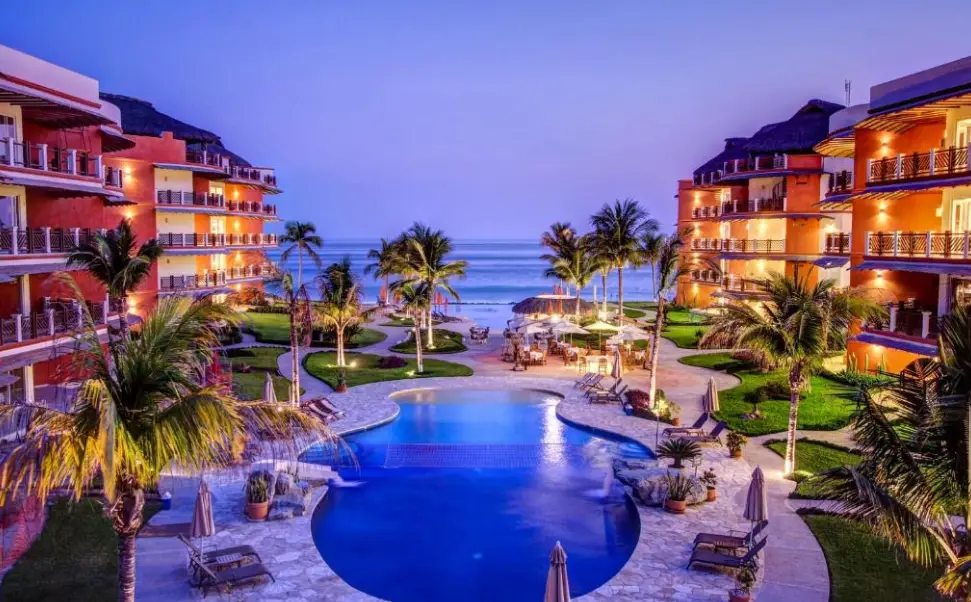 Punta Zicatela Hotel
The beach area is located to the south of Zicatela but part of the same bay has a more relaxed and laid-back atmosphere. It is possible to walk to the main area of Zicatela from here.
One of the most highly-rated properties in town is the Punta Zicatela Hotel, which is situated in this area. With both an indoor and outdoor pool and a rooftop bar offering breathtaking views, the hotel provides excellent value for money while still providing all the necessary comforts.
When searching for hotels in these areas, it is important to note that they are all categorized under the city. Therefore, utilize the map feature on Booking.com to narrow your search by area.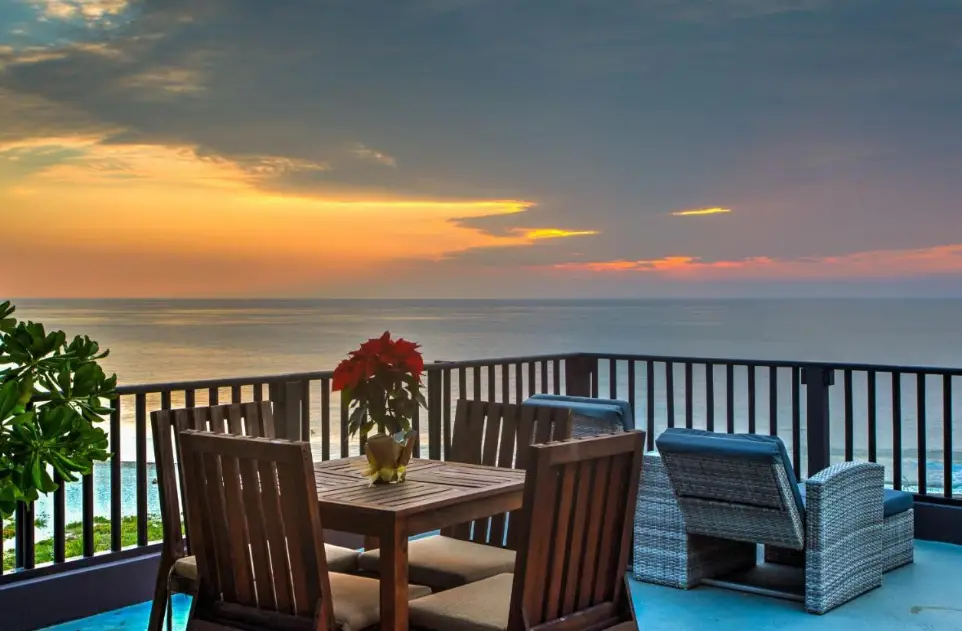 Frequently Asked Questions
Is there cartel in Puerto Escondido?
There is no evidence to suggest that there is an active presence of drug cartels in Puerto Escondido. The city is a relatively small town that relies heavily on tourism, and as such, it has managed to maintain a relatively peaceful environment.
The town has a strong police presence and is considered to be safe for visitors and residents alike. While drug-related violence and organized crime are problems in some parts of Mexico, including some parts of the state of Oaxaca, where Puerto Escondido is located, the town itself has remained largely free of such issues.
Where do expats live in Puerto Escondido?
One of the most popular areas is the Zicatela neighborhood, which is located on the beach and has a lively atmosphere with plenty of restaurants, bars, and nightlife. Other popular neighborhoods include Brisas de Zicatela, which is a quieter residential area near the beach, and La Punta, which is a small peninsula with a more bohemian vibe and a focus on surfing.
Other areas that have become popular among ex-pats include Rinconada, which is a residential area with a mix of apartments and houses, and Playa Carrizalillo, which is a more upscale neighborhood with larger houses and ocean views.
Additionally, many ex-pats have also chosen to live in the nearby communities of Puerto Angel and Mazunte, which offer a more secluded and tranquil lifestyle.
Is it cheap to live in Puerto Escondido?
Puerto Escondido is an affordable destination for both visitors and residents. Housing options range from smaller apartments and houses to larger, luxurious homes. Additionally, the cost of food and groceries is generally reasonable, especially if shopping at local markets and small stores.
Is English spoken in Puerto Escondido?
Even though English is spoken by many people in the tourism industry and by ex-pats in Puerto Escondido, it's still recommended to learn some basic Spanish if you plan to live or travel there.
Knowing a few key phrases and words can help you communicate and navigate daily life. Moreover, learning Spanish can enhance your experience by allowing you to immerse yourself in the local culture and connect with Puerto Escondido people.
Conclusion
The hidden port is gaining popularity among tourists and expatriates and has the potential to evolve into another Playa del Carmen or Tulum in the future.
Living in Puerto Escondido, unlike Puerto Vallarta, can offer a unique experience of living in a tropical paradise. With beautiful beaches, warm weather, and a laid-back lifestyle, this coastal town in Oaxaca, Mexico has attracted a growing number of ex-pats in recent years.
Puerto Escondido is home to various beaches, each with its charm and activities. Playa Zicatela is known for its surfing scene and nightlife, while Playa Carrizalillo is a quiet cove ideal for swimming and snorkeling. There are also opportunities to swim with bioluminescent plankton, go dolphin watching, and try sport fishing.
The cost of living in Puerto Escondido is relatively affordable, with a variety of housing options available for rent or purchase. Many ex-pats choose to live in neighborhoods like Brisas de Zicatela and Los Tamarindos, which are within walking distance of Zicatela Beach but offer a more residential atmosphere.
English is widely spoken in Puerto Escondido, making it easier for ex-pats to adapt to the local culture and lifestyle. There, it's possible to find a balance between relaxation and adventure.
Living in Puerto Escondido can provide a unique opportunity to experience a different way of life, surrounded by beautiful scenery and a welcoming community.
Read also: Hot springs in San Miguel de Allende: the perfect getaway