Tulum town is called Mexican Bali because of its Tulum beach and nature. Absolutely beautiful nature, many beach clubs, hot sand, and bright sun that shines during the day.
But the most interesting things always happen at night, when everyone gathers in the middle beach zone and town center. Most establishments in Tulum are open at night, the reason is that during the day it is too hot and there are few people.
Tulum has a very large selection of bars and clubs, the variety is striking. There are beach bars, there are beach clubs, with many drinks, different designs, live bands, house music, and local and international DJs. Therefore, we have written a simple guide for you so that you do not waste time looking for the best bars.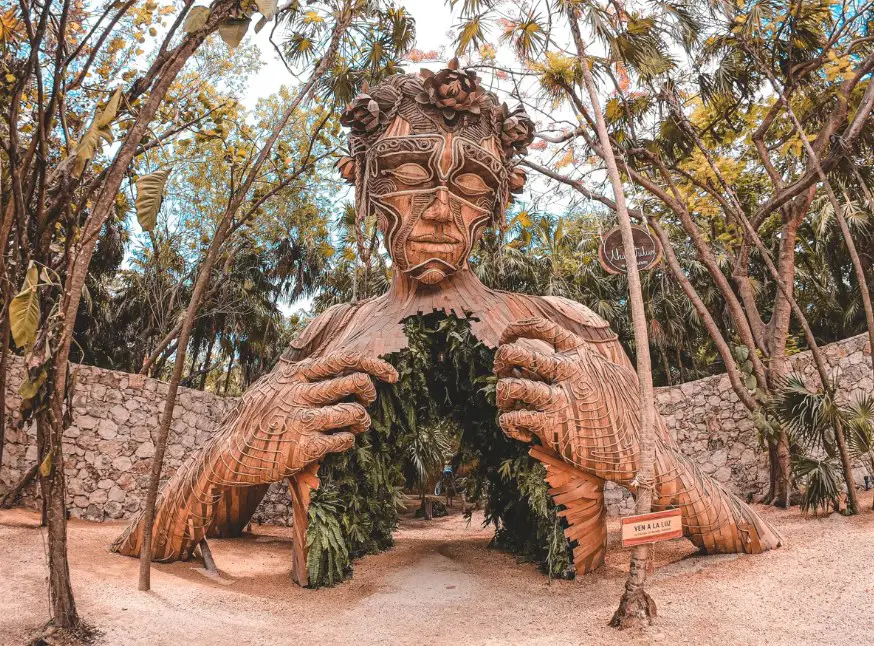 Tulum nightlife tips
Tulum accepts cash: We advise you to immediately cash out all your money. Because Tulum accepts cash. Of course, there are exceptions where they accept a credit card, but you will have to overpay by 3%.They will accept Mexico Pesos and also American Dollars.
Tipping: Always leave a tip. It's like a tradition in Mexico to tip the staff. Usually, it is 10-15% of the total bill. But always check if there is "propina", which means a tip.
Location: You will become aware that most bars in Tulum are located in the main town, Tulum Pueblo, and the Middle Beach Zone. This is because the places in the town center are affordable bars and less exclusive than on the beach on the side of the road in the jungle, offering a much more prestigious and quirky environment and, of course, much more expensive. While the Middle Beach Zone has more chic, upscale spots. Most of the bars in this beach zone are on the jungle side of the road, with outdoor seating.
Safety: We advise you not to take expensive things with you, just carry some cash with you and do not wear expensive jewelry
Now that you have read all the Tulum nightlife tips, we will provide you with a list of the best bars and clubs in Tulum so that you do not waste time looking for them, but instead practice salsa dancing.
For 6 nights, the top clubs and bars in Tulum take turns hosting the best parties. And each bar and club has a certain night, the list looks like this:
Tuesdays & Wednesday nights: Batey Mojito & Guarapo Bar in the town
Thursday night: Casa Jaguar in the Middle beach zone
Friday night: Gitano in the Middle beach zone
Saturday night: Papaya Playa Project in the beach town
Sunday night: Salsa Night at La Zebra Hotel in the southern beach zone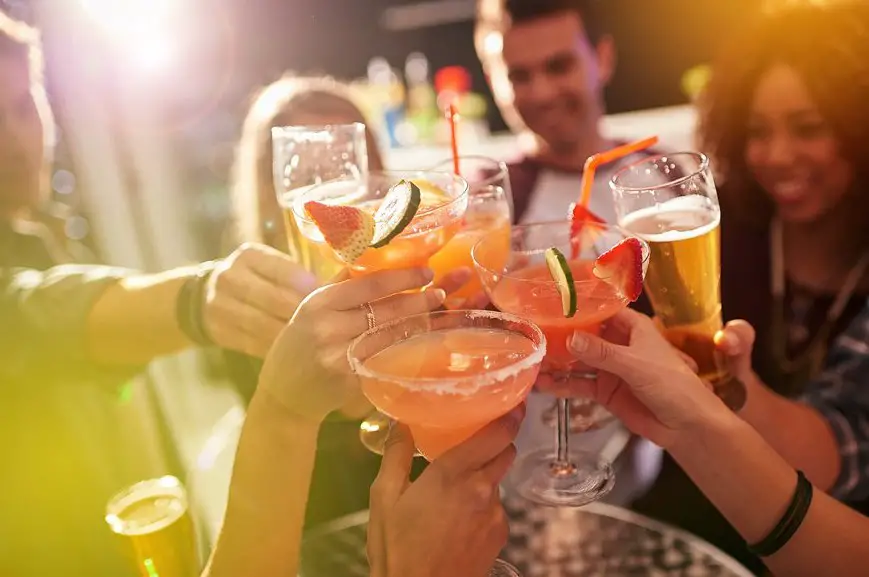 Best clubs and bars in Tulum
Batey Mojito & Guarapo Bar in the town
And we'll start this list with the most popular and laid-back bar, which provides a pleasant and relaxing, and friendly atmosphere during the day and is animated by live music and a large crowd at night. Batey is the soul of Tulum Pueblo's bar scene, with most other bars built like satellites around it.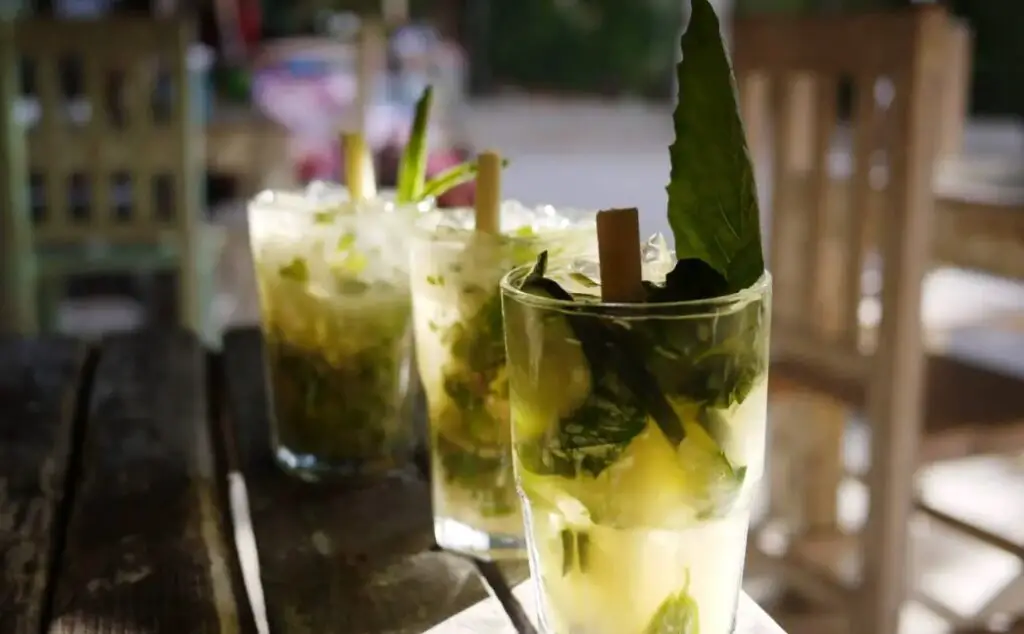 So, what attracts this crowd? And it's all thanks to their signature mojito with freshly squeezed sugar cane juice. Another reason why you should visit this bar is its talisman. You can see the staff clicking on the bar's specially painted Volkswagen buggy mascot.
Enjoy signature mojitos, a few drinks, and dance all night to rock, blues, reggae, and DJs.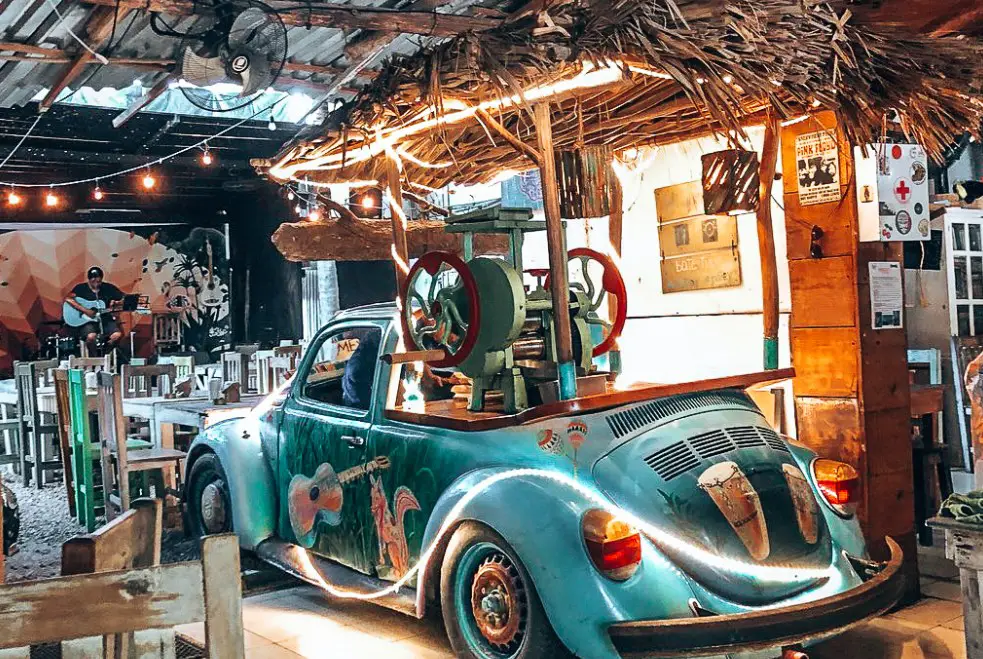 Casa Jaguar in the middle beach zone
Where can you go on Thursday and have a blast? The nightclub Casa Jaguar in the Middle beach zone is ideal for this. Casa Jaguar hosts regular DJ nights.
Casa Jaguar hosts wild jungle parties every Thursday night after 23:00 and until the morning they have the noisiest, most fun, and wild jungle parties. If you need a little time to catch your breath, their sultry mezcal bar (beach bar) serves delicious handcrafted cocktails.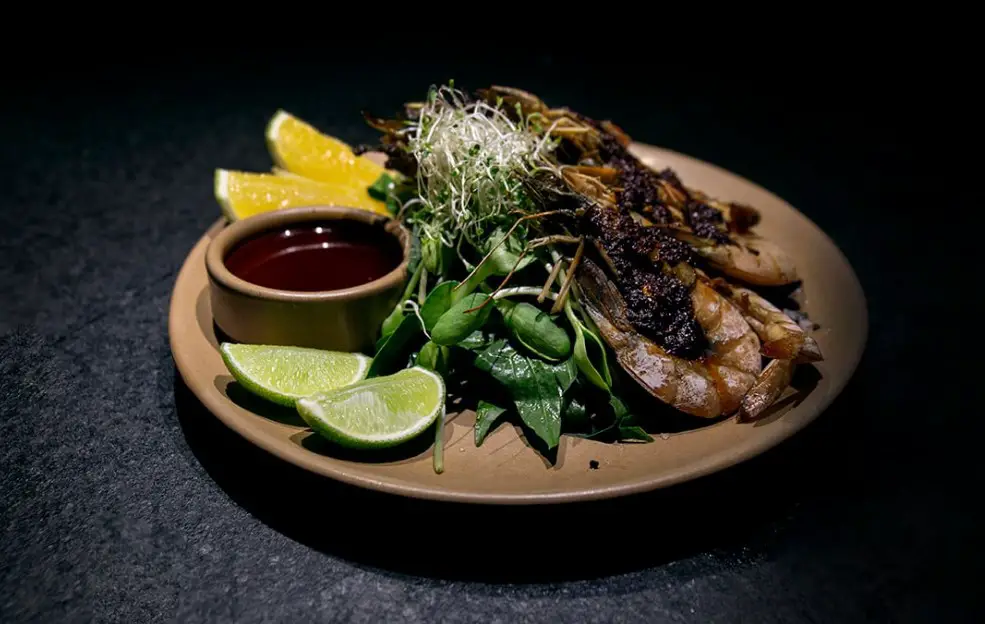 During the daytime, this is a trendy Caribbean restaurant where you can sit and enjoy delicious food.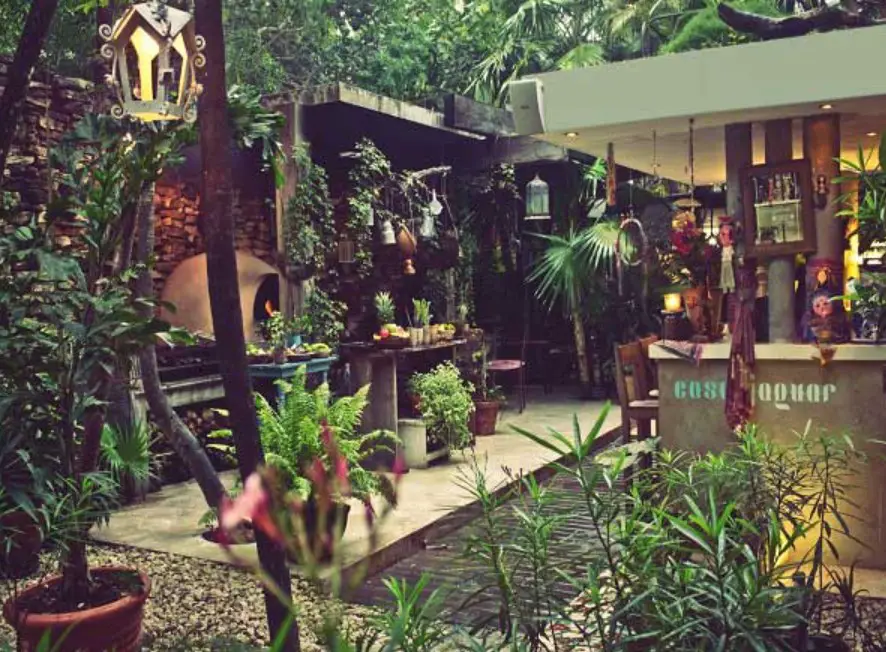 Gitano in the middle beach zone
Friday nights parties can be found at the Gitano in the Middle beach zone. This establishment is not only in Tulum, its branches are also located in New York and Miami, but only in Tulum do they have three additional points.
These are Gitano Tulum (restaurant), Gitano Tulum Beach Club, and Tulum Jungle Bar. In just a few years, this club has gained immense popularity and has become a place for cool parties.
Located on the jungle side of the beach road, the DJs start spinning the decks at 11:00 pm, bright neon lights shine around and a huge floating disco ball contrasts with the jungle canopy.
Live bands play earlierare also played here on Sundays, Wednesdays, and Thursdays at a more relaxed pace.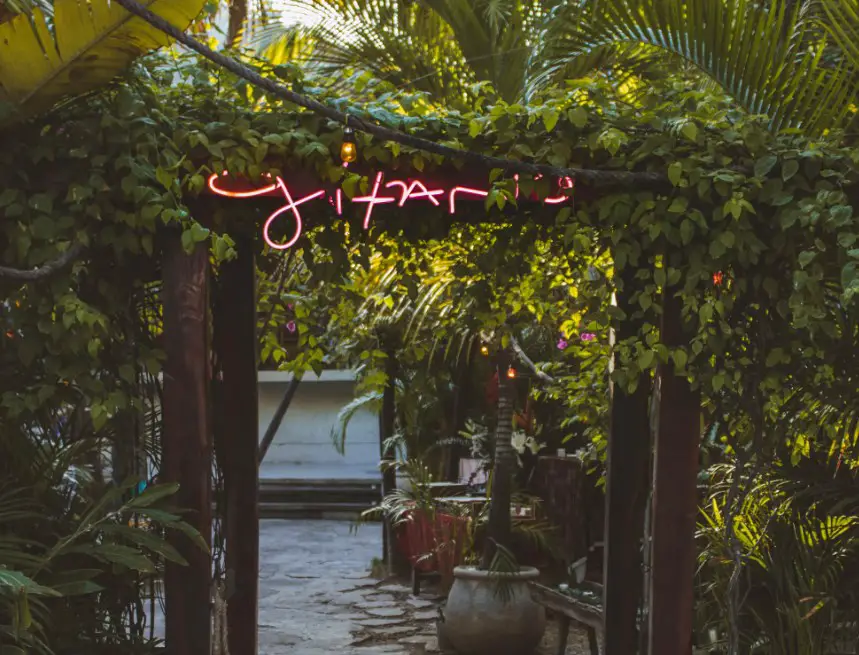 Papaya Playa Project in the beach town – Moon parties
The biggest, grandiose, noisy, and fun parties of the week take place right here – on the beach of Papaya Playa Project, or as it is also called PPP.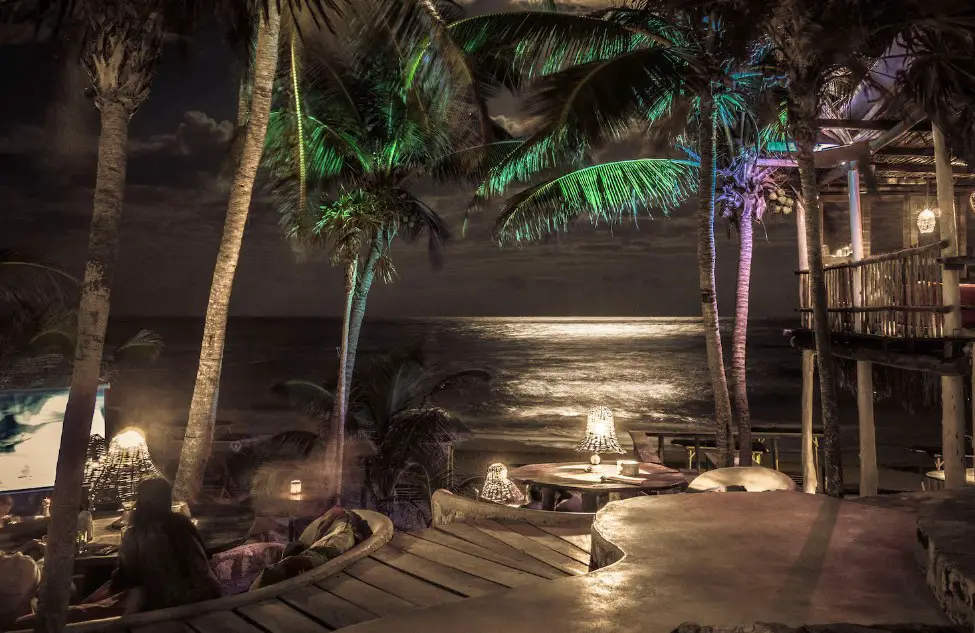 If you are in Tulum on a full moon night, be sure to visit the Papaya Playa Project. Every month, you can see the spectacular and wild Full Moon parties, which are held on the Saturday nights closest to the full moon. Also at the beach club, local and international DJs perform and play music for 3000 people until 3:00-4:00 in the morning.
And the cool thing is that it's located right in the hotels, and after celebrating all night, you can go to sleep right in the hotel and not go anywhere.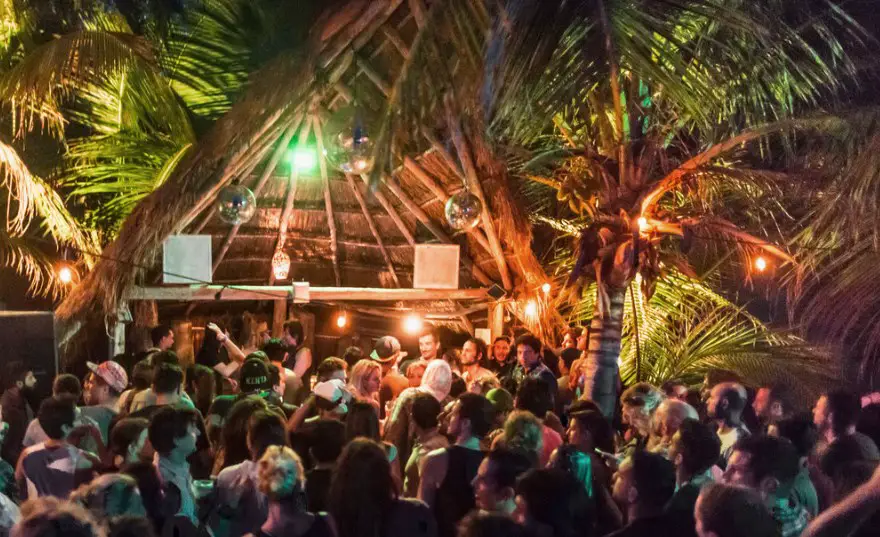 Salsa Night at La Zebra Hotel in the southern beach zone
If you want to learn how to dance salsa in an hour, then visit the La Zebra hotel on Sunday. The boujee bars are located in the hotel area on the beach and every Sunday from 6:30 to 7:30 there is a free family salsa dance party offering free lessons followed by 3 hours of dancing with live music.
There's live music on Friday nights, and dance salsa on Sundays.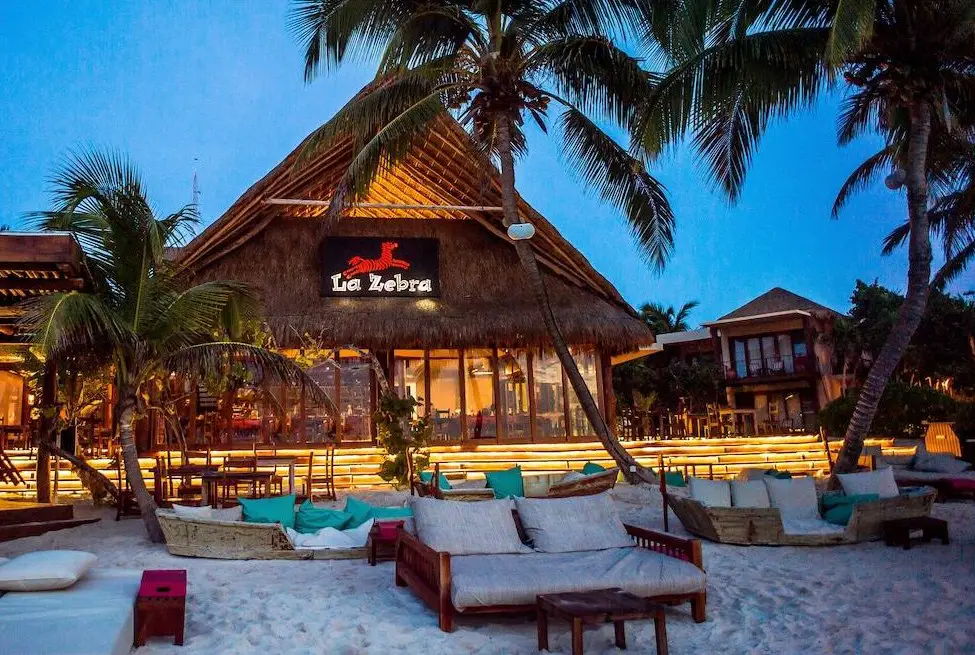 The party is catered for by the main bar and restaurant, as well as The Mulberry Project beach bar, serving an amazing selection of handcrafted signature cocktails. The entrance is free, so be sure to come to the La Zebra hotel hosts and dance salsa.
The Mulberry Project bar caters to guests even during the day.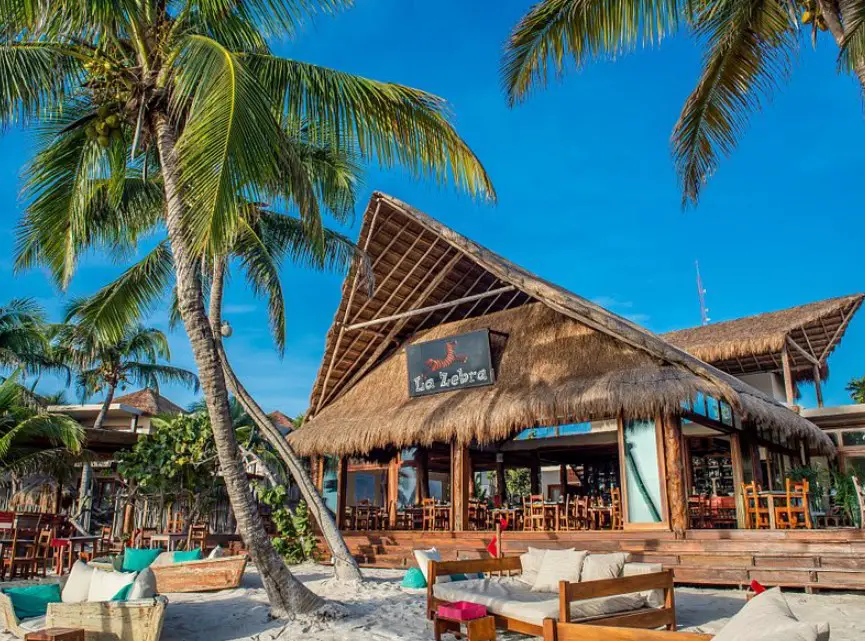 Pasito Tun Tun
This laid-back bar in Tulum pueblo has become a favorite with locals and tourists alike. There are many reasons to love this bar. One of them is a Bohemian vibe for a cool night out with a garden patio seating area. There are incredibly delicious mezcal cocktails and a wide selection of tequila.
There are also live performances from local bands and DJs after 22:00 and before that, you can enjoy a few drinks and a friendly atmosphere in the bar.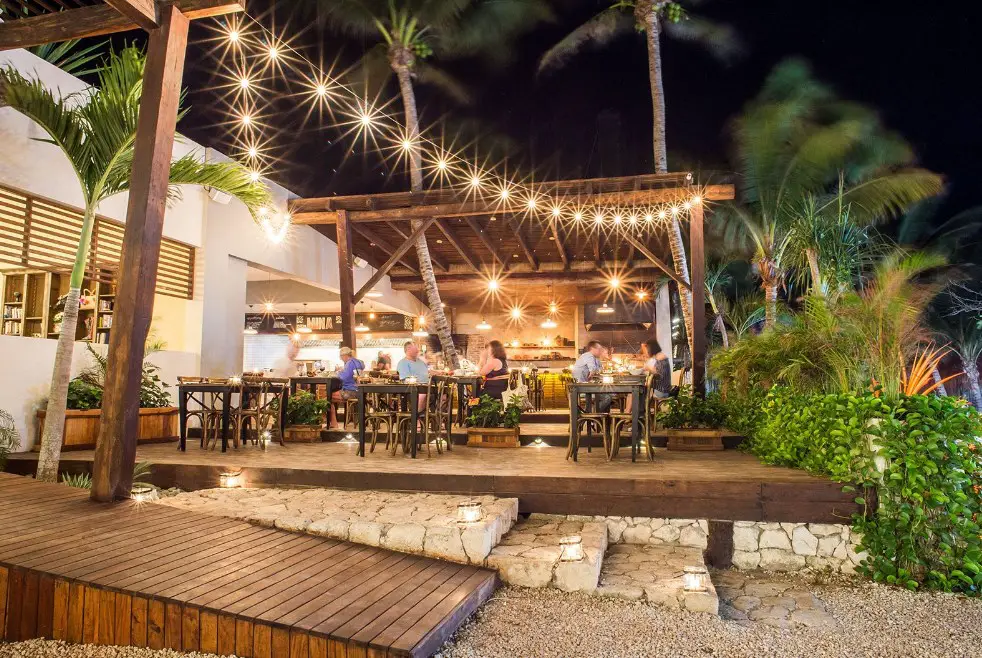 Kin Toh – a beach town
The bar with the best design in Tulum is among the affordable bars. The uniqueness of its design lies in the "hanging nests" located above the bar, offering stunning sunset views over the Yucatan jungle. Booking is recommended for groups or companies of people.
This main bar/restaurant also offers gastronomic cuisine with an exotic bar. And you can dance the night away with friends on their lively dance floor (if you like reggaeton music).
The minimum consumption of Kin Toh is 500 pesos (US$25), which will be charged to the card upon arrival. It looks like it's expensive, but it's definitely worth it.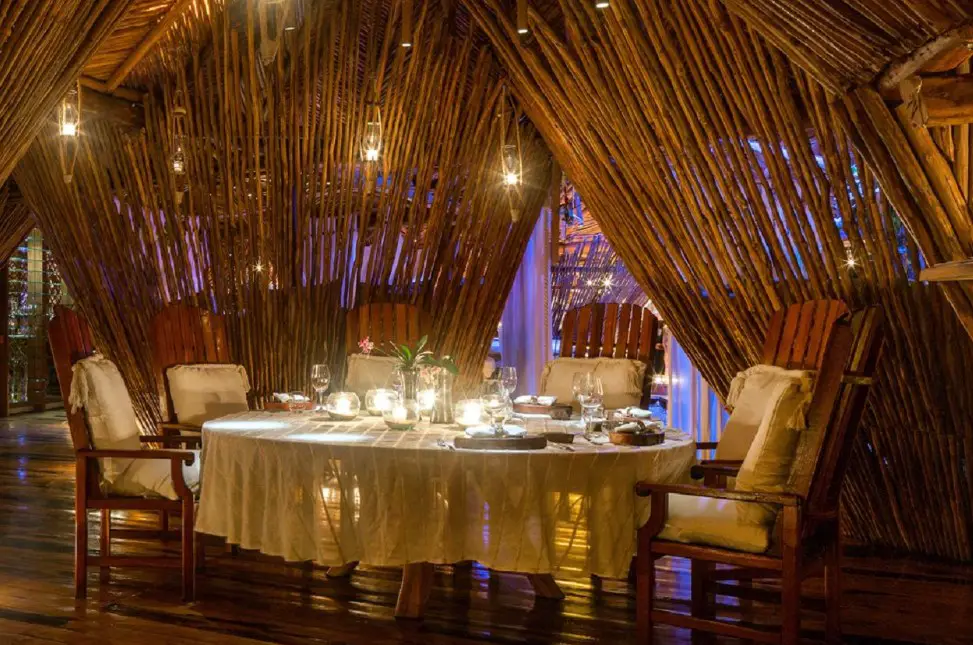 Nana Rooftop Bar
Naná Rooftop Bar – This rooftop bar is located in the city center, where evening life is in full swing. If you like to dance to house and electronic music, then this is the place for you. They are also known for their drinks, with the bar's secret ingredient, local mezcal. All this makes this place a good place for parties.
I Scream Bar in the middle beach zone
Jungle bar with a hippy vibe working out of a shack made from VW bus scraps, including working headlights. I Scream is part bar, part vegan ice cream shop, and part taco shop, and their specialty is ice cream shots.
Nomade
Nomade is a place where you can relax, a cozy bar overlooking the Caribbean Sea. It serves excellent tacos and cocktails with a hippie vibe.
Of all the bars listed above, Nomade has the most relaxed atmosphere. Carpets and tents scattered along the shore, and flickering candlelight along the trees create a fantastic cool atmosphere.
In this bar, Tulum nightlife becomes fabulous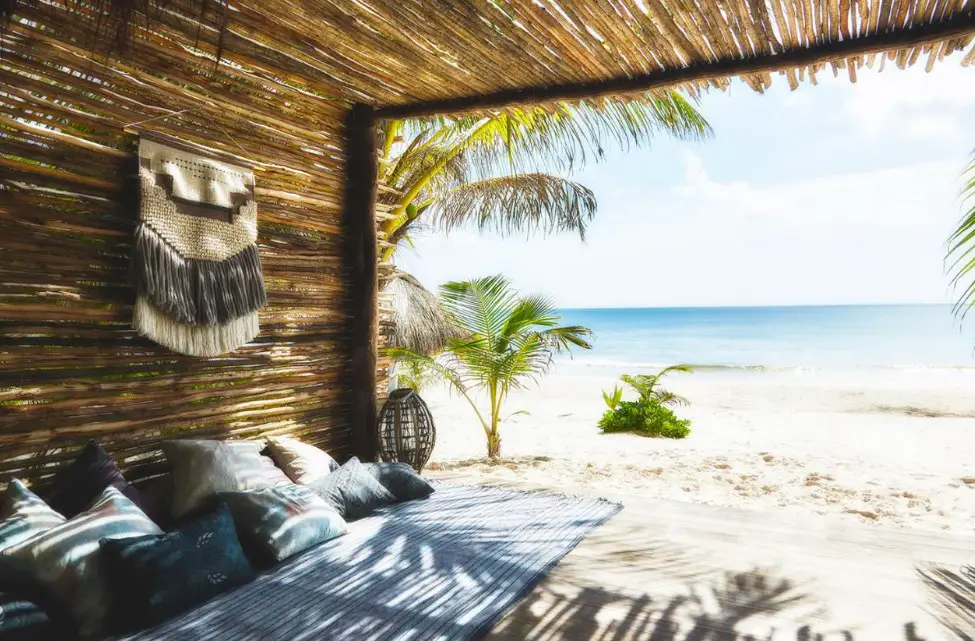 Does Tulum have nightlife?
Tulum's nightlife and party scene Tulum are very active. During the day, almost nothing works except beach bars and beach clubs, nature reserves, and some restaurants and shops. Most bars and clubs which are more popular work just at night. All life happens at night.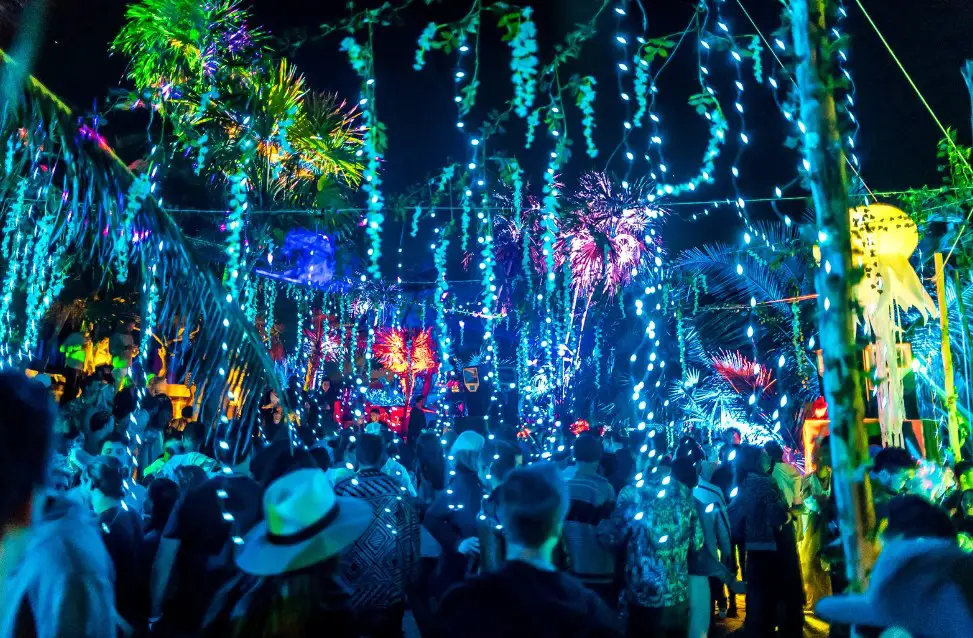 Is Tulum good for clubbing?
Tulum town is a place for parties and clubbing. Visit Tulum is perfect for Tulum nightlife because it's always warm here, close to the beach and the ocean, various music, the best DJs from around the world, and local bands. Top clubs and bars even host special nights for their guests.
Where is the Tulum party zone?
The middle beach zone, the main town of Tulum, and Tulum Pueblo's bar scene are the best places for parties. Most popular bars and clubs are located there. This is where the whole city and tourists gather in search of the best clubs and bars.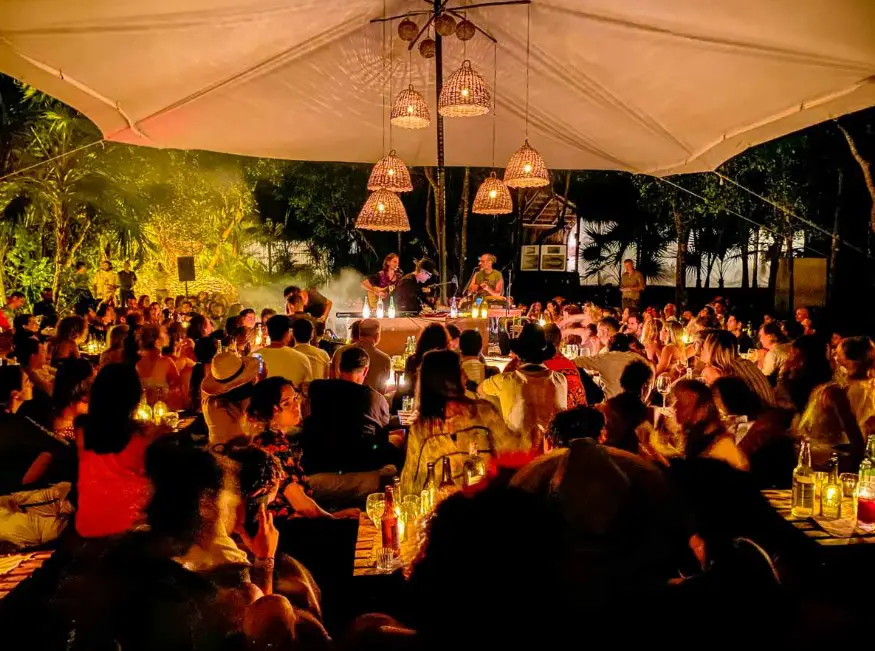 Final thoughts on Tulum nightlife
Tulum nightlife never seems to sleep. Offering everything from grand parties and festivals to more casual live performances, there is something for everyone.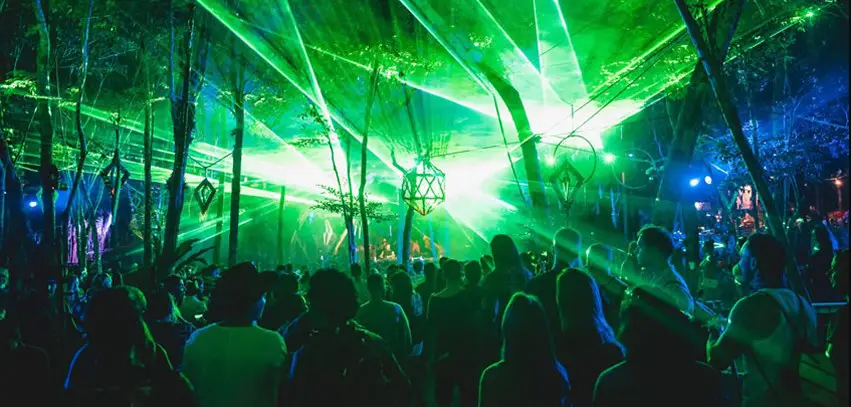 In Tulum along the Hotel zone and Beach Zone. There are a lot of beach zones, and clubs, and many bars stay open until late, with live music with a live band, mezcal cocktails, dance parties, upscale spots, certain nights, reggaeton music, all-night drinking, and even free lessons in salsa, so you'll have plenty of time to go bar hopping.
We hope we were able to help you and feel the whole atmosphere of Tulum nightlife.
Read also: Best time to go to Cozumel: what season suits you best?