Going on vacation, we all want it to be perfect. Starting from the easy and convenient transportation and ending with great accommodation and perfect service. Some places are easy to get to, but they are more crowded. Some are less touristy, but the transport is a pain. We'd like to share a wonderful place with you, a perfect vacation spot — Bacalar, Mexico.
People have different vacation preferences. Some of us love so-called 'beach vacations', just lying in the sun on the golden sand of the gorgeous Caribbean coast, enjoying the getaway from the hustle of big cities.
Some of us love to explore new places and go sightseeing. In Bacalar, you can find whatever your heart and body need.
Bacalar, Mexico is an amazing combination of fantastic beaches and an incredible historic heritage. It will satisfy folks who prefer beach clubs and cocktails at the pool, swimming in Bacalar Lagoon, and the ones who will be thrilled to visit the Mayan ruins and enjoy a historic tour of the Fort San Felipe and the Pirates Channel.
And those active types who love sports and energetic entertainment will love this place too. There are plenty of water sports activities available, from diving and snorkeling to kayaking and paddleboarding.
First, let us tell you a little about this incredible place, then we'll make sure you get there.
Bacalar, Mexico — 'Pueblo Mágico'
A 'magic town', located less than a one-hour drive from the Belize border, Bacalar, Mexico hasn't yet become a crowded tourist destination. It's part of the Mexican State of Quintana Roo, on the very far end of the Yucatan peninsula.
Bacalar Lagoon is a landmark in the small town. A stunning Laguna Bacalar with clear blue water sparkling with so many hues of cerulean and azure, that indigenous people long ago called it 'La Laguna de Siete Colores'.
Bacalar Lagoon or Lake Bacalar makes it a popular destination for those enjoying swimming, snorkeling, kayaking, paddle boating, and other water activities. But not only that.
It's a memorial of the ancient Maya civilization with a number of archeological sites. The remains of ancient cities and settlements are absolutely stunning, and people interested in history will be thrilled to see the traces of the civilization which ceased to exist hundreds of years ago. The sites are located in the areas surrounding Bacalar and are easy to travel to.
For the people who visit Bacalar, Mexico, a small 'magic town' provides everything for a perfect vacation: hotels and hostels, tasty food, and the beautiful beaches of Bacalar Lagoon. Everything is within walking distance here.
Destination: Bacalar, Mexico. Best travel solutions
So, you decided to go to Bacalar, Mexico, and need some tips on how to get there. You are in the right place. There are plenty of possibilities, and you are welcome to choose the best from the list.
Destination: Bacalar, Mexico. Means: by air
If you prefer air travel, your first choice is to fly to Mexico City or Cancun International Airport from your location. From there, you take a domestic flight to Chetumal airport. Chetumal International is the closest airport to Bacalar, Mexico — about a 45-min drive.
Now you have 4 options: take a rental car, hire a taxi, take a private shuttle, or a bus (ADO). Car rentals, as well as private and public buses, can be found at the airport.
Destination: Bacalar, Mexico. Means: by road
From Cancun to Bacalar. If you would rather not fly to Chetumal, then go to Cancun International Airport by plane and take a land trip from Cancun to Bacalar. Your options are basically the same: renting a car ($40 per day), taking a shuttle (~$340), or an ADO bus ($25).
Hiring a taxi from Cancun to Bacalar, Mexicois possible too, of course, for approximately $350. The journey from Cancun to Bacalar should take about 4.5 hours.
From Playa del Carmen to Bacalar. Your options will be basically the same if you want to take this route: a rental car (~$15 per day), a shuttle (Playa del Carmen Shuttles, $350),or a bus (from Alterna Station). The trip to Bacalar, Mexico, will take 3.5-4 hours.
From Tulum to Bacalar. Tulum is the closest big city to Bacalar. The taxi rates from Tulum if you choose to hire one will be around $170. Taking a bus (ADO) will cost $15. A more expensive shuttle will take you to Bacalar for ~$139. A rental car from Tulum to Bacalar is also an option (~$20 per day). Car rentals will be easy to find.
It's a 2.5-3 hour journey.
From Merida to Bacalar. Renting a car is a good option, with average rates of about $35 per day.
It will take you 4-4.5 hours to travel to Bacalar from there.
You can also take a bus (ADO) from Terminal de Autobuses de Merida (bus station) as a more budget option (~$39).
Some tips for those who chose to drive to Bacalar
Avoid night driving in Mexico. If you still decide to do it, use the toll roads, they are much safer. And have some cash for the tolls (pesos).
Mind the speed bumps (topes). There are a lot of them, and sometimes there will be no warning signs. So watch out.
Download an offline map of your route (e.g., from Google Maps). The cell signal in some areas is wonky, so you need to be prepared. Having a local SIM card can help as they usually have a better signal.
In Mexico, signs are in kilometers per hour. Don't forget about that.
Don't use your cell while driving. It's not only dangerous but also illegal in Mexico.
Mexican traffic lights have an additional step: the stop lights change from green to yellow, then to flashing yellow, and only afterward to the red light.
If you heard the rumors that Mexican police officers may take bribes, they are true. So, what do you do if you don't want to encourage criminal behavior? — Don't give them an excuse to pull you over. Don't exceed the speed limit. Don't talk on the phone while driving. And don't break any other laws.This way, you'll make it harder for the cops to extort money from you, and keep your consciences clear.
Mexican gas stations are not self-service. An attendant will fill your car and take the payment from you. These people usually live off tips, so it will be a good idea to tip them at least a couple of dollars in peso equivalent, thanking them for the service.
What can you do in Bacalar, Mexico?
You already know that Bacalar Lagoon, Mexico is the pearl of the Caribbean Sea and the landmark of the region. But apart from Lake Bacalar, what amazing places can you see when you visit Bacalar, and what activities are available to you?
You'll find a few of the countless options below. We tried to provide you with a list where everyone, no matter what kind of vacation you prefer, will find something interesting and attractive.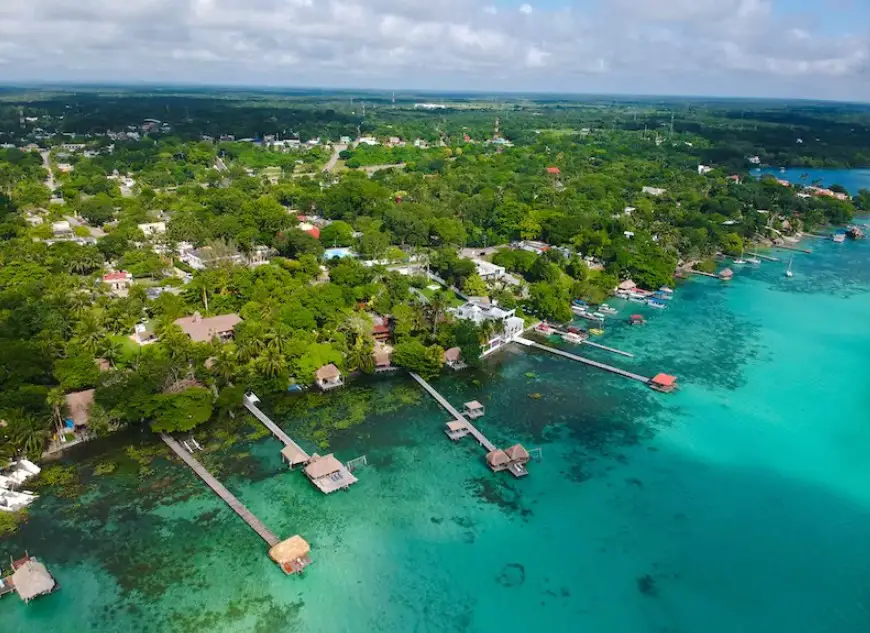 Paddleboarding and boat trip
There are several boat tours available for the tourists visiting Bacalar, including a boat tour to the black cenote, and boat trips to Bird Island and Canal de Los Piratas. We highly recommend visiting the cenotes — large, gorgeous sinkholes in limestone rocks filled with clear rain and groundwater. There are several cenotes in the area surrounding Bacalar Lagoon.
You can make these boat tours on a paddle board or a catamaran. It's a lot of fun. You'll have an instructor who will guide you all the way.
Kayaking in the Bacalar Lagoon, Mexico
Renting a kayak can be great if you have the experience. The guides are always very helpful and will recommend the best areas to explore. Some folks don't like group tours, so if you are one of them, kayaking could be an option.
The gorgeous Bacalar Lake will give you a chance to enjoy its crystal clear water glistening in the sun, and picturesque coastline, and swim anywhere you want.
Fort San Felipe
It's located in Bacalar town. In those times, when Jolly Roger was fluttering on many ships crossing the Caribbean, town residents could spot the pirates entering the Bacalar Lagoon through Canal de Los Piratas from this very point. That would give them time to prepare.
San Felipe provides a stunning view of the Bacalar Lagoon and the small town. It also houses a small museum, and if you are interested in history, you may learn something new about this area and its heritage.
Mayan ruins of Zona Arqueológica de Dzibanché — Kinichná
During this incredible trip outside the town of Bacalar, you'll be able to see archeological sites of the Mayan ruins. A fascinating trip taking you back in time to the Mayan civilization at its height. Even now, after hundreds of years, Mayan ruins remain magnificent and awe-inspiring.
For example, Dzibanché. It got its name, which means 'writing on wood' because of the large wooden beam in the temple carved with glyphs. 40,000 people lived there at some point. Now only the lush greenery is covering the area, and monkeys found their home there.
Your trip will continue with a unique bird-watching experience. You'll enjoy hundreds of stunning tropical birds and countless other representatives of the flora and fauna of this amazing region.
Cenote Azul
There are several cenotes on the Yucatan peninsula. They are spectacular. Cenote Azul is located in the forest and looks like a spot from a fairy tale. You can go there for a whole day, spending it swimming, snorkeling, and relaxing in this absolutely astounding place.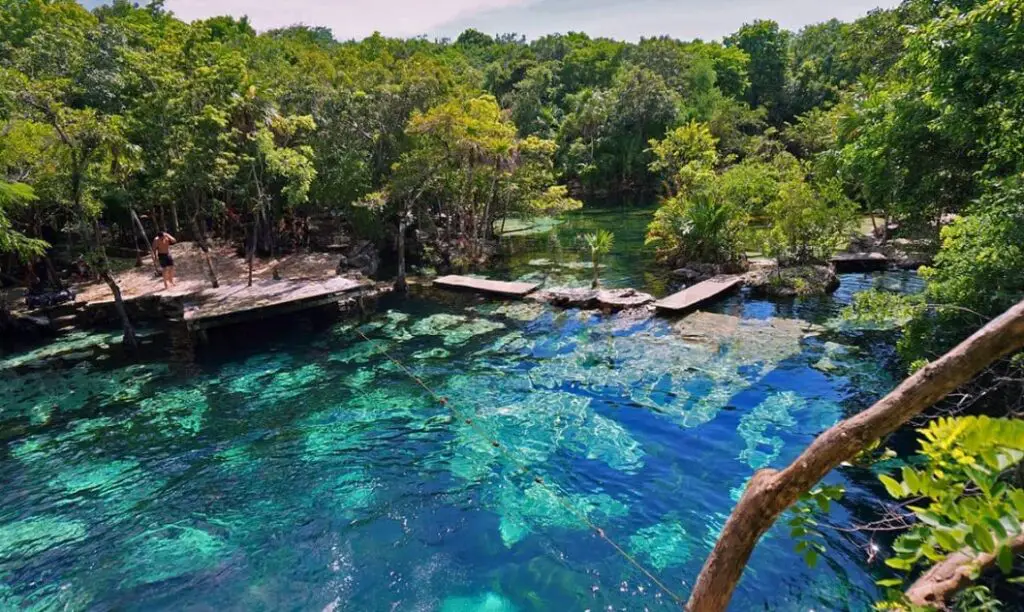 Calakmul archeological site
The Calakmul site is a part of the protected biosphere of Calakmul. The whole area is incredible. In the middle of the beautiful wilderness, a stunning monument from ancient times is erected. And surrounding the magnificent structures is lush greenery filled with life. Exotic birds and animals found their home at the foot of one of the largest Mayan monuments.
Visiting local communities in Xpuhil can be an amazing experience too. It could be a good idea to spend a couple of days in the area. They have a tourist office in Xpuhil where you'll get all the information about the places to visit and the tours available.
Sunrise on Laguna Bacalar, Mexico
This experience you won't want to miss. The sunrise here is breathtaking. The colors, going from purple to pink and golden, are creating real magic over the serene waters of Laguna Bacalar. Do it at least once.
We can guarantee that you'll never regret it. And maybe, just maybe, you'll start every following morning watching in awe how the lagoon is waking up to the sunrise.
Mahahuhal and Xcalak
An old fisherman town, Mahahual is located to the south of the biosphere of Sian Kaan. It's a great place for snorkeling and diving. The underwater world is absolutely amazing, and thousands of divers come here to enjoy the beauty of the Caribbean.
Xcalak is another diver's paradise. If you are the one committed to the greatness of the ocean, these places are for you.
Canal de Los Piratas
The Pirates Channel is one more highly recommended trip. You will enter the era when pirate ships were sailing all throughout the Caribbean, terrifying the merchant vessels which were carrying loads of treasure from the new colonies to the European metropolis. Henry Morgan and Frances Drake are said to have harbored in these waters.
Before colonization, the channel was a part of the significant trading route for the Maya. During the tour, you'll visit a lot of amazing sights and learn about the history of this place.
Beach clubs
Of course, we must tell you about the beaches of Bacalar Lake. There are plenty of them on Lake Bacalar, inside and outside the town. You can try several and choose the best beach for you.
We'll tell you about the ones we enjoyed greatly.
Balneario CocalitosCharming and beautiful, with hammocks over the gorgeous blue water.
Balneario Sac-haThis beach club is located on the outskirts of Bacalar, Mexico. The clear cerulean water of Bacalar Lake is breathtaking. The beach club can offer you delicious local dishes and drinks. Spend a lazy day here and never regret it.
Beach club Playa Kin Ha ColorsThis small beach club on the Bacalar Lagoon is absolutely enchanting, and although the beach is not big, it's gorgeous. Try this beach club, it's worth it.
Balneario Lol-haThis picturesque beach is located not on Bacalar Lagoon, but it's connected to it. Lol-ha is basically a river without a current, and this river feeds into the lagoon. The depth of Lol-ha varies from 1 to 3 meters. The water here has incredible hues of navy blue, cerulean, and jade green, flowing smoothly from one to the other.Bacalar Lake is only 300 meters away, and if you are a decent swimmer, you'll easily get there. There are hanging ropes along the way, and if you get tired, you can hang on to one of them and have a rest.
Balneario Laguna BonanzaThe place is usually not very crowded because it's not as well-known. So if you seek a bit of peace and quiet, Laguna Bonanza is your destination. It's not luxurious, but you can find everything essential here: the clear azure water of Laguna Bacalar with mangroves and stromatolites around it.
El EncantoA private beach on Lake Bacalar offers tranquility and relaxation. This covert place has not yet been discovered by most tourists, and you'll have a chance to indulge in the serenity of the turquoise waters and sunshine. One of El Encanto's signature sights is a two-person swing just above the water.
Staying in Bacalar, Mexico. Our choice of Bacalar hotels
We would also like to give you a list of our choice of accommodation in Bacalar. It's always good to get the opinion from someone with personal experience.
Carolina Bacalar. A beautiful luxury hotel next to Laguna Bacalar, Mexico. Comfortable rooms with authentic design and stunning views of the lagoon. A great restaurant, a lovely garden, and an outdoor pool are all blended perfectly with the natural landscape. Costly but worthy.
Mia Bacalar Luxury Resort & Spa. Its location on Lagoon Bacalar, Mexico, a good restaurant, a pool bar, and a spa make it a great place for a perfect vacation.
La Albarina. This all-inclusive 5-star hotel is located close to the lagoon. The rooms and bungalows are lovely and comfortable. There is an on-site restaurant serving delightful food, and a complimentary breakfast is a nice treat. This hotel is for adults only. Planning a romantic getaway? — It's the place for you.
Blue Palm Bacalar. A 5-star but very reasonably priced hotel. On the territory, you can find a beautiful garden, a great restaurant, a bar, and a large swimming pool. The style of the rooms is a combination of tradition and modern elegance. Bacalar Lake is nearby. We loved it.
Yak Lake House Hostal Bacalar. This hostel has a reputation as the best one in Bacalar. It offers both shared space and private rooms, which are all lovely. There is also a bar, and if you are not sure about what to do, there will be lots of activities to choose from. And the prices are significantly lower compared to the hotels.
Kulu Tubo Hostel Bacalar. A very good hostel with converted concrete pipes as rooms is an environmentally friendly accommodation because the pipes are made with recycled materials. It's also very reasonably priced.
Eating out in Bacalar. A restaurant guide from dedicated foodies
As long-time connoisseurs of Mexican cuisine, in Bacalar, we found ourselves in food heaven. Authentic Mexican food without any adaptations — we loved it. Of course, if you prefer a 'light' version, it's not a problem at all.
Let us share our best dining experiences with you and tell you about the places we loved.
Mango y Chile. This vegan place was a lucky discovery. We're not vegans, but we looked inside Mango y Chile (because we love both) and just loved the atmosphere and the stunning view of the lagoon. The food was absolutely fantastic too.The salads were incredible. We ordered tacos, and they were exquisite. The restaurant has a large selection of vegan burgers, but we haven't tried them. And the desserts are simply to die for. Ice cream and cookies were yummy. So, Mango y Chile — is highly recommended.
Manati Bacalar. We loved this cozy café in the middle of a lovely garden. This place closes at 3 pm, so it's for breakfast and lunch only. Omelettes and smoothies, all kinds of pastries, vegan and gluten-free options — we enjoyed it. To top it off, they also have an artisan market, where you can buy authentic clothes and art.
Nixtamal Cocina a Fuego y Lena. This restaurant hidden in exuberant greenery exceeded all our expectations. The specialty here is grilled food. They grill super fresh fish and meat, and they are fantastic. The restaurant also offers traditional Mexican dishes. And all the dishes look so cool, the presentation is almost on the Michelin star level. The service was perfect too.
Savora Bakhalal. A lovely place with delicious Mexican-Italian cuisine.We had tacos with octopus and they were superb. They have lots of Italian dishes too.
Waah Cocina. We loved this place so much. A beautiful restaurant with Mexican cuisine and a lovely atmosphere. We had breakfast and decided to try something new. So, we had huevo en hojado. It's a fried egg cooked inside a banana leaf pocket.It was delicious, and the presentation was fantastic. You can have dinner there, of course. Actually, this place is more suitable for dinner because it is stylish and elegant.
Mr. Tacos. As you probably guessed, it's a taco restaurant. A very popular one. Quite small and cozy. There are other dishes on the menu as well, but everyone goes for tacos there. And they are absolutely right. Tacos are delicious.
Los de Atlixco. This restaurant is located not far from Fort San Felipe. We dropped in for a quick lunch after visiting the fort's museum. They serve Mexican food which is delicious. We didn't spend much time there, but our tacos al pastor were great. As you can guess, we love tacos.
Los Hechizos. Located on the water, this restaurant with a grand view of the lagoon is a great place to end your day. Los Hechizos is a Mexican restaurant serving all kinds of dishes inspired by the Maya with local ingredients and international standards. Their seafood and fish dishes are exquisite.Our lobster tail and octopus 'Poc Chuc' style were divine. For dessert, we had chocolate tamales with a scoop of ice cream. It was heavenly.
Nao. Here we actually broke the tradition to eat only local food while traveling. We went to this Japanese restaurant out of pure curiosity. A Japanese restaurant in Bacalar? We needed to check it out. And we were pleasantly surprised.We were served excellent sushi and rolls and even tried some signature cocktails. Everything was mouthwatering. Add a stunning view of the lagoon, and great service, and you'll get the picture.
Jaguara Cocina Mexicana. This place is a traditional Mexican restaurant with a beautiful view and a lovely atmosphere. Its location far from downtown Bacalar helps create a calm and tranquil atmosphere. The restaurant boasts an excellent wine list, and its cocktails are delicious.
And finally…
So now you know how to make it to Bacalar, the town with the most beautiful Bacalar Lagoon. Yes, you'll have to jump a few hoops to get there, but the town of Bacalar is so charming, and Laguna de Bacalar — is so dazzling, that you'll forget that the journey was a bit long. Enjoy Bacalar, Mexico, it'll be a dream vacation.
Frequently asked questions
Where do you fly into to get to Bacalar Mexico?
The easiest way is to fly to Cancun. Then take a flight to Chetumal.
From there Bacalar, Mexico is just a 45-min drive. You can use the car rental service or hire a taxi. Another option is taking a bus. You can take a shuttle which is a private service or a public bus (ADO). It's much cheaper, but a bit slower.
How do you get to Bacalar Mexico from the US?
You can fly to Mexico City or Cancun and then take a flight to Chetumal International Airport. From there, it's a short taxi drive (45 min) to Bacalar. You can also rent a car or take a bus. There are two options: a shuttle or a public bus (ADO).
Is Bacalar Mexico worth visiting?
Bacalar, Mexico is a fantastic holiday destination. Bacalar Lagoon, Mexico, or Bacalar Lake, is breathtaking. There are plenty of beach clubs at Laguna Bacalar Mexico. If you are a diver, you can find fantastic diving spots.
If you prefer other water activities, there is a wide choice of them: kayaking, snorkeling, paddle boarding, or going on a boat tour. Restaurants provide delicious food, and Bacalar, Mexico travel guide offers plenty of entertainment.
How to get to Bacalar Mexico from Cancun airport?
From Cancun Airport, take a flight to Chetumal Airport. It's the closest one to Bacalar, Mexico. Then rent a car or take a taxi. You can also take a bus — either a shuttle (private) or a public bus (ADO). If you don't want to fly from Cancun, you can rent a car there.
It will cost you about $40 per day. Otherwise, you can take a shuttle (private transportation service) or a public bus.
It's a 4.5-hour drive, so the taxi rate will be around $350.
Read also: Best time to go to Cozumel: what season suits you best?