Holbox is an island paradise just hours from Cancun. With its white sandy beaches, beautiful sea, incredible bioluminescence, and laid-back vibe, it's easy to see why visiting Isla Holbox is becoming increasingly popular with local and international travelers alike.
Unfortunately, transportation from Cancun to Holbox is not as easy as it is to other cities in the Riviera Maya. There is no direct road, and you will likely need at least two modes of transport!
But Isla Holbox is worth it. Without a doubt, this was my favorite spot in the Yucatan Peninsula. It is probably in the top 5 for all of Mexico! So if you have a day or are traveling without a plan, you must visit Isla Holbox.
To make your life easier, this Cancun Holbox guide explains all transportation options and costs, from cheap shared minivans to a private plane and everything in between. Here's how to get to Holbox, Mexico.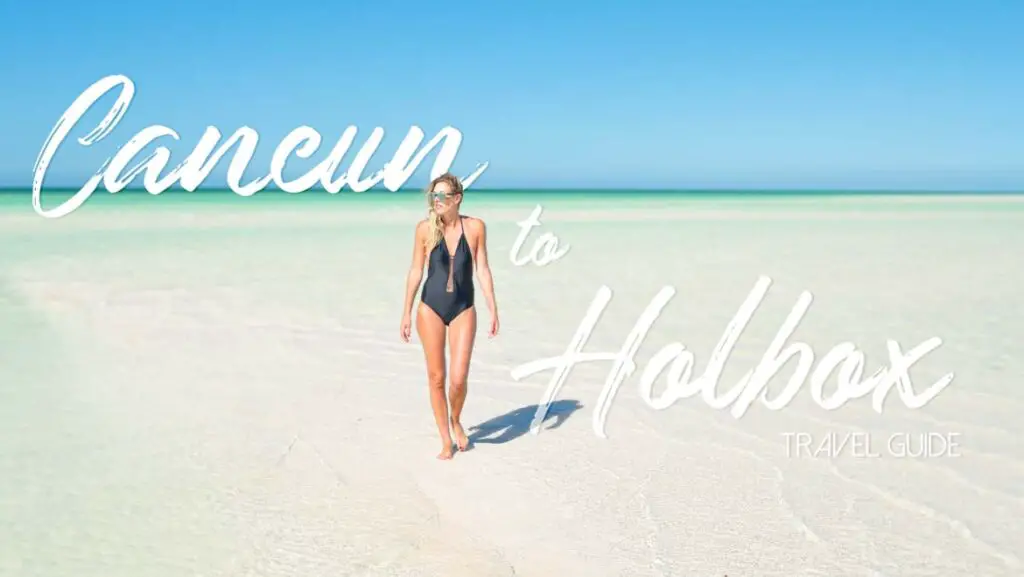 How to pronounce Holbox?
Before any information, let's make sure you're pronouncing the name correctly! Isla Holbox is pronounced hole-bosh, not hole-box! The Mayans are the indigenous people of this island and in the Mayan language the letter "x" is always pronounced as the sound of "sh".
Where is Isla Holbox, Mexico?
Isla Holbox is located in the state of Quintana Roo and is home to Mexico's top tourist destinations: Cancun, Tulum, Playa del Carmen, and Lake Bacalar, as well as some of the best Mayan ruins in Mexico! Quintana Roo is one of the three states of the Yucatan Peninsula in southeastern Mexico.
This island is located in the Caribbean Sea and is one of the islands of the so-called Mexican Caribbean. Some of these other islands include Cozumel, Isla Mujeres, and Isla Contoy, a national park in Mexico.
How do you get to Holbox Island from Cancun?
As mentioned earlier, the "best" way is subjective. Making the best decision depends on how much time you are willing to sacrifice and how much money you are willing to spend. The fastest way in terms of booking time is to book a private transfer from Cancun to Holbox Island.
While there are cheaper ways, it can take up to three times as long as you have to wait for a bus or shared transfer, which most likely won't leave at the same time you arrive. After a long day on the road, going through customs, waiting for luggage, etc.
1. Flights from Cancun to Holbox Island in numbers
Does Cancun fly to Holbox? Yeah! Holbox, Mexico has a very small airport on the west side of the island, just big enough for small planes to land on. It's one of the country's impressive 1,714 airports (hence the other Mexico facts!)
Private charters are available year-round from Cancun International Airport (CUN). Unfortunately, there is no public service. So if you want to take this Holbox flight, you need to book the entire private plane, which can accommodate up to 9 people.
time and cost OF Isla Holbox flight from Cancun
Isla Holbox airport is only a 35-minute flight, which is the fastest way to complete your trip. From the airstrip in Holbox, the city center is only a 5-minute 490-yard walk away. Or take a taxi directly to your accommodation.
For couples or groups of up to 5 people with carry-on luggage, fares start at $800 one-way or $1,600 round-trip (tax not included). This is the cost of hiring the whole plane, so the cost is split between all passengers. For large groups or with lots of luggage, flights from Cancun airport to Hellbox cost $2,900 round trip (taxes not included).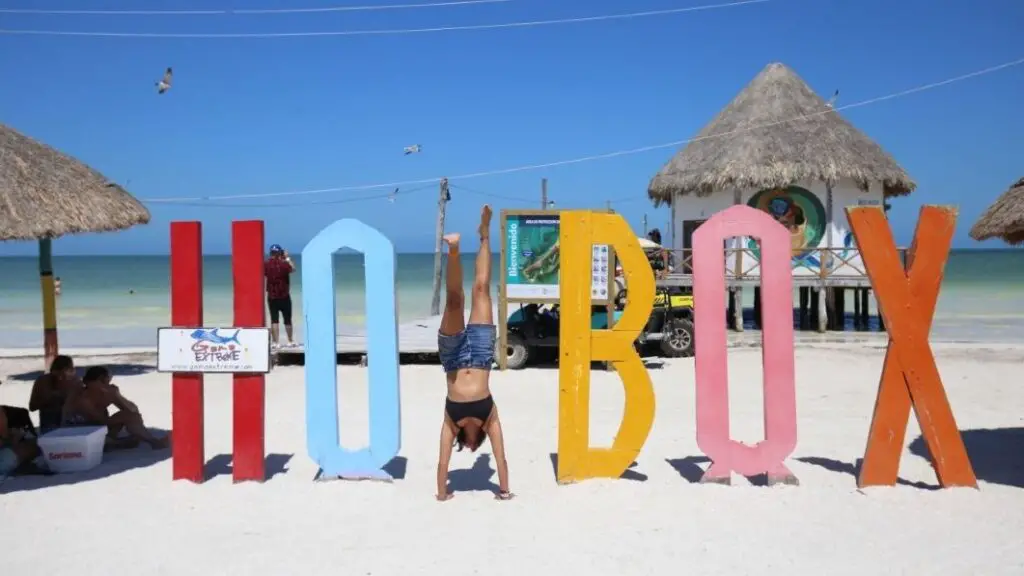 2. From Cancun to Isla Holbox by bus/minivan + Chiquila Holbox ferry
Duration: 3.5 hours
Cost: 536 MXN ($27)
Ferries depart to Helle Bucks from the port of Chiquila. Fortunately, you do not need to book a ticket for this port separately. You can book a ticket that includes a minivan from Cancun to the port of Chiquila and a ferry from the port to Hellbox. The ticket costs MXN 536 ($27) for the entire trip.
Booking a combined ticket from Cancun to Holbox Island is the most convenient option for this trip.
First, you will be transferred by minibus from Cancun to the port of Chiquila, a northern coastal city located 140 kilometers northwest of Cancun. The journey takes approximately 2.5 hours. In Chikila, you board a Hellbox ferry that will take you in just 20 minutes.
Departure and arrival
Departure. The Cancun to Chiquila minibus departs from the transfer station next to Suriana Supermarket in downtown Cancun. This station is opposite the ADO bus station. If you have booked a combined ticket, the ADO bus driver will take you to the boat in Holbox. This boat departs from Chiquila Ferry Terminal.
Arrival. Ferries arrive at Holbox Main Pier. We recommend that you check in advance if your accommodation on Isla Holbox is close to the pier. If your hotel is not within walking distance of the port, you can take a golf cart service at the taxi dock. You can also rent one of these carts or a bicycle for a day to explore the island.
Combined van and ferry schedule from Cancun to Holbox Island
Chiquila Holbox Extreme
8 departures per day from 07:30 to 18:30 – 3.5 hours
536 MXN ($27)
We recommend booking a combination van and Holbox ferry ticket for your trip from Cancun to Holbox Island. So, you don't have to worry about changing trains or booking 2 tickets. However, if this direct option is fully booked in advance, you can still travel alone.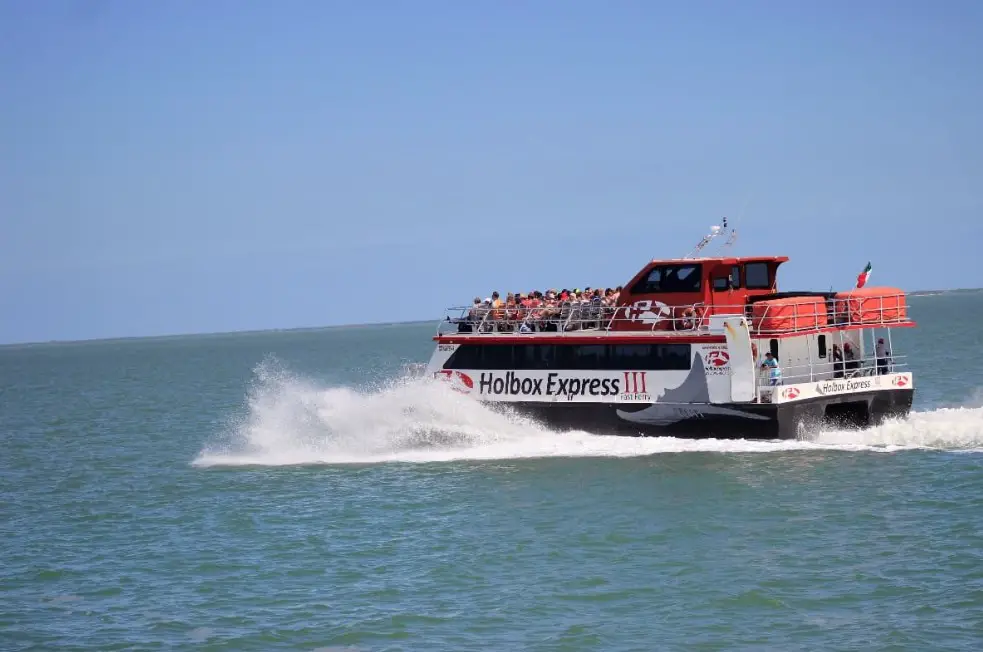 Alternative: book the ticket separately
Book tickets from Cancun to Holbox separately. A combination ticket is not available? Below, we continue our step-by-step guide on how to book tickets when combined tickets are already sold out. This is essentially the same trip, but you have to book your ticket separately.
Step 1: Cancun to Chiquila by bus or minibus
In the first part of the trip from Cancun to Chiquila, you can use a public bus or a minibus. Both options take about 2.5 hours. We don't recommend any of them because they both do not offer reliable service, so it really depends on your preference.
Keep in mind that since buses are larger vehicles, they have more space between the seats and are more comfortable. On the other hand, minivans have more daily trips.
By bus
Cancun to Chiquila buses departs from the ADO bus station on Calle Pino in downtown Cancun. This service is provided by Mexico's largest bus company, ADO Bus. There are 8 ADO buses per day, and you can buy a ticket for MXN 337 ($17).
Bus schedule from Cancun to Chiquila
ADO bus
9 movements per day
8:15 am to 5:00 pm
2 hours 20 minutes
337 MXN ($17)
Air conditioning and reclining seats are guaranteed in the ADO buses. As this is a relatively short journey, please note that, unlike most buses in Mexico, some vehicles do not have toilets.
By Minivan. Minibus services are provided by Chiquila Holbox Extreme, Holbox Shuttle, and Transfer Holbox. Chiquila Holbox Extreme also offers direct trips, including the ferry ticket we talked about at the beginning of this section.
Most minivans also leave from the parking lot next to Suriana Supermarket in downtown Cancun. It is in front of the ADO bus station. You can also book a minivan to pick you up from the Cancun airport. Minivans operate daily and currently provide more trips than buses. The drive from Cancun to Chiquila takes about 2.5 hours and costs MXN 317 ($16).
Minivan schedule from Cancun to Chiquila
Chiquila Holbox Extreme
8 movements per day
7:30 am to 6:30 pm
2.5 hours
317 MXN ($16)
Holbox shuttle
4 times a day
8:30 am to 6:30 pm
2.5 hours
417 MXN ($21)
Transfer Holbox (from Cancun Airport)
3 times a day
from 12:30 to 18:30
two hours
615 MXN ($31)
Holbox shuttle (from Cancun airport)
4 times a day
10:15 am to 6 pm
two hours
893 MXN ($45)
You can check the full minivan timetable at BookAway.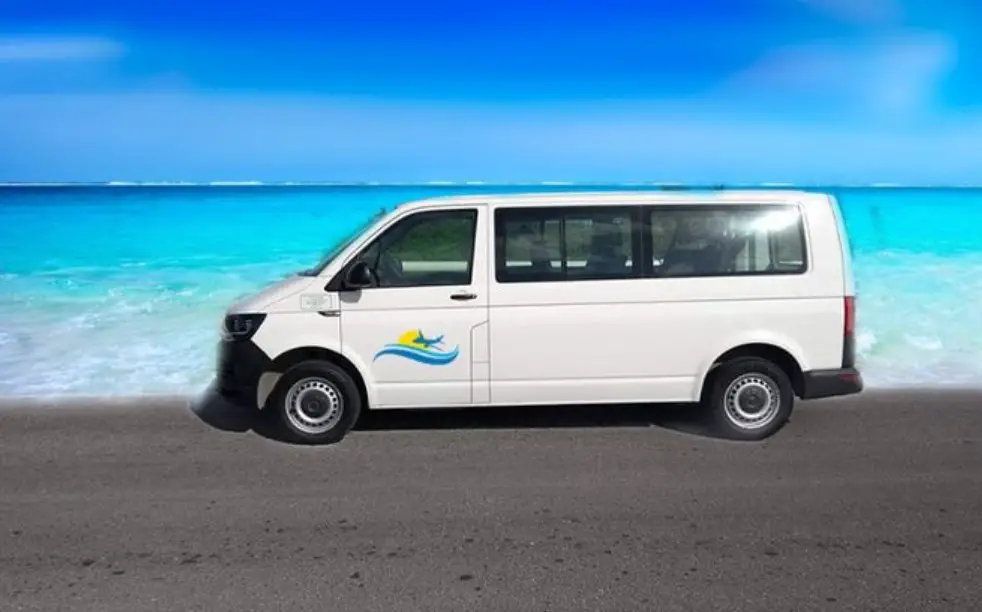 Step 2: ISLA HOLBOX FERRY
Buses and minibusses drop off passengers at the parking lot next to Puerto de Chiquila. This is the port from where you can take a Holbox Island ferry.
The ferry from Chiquila to Holbox Island runs every 30 minutes from 6 am to 9:30 pm. Ticket prices start at 198 Mexican pesos ($10) for a 20-minute ferry ride. This route is operated by 2 companies: Holbox Express and 9 Hermanos.
9 Hermanos ferries depart every hour (first: 6:00 am, last: 9:00 pm) and Holbox Express ferries depart every half hour (first: 7:30 am, last: 9:30 pm).
Both companies are reliable operators. The only difference is that one runs for an hour and the other for a half hour. The boats are equipped with a covered seating area with air conditioning and television. You can also walk on the main deck and enjoy the sea view.
Chiquila to Holbox ferry schedule
Holbox Express
from an hour 6:30 am to 9:30 pm
20 minutes
198 MXN ($10)
9 Hermanos
from an hour 6:00 am to 9:00 pm
20 minutes
218 MXN ($11)
We recommend that you book your trip online in advance to avoid possible queues at the ferry terminal. When you book your Holbox ferry tickets with 9 Hermanos, your ticket is valid all day, so don't worry about losing your ferry!
As timetables are subject to change, be sure to check the Holbox ferry timetables before finalizing your trip.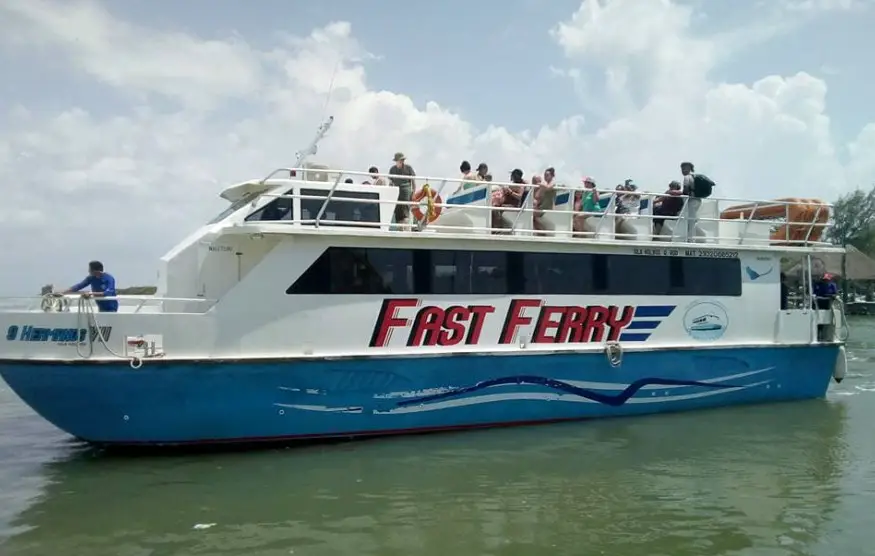 3. Rental car and driving
Getting to Chiquila from Cancun is fairly easy, although there is no direct route. Head west on Highway 108D toward Valladolid and Merida, then take Highway 5 to Chiquila.
Can you reach Holbox? Yes and no. You can only drive as far as Chiquila and the route includes toll roads. Cars are not allowed on Holbox Island, so you will need to find a suitable and safe place to park for the duration of your stay on the island. Parking costs about 100 pesos per day.
Chiquila is a very remote town. It's far from everything, and almost everyone drives there just to catch the Holbox ferry. Despite its nondescript appearance, you should still find a secure parking spot and don't leave valuables in the rental car.
Since you can't drive all the way to Holbox yourself, it's only worth a rental car if you're also visiting other towns or attractions around the Yucatan Peninsula. You definitely don't need a rental car to get to Chiquila.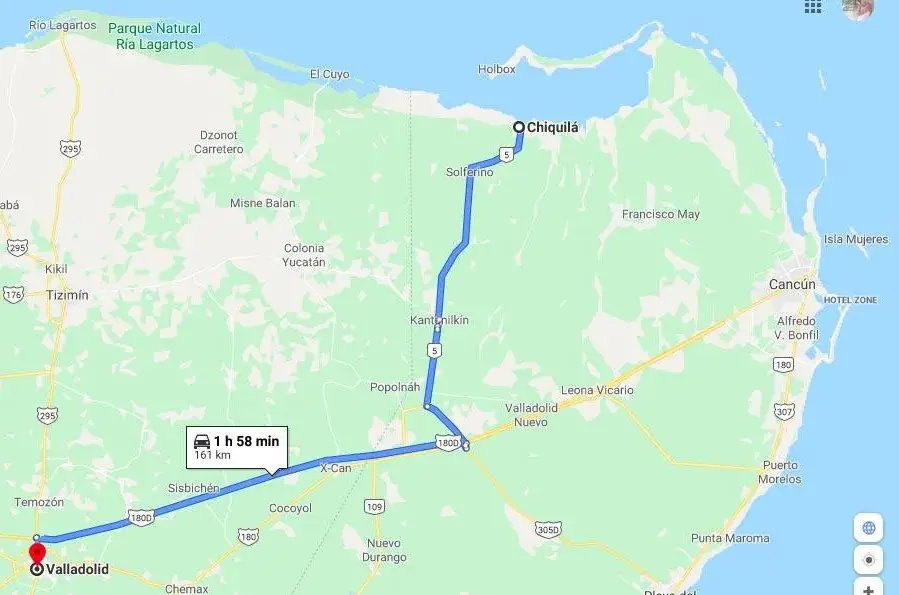 HOW LONG DOES IT TAKE FROM CANCUN TO HOLBOX (CHIKILA)?
It takes approximately 2 hours and 30 minutes to drive the approximately 93 miles from Cancun Centro to Chiquila.
SHUTTLE FROM CANCUN TO HOLBOKS (TO CHIKILA)
Shuttles are generally a more convenient option to get from point A to point B. If you take a shuttle from Cancun to Holbox they are great if the ADO bus schedule doesn't suit you. Especially for those arriving in Cancun in the late afternoon.
A shared transfer from Cancun to Chiquila costs only 300 pesos per person. This price usually includes one full-size checked bag and one bag to take with you. It's the same as Colectivo, however, except it doesn't stop as much.
Cancun-Holbox private transfer (delivered to Chiquila) costs around $160 for 4 and 7-seater vehicles. This gives you the added benefit of being picked up from your Cancun hotel or Cancun airport and dropped off at the ferry terminal.
Transfers from Cancun to Chiquila must be booked in advance. Also, don't forget to book your return or onward travel before get to Isla Holbox, as Wi-Fi and internet are notoriously poor there.
For solo travelers in Mexico. For backpackers and travelers on a budget in Mexico, a shared shuttle is only about $90 for round-trip tickets. With transportation from Cancun Airport, you are guaranteed an English-speaking driver from Cancun to Holbox Island.
Holbox Shuttle departs four times a day: at 10:15 am, 1:00 pm, 3:45 pm, and 6:00 pm. The shuttle departs from Terminal 2, the domestic terminal. If you are arriving from the US or on an international flight, you must take the free Cancun Airport Shuttle from your terminal to Terminal 2.
Please note that for groups of four or more, the cost of a private transfer from Cancun to Holbox is approximately the same as the cost of four individual tickets for the shared transfer. This is also the best option as you will not be sharing the trip with anyone other than your group.
The worst ways to get to Holbox Island from Cancun
Uber from Cancun to Holbox. Is there an Uber in Cancun? Technically, the answer is yes, but also no. Longstanding conflicts with the Cancun Taxi Union and Uber drivers have meant that even local residents don't use Uber in Cancun. Although there is (a kind of) Uber in Cancun, they cannot pick you up at the airport.
If you want to take an Uber from Cancun to Chiquila, you need to exit the airport with all your belongings and exit onto the main road. There you can call Uber and hope someone will agree to a long ride. You'll also need a Mexican SIM card or cellular service to call Uber.
According to the Uber Fare Estimator, this ride costs $115, which is more than the shared Holbox shuttle that picks up from the airport.
5. Taxi from Cancun to Holbox
How much is a taxi from Cancun to Chiquila?
Short answer: lots – usually around $175 – but there's really no set price, so it's all down to your luck. In truth, taking a cab from Cancun to Holbox is your worst option, even worse than Uber, and you should only consider it in an emergency when you have no other options.
Why you should not have a taxi from Cancun to Chiquila?
"Regular" taxis are not allowed at Cancun Airport; only authorized airport taxis are. Cancun airport taxis must pay a special tax to enter the country, and this fee is passed on to you. Unfortunately, aside from this fee, travel scams in taxis in Mexico (or anywhere else) are not uncommon.
When you approach the Cancun airport exit, Cancun airport taxi drivers start pounding you. Depending on how they rate your appearance (e.g., how well-dressed you are, whether you look like you are in Mexico for the first time, etc.) they will charge you this price.
Because of this, you can get a price of up to $250, which is more than the cost of a private transfer. However, if it's night, or they think you don't know, they'll bill you hoping you don't know any better – but now you do!
Save yourself the hassle and haggling by simply pre-booking a private transfer from Cancun to Holbox. They will pick you up right at the Сancun airport, pack your luggage into a van and take you straight to the terminal ferry in Chiquil, Mexico for a quick trip to Isla Holbox.
Set the price before your arrival
If you wish to take a taxi, always negotiate and agree on the fare before getting in the car, as many Mexican taxis are not metered. If you don't know this and just hop in the car, the driver may charge exorbitant prices when you arrive in Chiquila – so negotiate the price before you hop in the cab.
Hitchhiking
Personally, I prefer to only hitchhike when there are no other transportation options. So, I am definitely ahead of all transportation options before thinking about hitchhiking.
Also, hitchhiking from Cancun to Holbox Island is made more difficult by the fact that Chiquila is off the beaten path. If you're going to Chiquila, go to Chiquila—it's not a city people travel through (except for Isla Holbox). Therefore, the number of people (and facilities) going there every day is relatively small.
But Chiquila can be reached by hitchhiking (you don't mind the plane for the ferry). Calculate early enough and have a plan B if you don't find the consequences in time.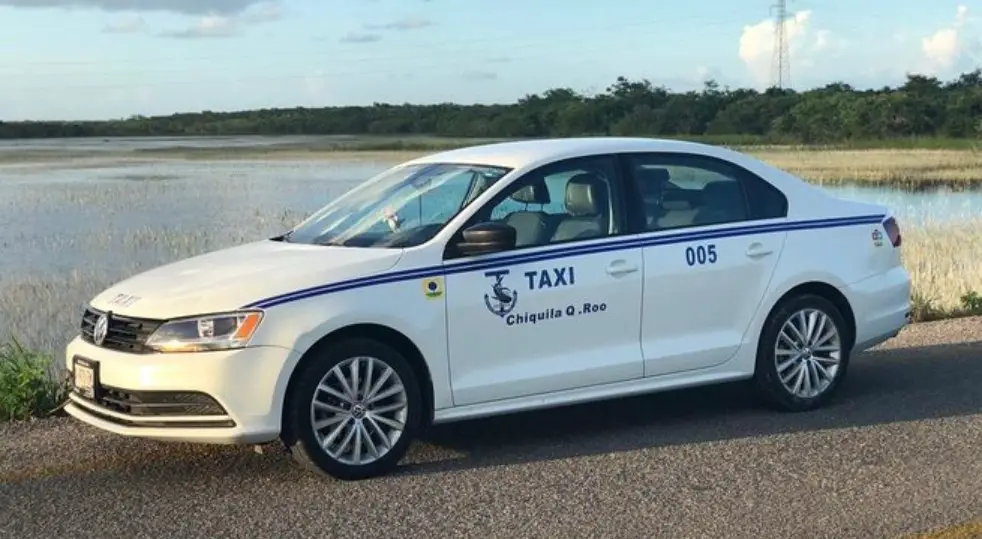 How to get to Holbox Island by private boat transfer
Alternatively, arrange a private Holbox transfer with a local boat owner at the Port of Chiquila. I would only recommend this for large groups; otherwise, it will cost more. Expect the journey to be bumpy as you will be traveling in a small motorboat.
Excursion to Isla Holbox from Cancun
If you're short on time, an Isla Holbox tour from Cancun and the Riviera Maya is the perfect way not to miss this island paradise. The slow pace of life, laid-back atmosphere, rustic buildings, and white sandy beaches give the impression that this is a world away from the hustle and bustle of Quintana Roo's most popular towns.
Tours are full day, you will most likely be picked up just after sunrise and returned when the sun goes down. But in that time, you'll have a full day of worthwhile activities. Excursions usually include lunch, transport, a guide, and a boat ride in Isla Holbox. Some of them include free time on the island, others include a visit to a cenote or a nature reserve.
Holbox tours are available in all corners of Quintana Roo including Cancun, Puerto Morelos, Playa del Carmen, and Tulum.
How to get around on Isla Holbox
Isla Holbox is a sandbar that barely rises above sea level. Therefore, the sandy roads are not suitable for cars – in fact, there are few cars on the island.
Instead, the three most common modes of transportation are hiking, biking, or golf carting. Taxis on Isla Holbox are of the second type, although they are more like golf buggies for off-road use. Sandy roads are often bumpy and when it rains, the roads can flood very easily.
If you are bringing a suitcase to Isla Holbox, you will need a taxi to get from the pier to your hotel. Because you will have a hard time rolling it through sandy roads with puddles. Be sure to agree on a price with the taxi driver before you start your journey.
Whale shark season in Holbox, Mexico
A woman in a pink long-sleeve shirt swims next to a giant spotted whale shark on Isla Holbox, one of the most unique places in Mexico. The whale shark is the largest mammal in the sea, and you can swim with the whale sharks in Isla Holbox!
The benefit of visiting Isla Holbox in the summer is that you can join a tour to swim with the whale sharks in Holbox. Whale shark season lasts from around June 15th to September 17th when you can see the largest mammal in the sea.
Tours cost around $175 per person as it is one of the best things to do on Isla Holbox. You can book Holbox Whale Shark Tours here with companies that practice ethical animal tourism on their whale shark tours.
When is the best time to visit Isla Holbox?
The Yucatan Peninsula where Holbox is located has a tropical climate. This means it's hot all year round, but summers can also be rainy and bug-infested – so don't forget your Badger Eco Sunscreen to ward off the bugs! Summer is also hurricane season, and Isla Holbox faces the Caribbean Sea and is vulnerable. If you can, plan during the dry season from November to May, which is the best time to visit Isla Holbox.
The best in Isla Holbox
Stroll along the sandbanks to Punta Mosquito, Holbox's lesser-known beach. Or head to the western tip of the island and relax in Punta Cocos.
Swim in the calm, warm waters of Playa Holbox before watching the sunset over the Gulf of Mexico.
Take a tour to see bioluminescence at night, preferably on a new moon or after a moonset! Another popular tour is snorkeling with whale sharks during the summer months.
Borrow a dog from Holbox Animal Shelter and take it for a walk around the island.
Taste the taste of the island. Roots Pizza is known for its lobster pizza, which costs around 600 pesos. While Ceviches La Chingada offers incredible seafood.
Party at Che Hostel, you don't have to stay there to visit the bar in the evening. Then, when everything is closed, party outside at Hot Corner until the morning!
Where to stay in Holbox
First of all, Isla Holbox is not the cheapest place to visit. And in most cases, it's worth paying a little more, as the most basic options often have limited features. For example, in rooms without fans or when camping in a tent that turns into a huge sweat box.
However, there are hotels or hostels for every budget. Just don't expect tall buildings, sprawling resorts, or mega pools.
Budget: Tribu hostel
Budget: Hostel Che
Middle area: Tropical Suites by MIJ
Central section: Casa Iguana Holbox
5 Star: Mystique Holbox by Royalton
5 Stars: Hotel Villas Flamingos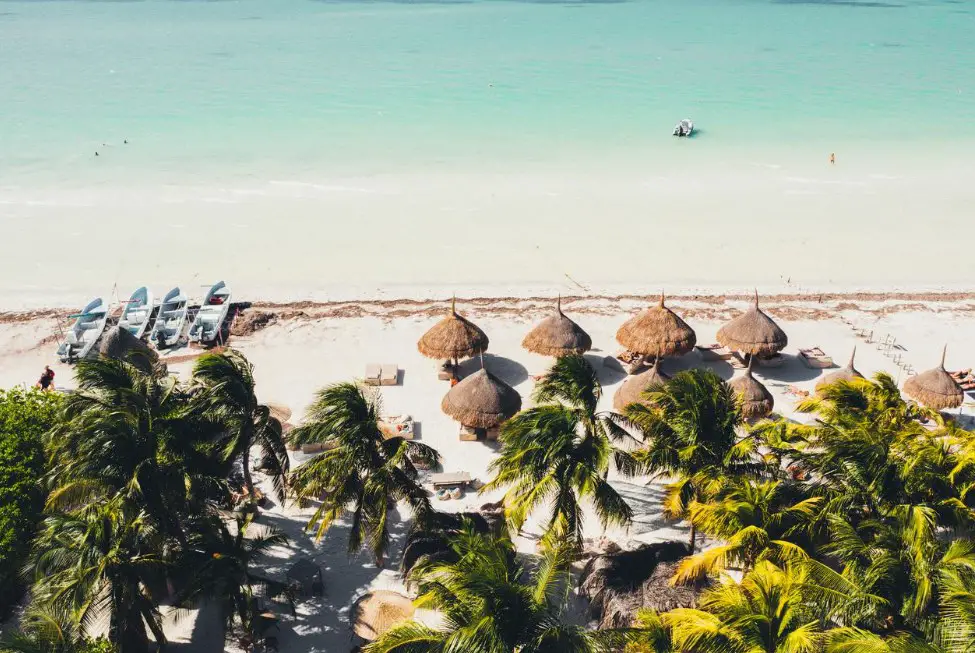 Isla Holbox Mexico: Frequently Asked Questions
How long is the ferry from Cancun to Holbox?
The ferry ride from/to Isla Holbox takes approximately 30 minutes.
How to get from Cancun to Holbox by bus?
Mayab buses depart at 7:50 am and 9:40 am, and Oriente buses depart at 12:50 am. Sailing time is 3 hours 15 minutes with stops in between and no toilets on board. The trip costs 118 pesos.
Final thoughts: How to get to Isla Holbox in Mexico
Since Cancun has one of Mexico's busiest airports with direct flights from around the world, you will have no problem getting to Cancun. You now have all the options on how to get to Holbox from Cancun Airport so that you can make the best decision for your trip to Holbox Island.
Taking convenience and price into consideration, booking private transportation in advance or renting a car in Cancun are two of the best ways to get from Cancun to Holbox. For solo travelers and budget travelers, there is a shared transfer and ADO bus service as well as great options.
Read also: How to get to Bacalar, Mexico. A perfect vacation spot